Les Seigneurs Légendaires de Total War Warhammer 2 Rise of the Tomb Kings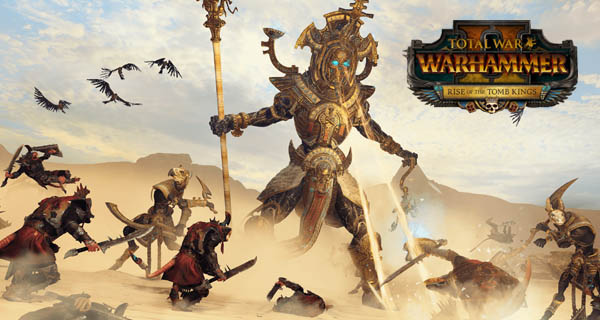 Deux Seigneurs Légendaires supplémentaires ont été ajoutés à Total War Warhammer 2 Rise of the Tomb Kings, portant le nombre des Seigneurs Légendaires dans le jeu à quatre. Chacun d'eux est unique, possédant des « talents, traits, chaines de quêtes, armement légendaire et défis de situation. »
Les deux seigneurs qui arrivent avec Rise of the Tomb Kings sont Settra The Imperishable et High Queen Khalida. En outre, seront présentés aux joueurs Grand Hierophant Khatep et Arkhan the Black.
---
---
Settra The Imperishable
Settra a le plus haut rang de tous les Tomb Kings. C'est un leader immortel et impitoyable qui a une soif inextinguible de conquête. Il possède une volonté inflexible qui est si forte qu'il n'a pas besoin de retourner dans son sarcophage pour se reposer. Les peuples le craignent car sa colère se répand au loin.
Il a le pouvoir de réduire le temps de construction et peut apporter des bonus à la croissance et à l'ordre public. Un bonus d'armure additionnel est aussi donné au Skeleton Chariot ainsi qu'aux unités Tomb Guard. Ce seigneur possède tout un assortiment de montures déblocables incluant le Khemrian Warsphinx et le Chariot of the Gods qui est orné d'une couronne de flammes.
High Queen Khalida
High Queen Khalida est la Reine Guerrière de Lybaras. Elle est connue pour sa bravoure, son honneur, et son intelligence. Une tragédie l'a frappée quand son cousin Neferata a essayé de créer l'Élixir de Vie mais a réalisé une potion imparfaite. Ceci a transformé Queen Khalida en un Vampire qui est le tout premier vampire. Elle a tué son cousin mais lui a donné le Baiser de Sang, et alors que sa vie est drainée hors de son corps elle fait appel à la déesse serpent Asaph. Asaph la purifie et elle devient l'élue de la déesse. Elle possède aussi le venin divin dans ses veines.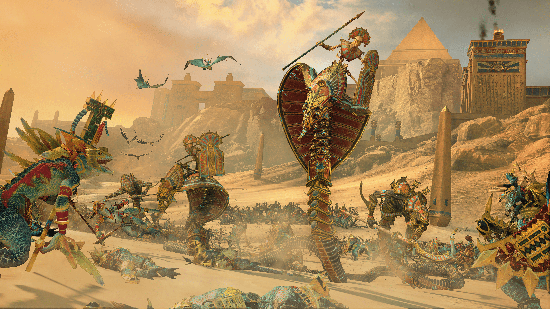 Khalida déteste toutes les sortes de corruption et la combat sous toutes ses formes. Elle distribue des bonus de relations diplomatiques aux autres factions des Tomb Kings. Elle offre aussi un bonus de munitions aux unités distantes de sa faction. Elle peut également fournir des attaques empoisonnées à ses unités.
En plus, à ces deux seigneurs s'ajoutent deux très importants personnages pour cette faction. L'un est le plus grand des Prêtres Liche et l'autre un lieutenant principal.
Grand Hierophant Khatep
Grand Hierophant Khatep est connu comme le plus âgé et le plus intelligent des Prêtres Liche. Il est issu du Mortuary Cult et est à la tête du Hierophantic Council. Il est l'un de ceux qui ont réveillé Settra en tant que mort-vivant mais a été exilé par celui-ci en raison de sa défiance envers le Mortuary Cult. Le rôle de Khatep est à présent d'aider les Tomb Kings de n'importe quelle façon tout en errant sur la Terre des Morts.
Khatep offre des bonus du taux de recherche de la Dynastie ainsi qu'une amélioration de la reconstitution des victimes et du mouvement de l'armée. Il a le pouvoir d'appeler davantage de héros Prêtres Liche ainsi que de les obtenir à un rang plus élevé.
Akham the Black
Akham the Black est en fait le principal lieutenant de Nagash. Il dirige de nombreuses armées contre les ennemis de Nagash. Il a trouvé la mort dans une contre-attaque suicidaire visant à libérer Nagash. Il a été ramené à la vie une fois de plus pour être le Roi Liche.
Il offre un bonus de relations diplomatiques avec les factions Vampire Counts. Il veille sur sa région où il s'assure que personne ne souffre des sanctions de la corruption des Vampires. Des bonus pour des attaques au corps-à-corps et défense sont donnés aux héros de son armée et tous reçoivent des boosts pour leur Winds of Magic Power Resume.
Voilà tout sur les Seigneurs. Quels sont vos avis sur ces êtres puissants ? Total War Warhammer 2 Rise of the Tomb Kings sortira le 23 février sur PC.