Rising Generals – Présenté à la Gamescom 2014

Dans le giron du géant allemand InnoGames – Focus sur la conception artistique de Rising Generals en vidéo
D'après Léonard de Vinci, "
La simplicité est la sophistication suprême »
. Aujourd'hui,
InnoGames
fait le point sur la direction artistique de son jeu en ligne en cours de production :
Rising Generals
.
Le prochain jeu d'InnoGames, développé avec le créateur d' Age of Empires et de Civilization, sera présenté à la Gamescom 2014
Développé pour
PC, iOS et Android
avec
Adobe Air
, le jeu déploie une direction créative différente de son catalogue actuel. Son look picoré de couleurs parcimonieuses et épurées devraient faciliter la compréhension de l'interface utilisateur. Il tranche d'ailleurs radicalement avec l'arsenal outrancier mis à disposition du joueur comme les véhicules militaires aux accents steampunk et les pluies d'armes exagérément offensives. Accessible sur plusieurs supports dont le mobile,
Rising Generals
ambitionne d'éviter les travers et la simplicité caricaturale que l'on retrouve parfois dans les jeux mobiles.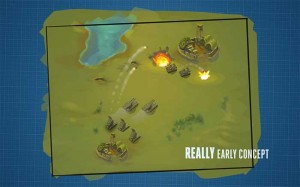 « Nous avions à cœur de créer un environnement de guerre moderne, teinté de science-fiction et qui ne se prend pas au sérieux. Notre source d'inspiration se trouve tout autant dans les films d'action des années quatre-vingt (qui en font des tonnes) que dans certains classiques du jeu vidéo », explique le Lead Artiste du jeu, Torsten Gunst. « Les concept-arts des véhicules sont inspirés de la guerre froide et de la vision proto-futuriste de l'époque bardée de toutes sortes de canons et d'appareils follement sophistiqués et techniques. » Ajoute l'artiste.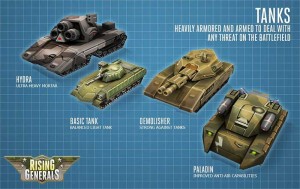 Si l'environnement du jeu donne le champ libre au chaos des attaques militaires, la clarté graphique a une importance capitale pour contrebalancer et équilibrer l'expérience.
« Ajoutons aussi que les capacités et les pouvoirs des personnages et des véhicules sont explicites au premier coup d'œil. C'est flagrant sur la version mobile pour permettre aux joueurs de passer à l'action sans perdre de temps. » Termine l'artiste.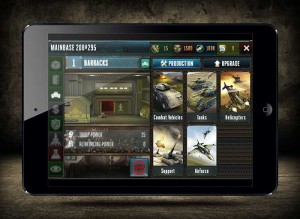 Rising Generals est un MMO JcJ
(Joueurs contre Joueurs) orienté stratégie qui prend vie dans un environnement paramilitaire et technologique. Les attaques sont immédiates, sans temps d'attente. Les esprits stratèges auront diverses possibilités pour préparer leurs combats en choisissant parmi plus de 20 unités différentes de tanks, d'infanterie, d'hélicoptères et d'avions meurtriers pour créer les meilleures combinaisons. À eux d'exprimer leur ingéniosité ! De superbes graphismes et effets 3D, donneront vie aux champs de bataille. Pour créer
Rising Generals, InnoGames
a obtenu le soutien de
Bruce Shelley
, le célèbre
Game Designer
connu pour son travail sur les séries
Civilization et Age of Empires. Bruce Shelley
a travaillé plusieurs mois sur le développement du jeu avec les équipes d
'InnoGames à Hambourg
.