Les notes du correctif pour The Division Day One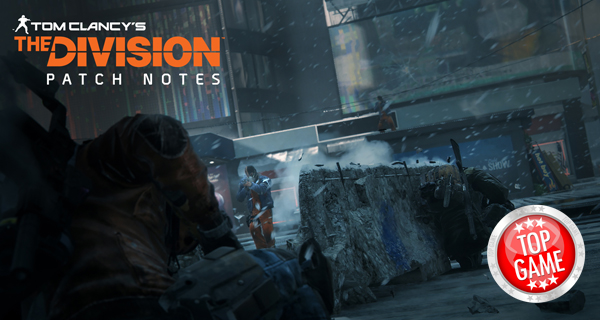 Le correctif pour The Division Day One apporte des améliorations depuis sa beta ouverte.
The Division est enfin sortie, et nous savons aussi combien la plupart d'entre vous sont enthousiasmés par le lancement. Préalablement à sa sortie, Ubisoft a répertorié sur un post du site officiel du jeu les changements, les corrections et les améliorations apportés au jeu par le correctif de The Division Day One.
« Après le succès des bêtas fermées et ouvertes, et les impressionnants retours reçus de vous tous, notre équipe a durement travaillé pour corriger de nombreux problèmes et implémenter davantage d'améliorations basées sur vos suggestions« , peut-on lire sur le post.
Les changements incluent des mises à jour sur l'apparence du menu, des embellissements visuels, des updates sur la mega carte et le monde ouvert, des améliorations du gameplay, et d'autres aspects devant être rectifiés et perfectionnés.
Ubisoft a aussi ouvert ses portes pour collecter plus de retours et de suggestions en vue de l'amélioration du jeu.
Voici la liste complète du correctif de The Division Day One :
L'apparence du menu a été revue :
Il s'affiche maintenant comme une grille, rendant beaucoup plus aisée la consultation des objets.
L'option « Outfit Sets » a été ajoutée pour équiper rapidement tous les items dans un ensemble.
Ajout de l'option « Inspect ».
Améliorations visuelles :
Correction de plusieurs lumières qui ne rendaient pas une illumination globale.
Correction d'éclairages volumétriques manquants sur les feux de trafic.
Les enseignes diffusent maintenant réellement de la lumière.
Amélioration de la brume atmosphérique en plusieurs périodes et conditions météos.
Améliorations de l'éclairage nocturne et du contraste.
Ajustement d'une luminosité excessive autour des personnages.
Améliorations des réflexions sur les fenêtres des voitures.
Amélioration de l'occlusion ambiante sur l'écran (SSAO) pour qu'elle soit plus prononcée.
Mises à jour de la Mega Carte et du monde ouvert :
Un nouvel « Aperçu de Mission » a été ajouté à la Mega Carte.
Les zones contaminées affichent maintenant le niveau de filtre requis sur la Mega Carte.
Les champs de données avec audio seront joués automatiquement quand vous y accédez.
Si vous commencez à écouter des champs de données avec audio depuis le menu, vous pouvez continuer l'écoute en dehors de celui-ci.
Ajout de sous-titres aux champs de données audio.
L'accessibilité des menus d'entrée de mission a été améliorée.
Augmentation significative du nombre de matériels constructibles obtenus par les coffres de butin.
L'icône pour les repères dans la Dark Zone a été modifiée et signale maintenant si des ennemis non joueurs sont présents ou non.
Améliorations de la jouabilité :
Un nouveau menu « Aide » est maintenant disponible dans le menu Réglages. Il stocke tous les écrans de chargement et les suggestions contextuelles.
Ajout de nouveaux tutoriels pour certaines caractéristiques et mécanismes du jeu (ceux-ci peuvent être désactivés dans le menu Options).
Ajout d'information à l'Interface Utilisateur de collection d'items du jeu affichant pourquoi un objet ne peut pas être ramassé.
Les modificateurs de compétences ont été inclus dans l'équipement (précédemment uniquement disponible avec des mods d'équipement).
Corrections et améliorations générales :
Correction de bugs d'affichage qui pouvaient être exploités par des joueurs pour profiter d'un avantage déloyal dans le jeu (tel que invisibilité, tirs à travers les murs, etc).
Vérifications accrues sur les serveurs pour détecter des actions illégales de la part des joueurs, limiter leur impact dans le jeu et retrouver les coupables.
Correction d'un problème sur l'écran de sélection du personnage qui conduisait à rester coincé avec une combinaison spécifique de touches.
Correction d'un blocage dans la progression causé en acceptant une invite de groupe à un moment précis lors de la séquence de déverrouillage de la Base des Opérations.
Les joueurs ne devront plus retourner à l'écran de démarrage après la création ou la connexion à leur compte Club Ubisoft.
Correction de bugs résiduels qui empêchaient les connexions lorsque des services non essentiels étaient hors ligne.
Amélioration de la stabilité globale.
Diverses améliorations d'arrière-plan et optimisations.
Ajustements de localisation et correction de bugs.
Corrections de bugs additionnels mineurs et retouches.
    Vous ne pouvez tout simplement pas rater ce jeu ! Consultez la page de comparaison de prix pour Tom Clancy's The Division et obtenez-le au meilleur prix !