Le gameplay de Battle of Jakku de Star Wars Battlefront à été révélé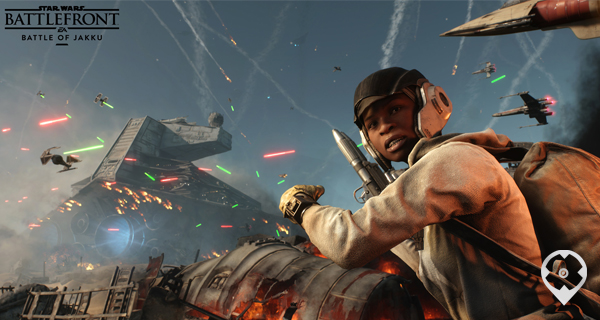 Seulement quelques jours avant le lancement de Star Wars Battlefront Battle of Jakku, le 8 Décembre, le studio d'Electronic Arts nous offre une superbe vidéo qui met en évidence le gameplay bourré d'action de ce nouveau DLC.
Battle of Jakku va ajouter un nouveau mode de jeu de 40 joueurs appelé Turning Point. Dans ce mode les forces rebelles combattront les Impériaux pour des points de contrôle et pour capturer la base planétaire. Les rebelles doivent assiégé un des trois points de contrôle, qui ensuite leur ouvrirons d'autres points situé plus profondément dans le territoire de l'Empire. Cela va continuer jusqu'à ce que vous déverrouillez l'accès à la base de planétaire de l'Empire, ou vous devrez effectuer un assaut final.
Comme expliqué par EA dans un livestream récent du gameplay du DLC sur Twitch. Battle of Jakku se déroule 29 ans avant Star Wars épisode VII: Le Réveil de la Force qui résulte à la victoire rebelles dans la bataille d'Endor.
Battle of Jakku est déjà disponible pour ceux qui on pré-commandé Star Wars Battlefront.
Alors, que pensez vous du gameplay de la Bataille de Jakku ? Faites le nous savoir dans les commentaires ci-dessous!