Star Wars Battlefront Battle of Jakku contient un nouveau mode de jeu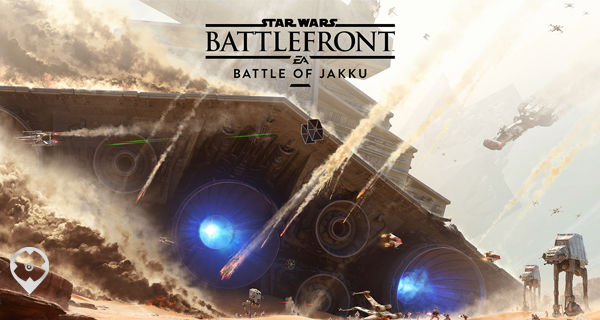 EA
a annoncé que le prochain
DLC
de
Star Wars Battlefront
,
Battle of Jakku
va ajouter un nouveau mode de jeu de 40 joueurs. Il se nomme « 
Turning Point
« . Dans celui-ci, les forces rebelles devront récupérer une série de points de contrôle de plus en plus difficile à capturer, en route pour prendre une base impériale sur la surface de la planète. Tandis que l'Empire devra les protéger.
GAMEPLAY
Dans Turning Point, les forces rebelles ont besoin de localiser et de capturer l'un des trois points de contrôle sur la carte dans un délai spécifique. Si ils le capturent avec succès, cela ouvrira de nouveaux points de contrôle, et prolongera le timer. Les rebelles doivent avancer jusqu'a à la base impériale, et la capturer. Les véhicules Airspeeders et AT-ST seront présentés dans ce mode, les speeders pour l'attaque et les AT-ST pour la défense..
EA a également mentionné que, contrairement à d'autres cartes que certains rebelles ont trouvé frustrant lors de la bêta ouverte, Turning Point sera basé sur le jeu d'équipe. Le mode offre une plus grande variété d'avantages tactiques à prendre en compte par rapport à d'autres modes de jeu. Les points de contrôle capturés par les rebelles ne peuvent pas être repris par l'Empire, même si les forces impériales sont en mesure de repousser les rebelles.
Battle of Jakku
est un champ de bataille chaotiques, et c'est exactement ce que EA recherche.
Nous avons voulu présenter une bataille, ou il y a de l'action partout autour de vous.
Anton Grandert
, concept artiste de
DICE
à également mentionné:
Des débris tombe du ciel, racontant l'histoire de la bataille précédente. Sur la surface de la planète, vous pouvez voir les troupes au sol ainsi que des X-wings participant à la bataille.
Le DLC la bataille de Jakku sera disponible à tous ceux qui ont pré-commandé Star Wars Battlefront dès le 1er Décembre. Pour les autres celui-ci sera disponible à partir du 8 Décembre 2015.