WOW Legion : Configuration PC annoncée !
Le 6 août 2015, il avait été annoncé à la Gamescom la sortie d'une nouvelle extension du jeu MMORPG World of Warcraft du nom de World of Warcraft Légion. Celle-ci est normalement prévue avant le 21 septembre 2016 et bien-sûr il sera nécessaire de posséder le jeu World of Warcraft et Warlords of Draenor.
Grâce à cette extension, nous obtiendrons des armes de qualité artefact qui sont plus puissantes que les armes légendaires. Nous retrouverons 36 armes prodigieuses, c'est-à-dire trois armes par classe sauf pour les druides qui en auront quatre et les chasseurs de démons qui en auront deux.
Toutes les armes seront personnalisables et concernant les ours chats et les druides, elles leur permettront de personnaliser l'apparence de leur forme animale. Une nouvelle classe du nom de chasseur de dragon qui aura deux spécialisations, Tank ou DPS, sera disponible. De plus, l'extension ajoute neuf nouveaux donjons, deux raids (Palais de Suramar et cauchemar d'Emeraude), un nouveau continent (les îles brisées). Elle améliore également le système de sésame, change le système d'honneur et enfin ajoute des domaines de classes. D'autres nouveautés sont au rendez-vous…
La configuration minimale requise pour jouer à WoW legion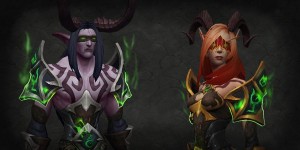 Voilà trois jours que Blizzard a annoncé la configuration minimale pour faire tourner le jeu. Attention car la configuration minimale pour l'extension WOW Legion n'est pas la même que celle requise pour Warlords of Draenor.
Windows XP / Vista / 7 / 8 / 10 avec le dernier service Pack
Intel Core 2 Duo E8500 ou AMD Phenom II X3 72
NVIDIA GeForce GT 440 ou AMD Radeon HD 5670 ou Intel HD Graphics 5000
2 Go RAM
45 Go disponibles sur votre disque dur
Le configuration recommandée pour jouer à Legion
Windows 10 64_bit avec le dernier Service Pack
Intel Core i5-3330, AMD FX-6300, ou supérieur
NVIDIA GeForce GTX 750 Ti ou AMD Radeon R7 260X ou supérieur
4 Go de RAM
Il est important de savoir que les configurations peuvent être modifiées à l'avenir en fonction de l'évolution du jeu mais pas de quoi s'inquiéter si vous avez déjà un bon pc ! Skitty rédactrice de 
Jeu.Video