Warlords of Draenor J-4
Warlords of Draenor est notre jeu du jour, disponible à partir de 31.80€

Activable Sur Battle.net
4 jours avant la sortie de l'extension Warlords of Draenor, ou plus communément appelée WoD par la communauté du désormais très connu World of Warcraft, il est temps de revenir sur ce que va nous proposer Blizzard avec cette nouvelle extension.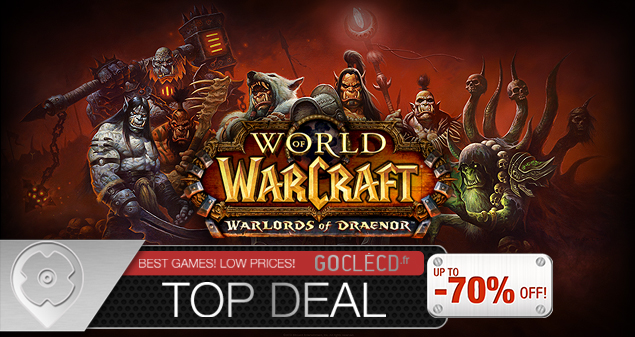 Commençons par les bases aux différentes éditions.
Edition Standard :
Le sésame : permet de faire passer un personnage directement au lvl 90.
(attention, ce sésame n'est pas disponible chez tous les marchands que nous référençons donc prenez garde)
Le niveau maximum passe au lvl 100
Edition Deluxe :
Comprend également le sésame et le niveau maximum au lvl 100.
– Monture Corbeau de l'Effroi ainsi que la mascotte bébé Corbeau de l'Effroi
– Portrait StarCraft II : Grommash Hurlenfer et Main-Noir
– Etendard Diablo III : Brandissez l'étendard du clan Chanteguerre
– Dos de carte Hearthstone : Dos de carte exclusif forgé dans les flammes de Rochenoire
Maintenant passons au contenu en jeu:
La refonte des personnages : chaque race classique a reçu un gros coup de lifting, expressions faciales, attitudes. Les animations 3D ont été complètement retravaillées
Bien entendu, qui dit nouvelle extension dit nouvelle map, donjons de groupes et de raids ,mais surtout une nouvelle découverte de l'histoire de Warcraft et de ses personnages parmi les plus connus. Vous aurez donc la possibilité durant votre périple de rencontrer le prophète Velen ou encore Durotan, le chef du clan Loup-de-givre.
N'oublions pas le Housing attendu depuis plusieurs années par les guildes (enfin…)
Bellulargaming nous a même dévoilé il y a quelques semaines une vidéo avec les différentes montures. 42 nouveaux destriers au total dont 2 variétés sortant vraiment de l'ordinaire depuis le mamouth de WotLK
De quoi en faire rêver quelques uns 🙂