Une nouvelle vidéo de Dishonored Death of the Outsider apporte de nouvelles infos sur le jeu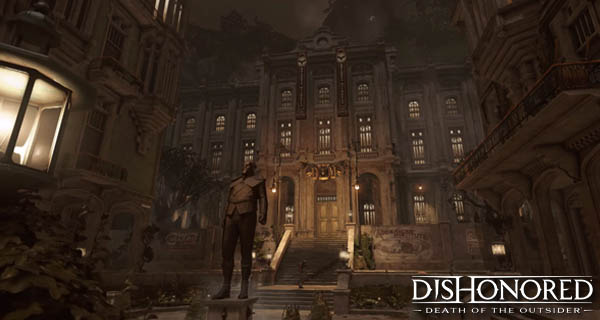 Bethesda a publié une nouvelle vidéo de Dishonored Death of the Outsider sur leur chaîne YouTube. Elle nous donne quelques informations sur ce que l'on peut espérer du jeu.
---
---
Dishonored Death of the Outsider se passe dans une réalité alternative des années 1850 centrée sur l'empire de la pêche à la baleine. On y trouve des aristocrates corrompus dont vous devrez vous charger. Vous incarnerez un assassin aux facultés surnaturelles avec des pouvoirs magiques, de la furtivité et des gadgets divers. Vous aurez aussi la capacité de sauter de toit en toit. Le jeu est très immersif avec sa perspective à la première personne. Les joueurs pourront explorer chaque coin et recoin du monde.
Death of the Outsider n'est pas une extension ou un DLC, mais réellement un jeu d'aventure à part entière. Il a également été expliqué que puisque c'est un jeu indépendant, il peut être votre point d'entrée dans la série Dishonored sans nécessiter aucune des histoires précédentes. L'histoire du jeu se suffit à elle-même.
Incarnez Billie Lurke, un assassin aux talents mondains. Elle retrouve son ancien mentor qui lui offre un dernier travail consistant à affronter le puissant étranger et de mettre enfin un terme à ses actes barbares. Ceci constitue en fait l'héritage final de l'histoire de Dishonored.
Dishonored : Death of the Outsider sort sur PC, PlayStation 4, et Xbox One le 15 septembre 2017.