La dernière vidéo de Dishonored 2 appelée « Book of Karnaca » est une bande-annonce qui en raconte l'histoire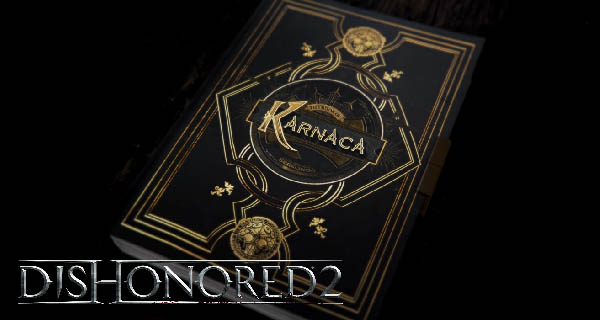 Dishonored 2 de Arkane Studio est proche de sa date de lancement et pour entretenir l'engouement, une nouvelle vidéo appelée « Book of Karnaca » racontant l'histoire est parue.
---
Celle-ci dure environ deux minutes et nous en fait le récit. Elle nous offre un récapitulatif des évènements du premier Dishonored ainsi qu'un avant-goût de ce qui est attendu dans Dishonored 2.
La partie amusante de la vidéo est la façon dont elle a été présentée. C'est une unique bande-annonce réalisée à la manière d'un livre d'histoires contextuel.
Delilah, un sorcier fou doté d'une puissante magie noire, s'est emparé du trône de l'Impératrice Emily Kaldwin, laissant le sort des Îles en suspens. Incarnant Emily Kaldwin ou Carro Attano, voyagez à travers les rues légendaires de Dunwall à Karnaca, une ville côtière autrefois éblouissante qui détient la clé pour replacer Emily au pouvoir. Armé de la marque de l'Outsider et de nouveaux talents surnaturels, traquez vos ennemis et changez le destin de l'Empire pour toujours.
EN BREF: Vous vous souvenez de l'Outsider dans Dishonored ? Eh bien il est de retour dans Dishonored 2 mais avec une voix d'acteur différente. L'acteur d'origine a apparemment été « démis » et Robin Lord Taylor a pris sa place. Quelques joueurs de Dishonored ne sont pas fans de ce nouvel acteur et préfèrent largement le précédent. – Source : Polygon.com
La sortie de Dishonored 2 est prévue pour le 11 novembre 2016 et sera disponible pour PC, PlayStation 4 et Xbox One. Le pré-commander vous permettra d'y jouer un jour avant.