Top 10 des sorties de jeux PC d'août 2018.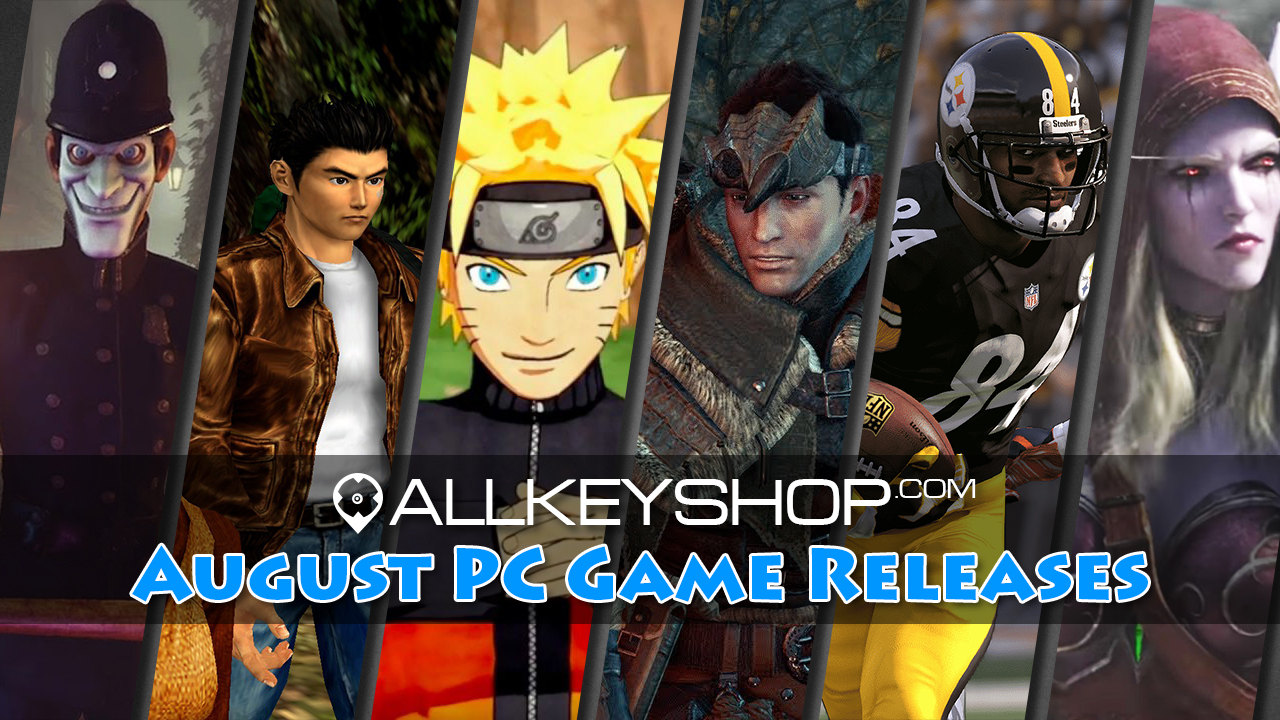 Un autre mois s'est écoulé, ajoutant plus de jeux à votre liste. Mais si vous cherchez quelque chose de nouveau à jouer ce mois-ci, ne cherchez pas plus loin. Voici les meilleures sorties de jeux PC pour août 2018 :
Yakuza 0 – 1er août
Enfin sur PC, suivez les aventures de Kazuma Kiryu dans les années 1980 à Tokyo et Osaka alors qu'il s'empêtre dans une série d'ennuis à cause d'rune simple course qui finit avec lui sur une scène de meurtre. Basculez à la volée entre 3 différents styles de combat et découvrez un monde vivant et animé avec 100 histoires.
---
Overcooked 2 – 7 août
Le simulateur de gestion de restaurant frénétique revient. Retournez au Royaume d'Oignon en rassemblant votre équipe de chefs pour sauver le monde une fois de plus. Jouez en solo ou avec des amis, en local ou en ligne, et découvrez de nouvelles mécaniques, thèmes et recettes tout en parcourant une toute nouvelle carte.
---
Monster Hunter World – 9 août
L'attente est enfin terminée ! Enfilez votre armure et aiguisez votre épée pour une chasse aux monstres, en utilisant votre environnement et le paysage à votre avantage pendant que vous terrassez des bêtes gigantesques pour leurs butins tant convoités. De plus, il y a une tonne de recoupements avec de grands noms du jeu vidéo.
---
Madden NFL 19 – 10 août
Cette année, EA Sports a écouté les fans en livrant la deuxième partie de la campagne Longshot baptisée Homecoming. Le mode histoire largement acclamé revient avec autant de narration, mais beaucoup plus de gameplay. Ajoutez-y de nouvelles fonctionnalités comme le mouvement réel du joueur, entrer dans la mêlée et faire une coupe et vous avez l'expérience ultime du football américain.
---
We Happy Few – 10 août
Après 2 ans en accès anticipé, l'aventure psychédélique de Compulsion Games est enfin prête pour un lancement complet. Plongez dans une Angleterre rétrofuturiste des années 60 où les citoyens sont dans un état constant de déni bienheureux induit par la drogue. Incarnez 3 personnages différents dont les histoires s'entremêlent pendant que vous vous battez pour vous échapper de la prison dystopique connue sous le nom de Wellington Wells.
---
World of Warcraft: Battle for Azeroth – 14 août
« Sargeras attack has caused a new substance called Azerite to pour out into the world, and the Alliance and the Horde once again prepare to go to war against each other. The new expansion will bring new quests, a slew of gameplay changes, and a renewed focus on class identity. Plus, all content from vanilla to Legion is now free, so there's no better time to jump in.
---
The Walking Dead: La dernière saison – 14 août
Vivez la finale de l'histoire de Clémentine sous une perspective totalement différente. Cette aventure récompensée se termine avec un nouveau style visuel, une nouvelle caméra d'épaule et de nouveaux mécanismes qui s'ajoutent pour procurer l'expérience la plus immersive qui soit. Vous ne voudriez pas rater ça.
---
Shenmue 1 & 2 – 21 août
Les classiques de Dreamcast sont de retour. Vivez deux aventures épiques remastérisées pour les plateformes modernes et disponibles sur PC pour la toute première fois. Jouez en tant que Ryo Hazuki, un artiste de jujitsu adolescent désirant venger la mort de son père. Explorez un monde ouvert, recherchez des indices et éliminez les ennemis et les boss dans le style de jujitsu Hazuki.
---
F1 2018 – 24 août
Si vous voulez de la vitesse, ne cherchez pas plus loin. Cette année, le jeu vidéo officiel de la FIA FORMULA ONE WORLD CHAMPIONSHIP propose des voitures de F1 plus classiques que jamais, le modèle de simulation de voiture F1 le plus précis à ce jour, des graphismes époustouflants et de nouveaux circuits pour la saison.
---
Strange Brigade – 28 août
Setei la Reine Sorcière a ressuscité et menace l'Égypte des années 1930. Jouez en solo ou en équipe avec jusqu'à 3 amis et assumez le rôle de l'un des quatre chasseurs de trésors intrépides spécialisés dans le surnaturel. Mélangez la puissance de feu et les arts magiques en affrontant l'armée des monstruosités mythologiques de Setei.
---
PES 2019 – 30 août
La fièvre de la Coupe du Monde est peut-être retombée, mais l'amour du sport des fans de football du monde entier ne s'arrête jamais. Le PES de cette année comporte un énorme ajout de ligues licenciées, 11 nouveaux attributs de compétences, des animations améliorées, de la fatigue visuelle, un mode MYCLUB entièrement révisé, ainsi que beaucoup plus de David Beckham.
---
Naruto to Boruto: Shinobi Striker – 31 août
Naruto revient dans une nouvelle bagarre en équipe à 4 joueurs. Formez votre équipe et affrontez d'autres ninjas en ligne pour prouver qui est le meilleur. Le jeu propose de nouveaux visuels construits à partir de zéro et un gameplay dynamique à la troisième personne qui permet aux joueurs d'utiliser l'environnement à leur avantage. Êtes-vous prêt à réunir l'équipe 7 ?
---
Et voilà tout pour les meilleures sorties de jeux PC d'août 2018. Si vous envisagez d'essayer un de ces jeux, assurez-vous de consulter les meilleures offres pour chaque titre ici sur Goclecd.fr.