Top 10 des jeux FPS de 2018 pour PC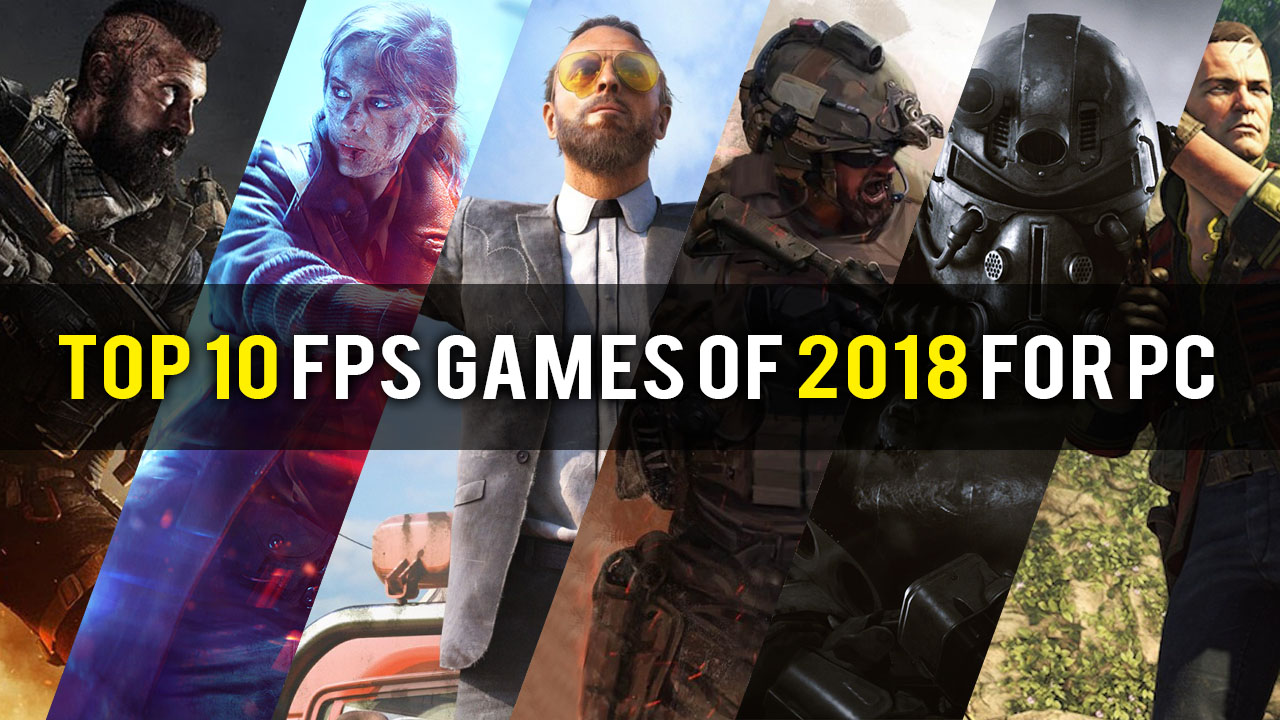 Les jeux de tir à la première personne sont les jeux les plus populaires sur la planète. Certains diront peut-être que c'est discutable, mais le fait est que les jeux FPS se vendent comme des petits pains et c'est pourquoi la plupart des grands éditeurs en ont au moins un à leur catalogue. Et avec autant de titres saturant le marché, il peut être difficile de choisir ceux que vous pourriez apprécier. C'est pourquoi nous avons réuni ici le Top 10 des jeux FPS de 2018 sur PC. Voyons voir ça.
---
Les 10 meilleurs jeux de tir à la première personne de 2018 sur PC
---
Tout joueur a entendu parler de la série Call of Duty, même ceux qui ne s'intéressent pas aux jeux de tir. Cette année, Activision et Treyarch ont sorti le titre Black Ops et ont décidé d'abandonner la campagne traditionnelle du jeu solo en faveur du mode Zombis étendu et d'un Call of Duty qui adopte le populaire mode bataille royale. Le résultat est un titre qui va certainement mener la vie dure à des titres comme PUBG et Fortnite.
---
Le prochain jeu de tir d'EA et DICE a peut-être été retardé, mais il promet à coup sûr d'être l'un des plus gros titres FPS de cette année. Cette fois-ci, Battlefield 5 ramènera la série à la Seconde Guerre mondiale pour davantage d'action sur le terrain. Certaines inexactitudes historiques et la façon de gérer la protestation des fans ont peut-être suscité la controverse, mais si vous parvenez à regarder au-delà, vous découvrirez un jeu ressemblant à ceux au rythme plus lent des jours glorieux.
---
La dernière aventure au culte explosif d'Ubisoft n'est pas un festival critique, mais elle est rapidement devenue l'un des jeux les plus vendus de l'année depuis son lancement et même maintenant. Les joueurs se retrouveront dans le comté de Hope, dans le Montana, où une famille a pris le contrôle de la ville sous la forme d'un culte apocalyptique tout en obligeant les locaux au « salut ». Pour la première fois de la série, presque tout le jeu peut être joué avec un ami. De plus, 3 aventures en dehors de ce monde sont proposées sous forme de DLC post-lancement.
---
Lorsque les nouveaux venus ont testé le premier Insurgency , ils ont vite compris que se précipiter dans la bataille ne les amenait qu'à une mort rapide. Insurgency Sandstorm promet de ramener le même objectif tactique que l'original en récompensant par des compétences et un jeu d'équipe plus que par la vitesse et la férocité. Sandstorm propose également de nouveaux véhicules pilotables équipés de mitrailleuse pour des approches encore plus tactiques. Il inclut également des fonctionnalités multijoueurs compétitifs et des outils de diffusion.
---
Mothergunship prend les meilleures choses du genre bullet-hell et les combine avec une présentation de jeu de tir à la première personne pour donner un jeu hybride extrêmement frénétique et amusant. Son système d'artisanat profond et exhaustif permet aux joueurs de créer le fusil de leurs rêves pour se déchaîner sur des hordes de machines extra-terrestres et de boss féroces. Entraînez un ami dans l'action et combattez ensemble pour la résistance et la survie de l'humanité.
---
Prenez la formule de Left 4 Dead et transposez-la en Égypte dans une histoire parallèle des années 1930, en remplaçant les zombis par des momies et d'autres monstres de la mythologie égyptienne et vous obtenez Strange Brigade. Le jeu autorise jusqu'à 4 joueurs en coopératif, mais vous avez le choix parmi plus de 4 personnages. Rebellion a ajouté des options de personnalisation qui agissent comme des récompenses dans le jeu, quoiqu'une option de partage de butin est absolument nécessaire ici. Espérons que nous verrons cela dans un futur correctif.
---
Le dernier titre de la série Fallout a suscité la controverse avec son changement d'orientation vers le mode multijoueur exclusivement en ligne à partir de l'expérience traditionnellement solo. Le jeu place les joueurs dans la peau de l'un des survivants du principal Abri qui vient de se reconnecter au monde. Il n'y a pas de PNJs pour raconter l'histoire, mais à la place les joueurs trouveront des enregistrements à écouter. Chaque personne que vous rencontrerez est un autre joueur, mais cela ne veut pas dire qu'elle sera amicale.
---
Avec tout le tapage généré par un personnage féminin dans Battlefield 5, il semble y avoir une forte demande pour un FPS historiquement fidèle de la Seconde Guerre mondiale. C'est ce que se propose Post-Scriptum, un jeu de simulation de la Seconde Guerre mondiale qui met entre autres l'accent sur la précision historique. En fait, il attache une telle valeur à l'authenticité qu'il propose des combats réalistes, des uniformes numérisés avec des photos, des cartes historiques à l'échelle 1: 1 et des armes, des véhicules et des repères fidèlement reconstitués.
---
Overkill, créateurs de la série Payday, apporte son expertise en matière de jeu de tir coopératif au monde des morts-vivants, en particulier à l'univers de The Walking Dead de Robert Kirkman. Il s'agit d'un FPS coopératif à quatre joueurs où ceux-ci exécutent différentes missions ensemble. Si vous pensez à Left 4 Dead, ne le faites pas ! Ici vous ne courrez et ne tirerez pas sur les zombis car le bruit attire plus de walkers et vous vous retrouverez bientôt submergé.
---
C'est le seul jeu encore en Accès Anticipé de cette liste, et il y a définitivement gagné sa place. Dans ce jeu, vous incarnez un chasseur de primes à la recherche des monstres cauchemardesques et sauvages qui errent dans les marais de Louisiane. Jusqu'à 5 équipes de 2 décident de prendre un monstre comme cible. Une fois qu'une équipe a vaincu la cible, elle reçoit une prime, ce qui change le regard de toutes les autres équipes. Les joueurs ont également une capacité spéciale Dark Sight qui permet de suivre les monstres et les joueurs transportant une prime, ce qui les rend prédisposés aux embuscades.
---
Et c'est tout pour le Top 10 des Jeux FPS de 2018 sur PC. Faites votre choix parmi ces excellents jeux de tir à la première personne. Une fois qu'il est fait, assurez-vous de consulter la page du jeu ici sur Goclecd.fr pour connaître les meilleures offres pour ces jeux sur tout le web. Au plaisir !