Top 10 des Jeux à venir de Novembre 2019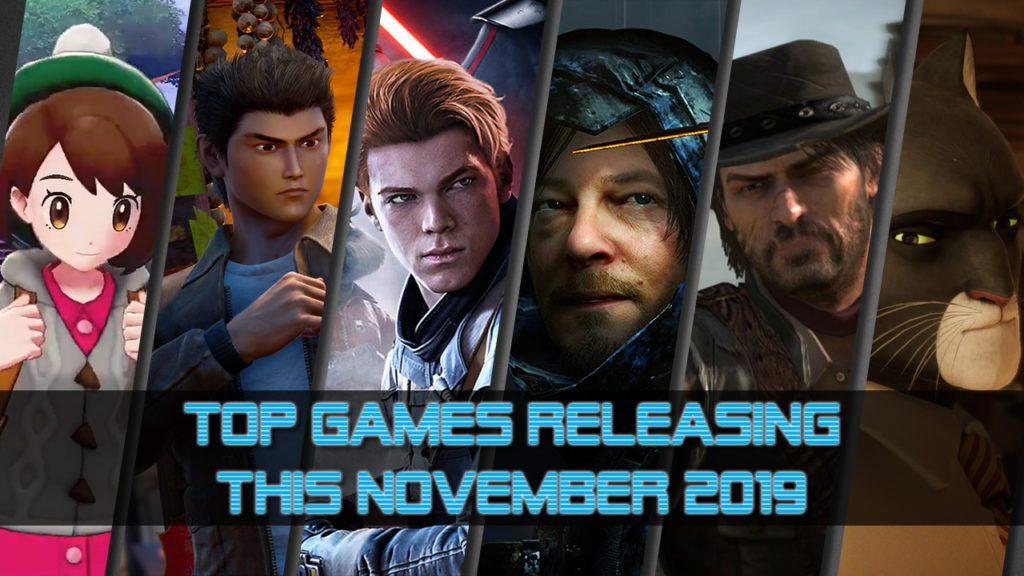 ---
Meilleurs jeux de Novembre
---
Nous savions tous que ce n'était qu'une question de temps avant que Red Dead Redemption 2 ne parvienne sur PC. Le jeu d'action-aventure occidental bénéficiera d'améliorations spécifiques aux PC, bien que Nvidia ait annoncé que le jeu ne prendra pas en charge le ray-tracing. La version PC est également livrée avec un tout nouveau contenu comprenant de nouvelles missions, de nouvelles armes et de nouveaux chevaux. Le port PC sera également fourni avec le mode multijoueur mondial partagé, Red Dead Online.
---
Testez vos compétences en gestion de zoo alors que la série Zoo Tycoon se mondialise dans Planet Zoo. Construire divers habitats pour héberger les animaux, en prêtant une attention particulière à leurs besoins. Affrontez différents scénarios basés sur des objectifs ou laissez libre cours à votre imagination dans le mode Sandbox. Assurez-vous de bien réfléchir à chaque décision. Vous pourriez finir par construire les attractions animales les plus grandes et les plus sauvages que le monde ait jamais vues, ou tout simplement tout gâcher en essayant.
---
Qu'est-ce que Death Stranding ? Après des années de longues bandes-annonces bizarres et de spéculations de la part des fans, nous serons peut-être enfin en mesure de répondre à cette question. D'après ce que nous ont dit les critiques, il semble que ce sera un jeu très polarisant – que vous l'aimiez ou non. Pourtant, n'importe quel jeu de la légende de l'industrie Hideo Kojima devrait certainement valoir la peine d'être joué au moins une fois.
---
EA a peut-être enfin écouté les fans de NFS alors que Need for Speed Heat cherche à ramener les courses à enjeux élevés sous les feux de la rampe. Ici, les joueurs gagnent de l'argent pour améliorer leur véhicules en participant à des courses pendant la journée. La nuit, les joueurs se tournent vers des courses de rue illégales avec la police à leurs trousses. Ces courses nocturnes sont le seul moyen d'améliorer votre réputation et de débloquer de nouvelles courses et boutiques. Il y a clairement un clin d'œil clair à Most Wanted et Underground.
---
Blacksad Under the Skin est basé sur la série de bandes dessinées franco-espagnole, Blacksad, et ressemble à un film policier dans Zootopia de Disney. John Blacksad, un détective privé, est engagé pour enquêter sur la mort d'un propriétaire de club de boxe et la disparition de l'étoile montante du club. Enquêter sur les endroits clés et découvrir des indices cruciaux pour résoudre le mystère.
---
Après des années de fans déçus de Star Wars, EA est sur le point de faire une percée avec Star Wars Jedi Fallen Order de Respawn. Cal Kestis, un Jedi Padawan qui a survécu à l'Ordre 66, se retrouve en fuite devant les Inquisiteurs de l'Empire. Beaucoup de choses dépendent de ce nouveau titre. EA a déjà reçu beaucoup de soutien après avoir annoncé que le jeu sera purement solo et qu'il n'y aura pas de microtransactions. Espérons que la Force sera forte dans ce cas-ci.
---
Pokemon Sword and Shield sont les premiers RPG de base de la série pour la console Nintendo Switch et les premiers sur une console de salon. Il y a beaucoup de nouvelles fonctionnalités qui viennent avec ce tandem – Dynamax et Gigantamax Pokemon, des rencontres de raid en co-op, des Pokemon sauvages visibles et le tout nouveau mode « Camp ». Comme le veut la tradition, les deux versions comporteront des Pokémon exclusifs et pour la première fois dans la série, des Gym Leaders exclusifs aux versions.
---
Célébrez le 20ème anniversaire de l'un des jeux de stratégie en temps réel les plus joués de tous les temps avec Age of Empires 2 Definitive Edition. Age of Empires 2 Definitive Edition vous fait revivre les combats de l'époque avec de nouveaux graphiques haute définition et un support pour la résolution 4K. Profitez d'une bande sonore entièrement remasterisée et d'un tout nouveau contenu avec 3 nouvelles campagnes et 4 nouvelles civilisations. Ce sera une excellente façon de passer le temps en attendant Age of Empires 4.
---
Après plusieurs années de développement, les fans et les sponsors pourront enfin jouer à Shenmue 3. Ryo Hazuki revient alors qu'il tente de résoudre le mystère de la mort de son père et de le venger. Les joueurs pourront prendre des emplois à temps partiel, jouer à des jeux d'arcade et pratiquer le kung-fu quand Ryo n'est pas occupé à faire tomber les méchants.
---
Sniper Ghost Warrior Contracts offre le meilleur gameplay de sniper de la série dans des missions de bac à sable (sandbox) au style Hitman. Jouez en tant qu'assassin et découvrez le tout nouveau système de réticule dynamique qui offre l'expérience de sniping la plus réaliste de tous les jeux vidéo. Méfiez-vous, cependant, car vous rencontrerez des tireurs d'élite rivaux qui tenteront de voler votre marque. Occupez-vous d'eux rapidement ou vous le regretterez.