The Vanishing of Ethan carter: l'ovni fraîchement débarqué
The Vanishing of Ethan carter est notre jeu du jour, disponible à 10.49€

[sws_button class= » » size= »sws_btn_medium » align= »sws_btn_align_center » href= »https://www.goclecd.fr/acheter-the-vanishing-of-ethan-carter-cle-cd-comparateur-prix/ » target= »_blank » label= »Voir les prix » template= »sws_btn_mint » textcolor= » » bgcolor= » » bgcolorhover= » » glow= »sws_btn_glow_blue »] [/sws_button]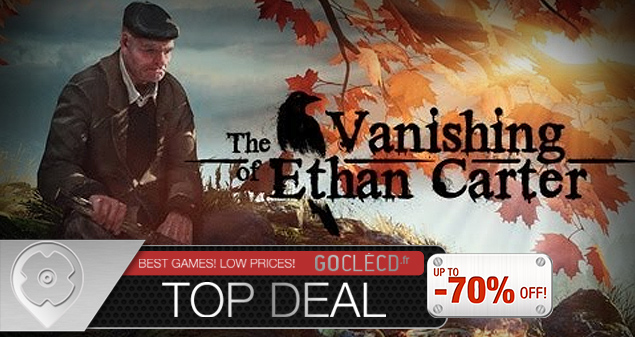 The Vanishing of Ethan Carter fait parti de ces jeux qu'on n'attend pas, qu'on ne voit pas sortir et que l'on n'ose pas tester. Malgré tout cela et dans certains cas, un jeu sort du lot et se fait remarquer.
C'est bien le cas de The Vanishing of Ethan Carter.
Des graphismes à couper le souffle qui invitent à la découverte et aux randonnées pédestres. Une superbe ambiance avec des musiques qui se prêtent complètement aux situations et aux environnements.
Dès les premiers instants du jeu vous êtes tout de suite emporté dans l'univers ambiant et sonore de The Vanishing of Ethan Carter.
Vous incarnez un détective spécialiste de l'occulte Paul Prospéro, possédant des pouvoirs paranormaux qui lui permettent de voir ce qu'il s'est passé sur le lieu d'un crime. Celui-ci enquêtera sur la disparition d'un jeune homme : Ethan Carter, à Red Creek Valley. En menant son enquête, Paul découvrira une suite de crimes qu'il devra analyser et résoudre dans sa progression.