The Soroboreans annoncé pour la survie RPG Outward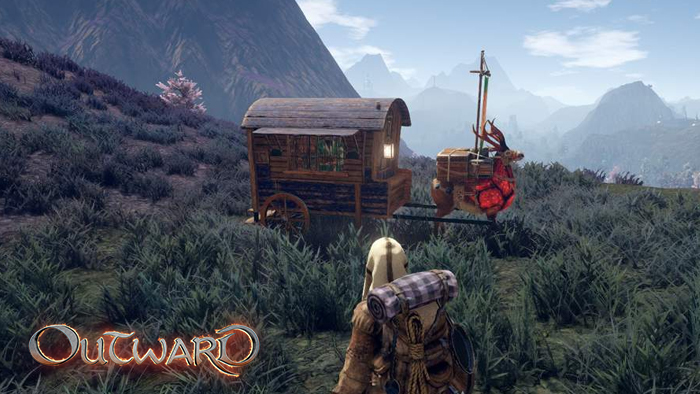 Les mises à jour ont été lentes et très espacées pour le RPG de survie en monde ouvert de Nine Dots Studio, Outward, mais chacune a ajouté une richesse de contenu qui a rendu difficile pour les fans de résister au retour dans le monde d'Aurai. Aujourd'hui, l'éditeur Deep Silver a annoncé le tout premier DLC payant pour le jeu et il promet de donner un nouveau souffle à l'aventure avec quelques nouvelles fonctionnalités.
---
---
Voici un aperçu de certaines des nouvelles fonctionnalités qui accompagneront The Soroboreans, directement tirées du communiqué de presse :
Enchantements

Quoi de mieux que d'avoir son arme favorite à ses côtés ? Qu'en est-il de votre arme préférée avec un tout nouvel effet ? Les armes et les bibelots pourront désormais être modifiés grâce au nouveau système d'enchantement.

Corruption

La faim, la soif et le froid. Une situation terrible, mais dans laquelle on se retrouve souvent en jouant. Si cela ne vous suffisait pas, votre personnage peut être corrompu. Le niveau de corruption vous affecte de différentes manières et si vous ne pouvez pas vous en débarrasser, vous pourriez connaître une fin prématurée. Le monde devient alors beaucoup plus effrayant.

Nouvelles compétences et effets du statut

Introduction de nouvelles compétences et d'effets de statut pour votre personnage. Ils vous aideront à faire face aux nouvelles situations dans lesquelles vous vous trouvez avec les effets de la corruption. Ils ajoutent un nouvel élément au jeu et peuvent changer complètement votre façon de jouer. Il est temps de créer un nouveau personnage ? Avez-vous assez de Rations de Voyage pour celui-ci ?
Comme le nom du DLC l'indique, il sera axé sur la faction soroboréenne non jouable du jeu. Le DLC comprendra une nouvelle région, qui sera très probablement la région d'origine des Soroboréens, et une toute nouvelle ligne de questage, qui devrait en révéler beaucoup plus sur la tradition derrière cette faction puissante mais mystérieuse.
Si vous faites partie de la chaîne officielle du jeu Discord, vous savez que les fans disent souvent aux développeurs qu'ils seraient heureux de débourser de l'argent pour un DLC qui développera le jeu. Les développeurs ont révélé à la fin de l'année dernière qu'ils avaient des plans pour un DLC payant, mais c'est la première fois que nous avons des détails sur ce qui sera réellement inclus.
The Soroboreans seront lancés au printemps prochain. Outward est disponible sur PC, Xbox One et PlayStation 4.