The Evil Within un peu de gourmandise
The Evil Within est notre jeu du jour disponible à 24.89€

[sws_button class= » » size= »sws_btn_medium » align= »sws_btn_align_center » href= »https://www.goclecd.fr/acheter-the-evil-within-cle-cd-comparateur-prix/ » target= »_blank » label= »Voir les prix » template= »sws_btn_mint » textcolor= » » bgcolor= » » bgcolorhover= » » glow= »sws_btn_glow_blue »] [/sws_button]
Cette semaine nous avons appris que The Evil Within ferait probablement parti de ces jeux gourmands qui nécessiteront un configuration décente pour en profiter au maximum.
Et nous avons eu la chance de pouvoir confirmer la chose.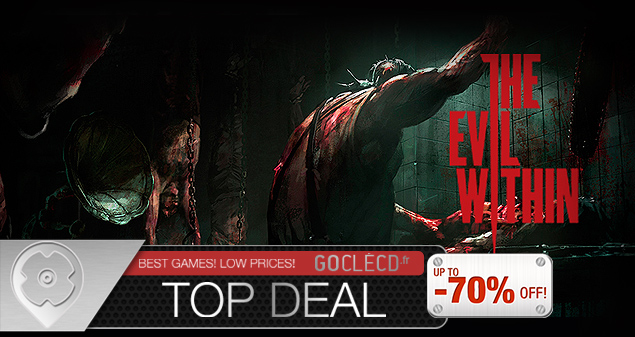 Voici la configuration minimum requise pour jouer et quand je dis jouer ce n'est pas en 1080p et avec certaines options désactivées.
OS

: Win 7/ 8.1

Processeur

: Intel I7 -4 coeurs ou équivalent

Ram

: 4GB

Carte Gratphique

: GTX 460 1GB VRAM ou équivalent

Stockage

: 50 GB d'espace nécessaire.
Si vous souhaitez jouer dans des conditions optimales, il faudra sortir le porte monnaie (Cela dit, vu les besoins techniques que demandent les nouveaux jeux, il va falloir songer à remettre à jour certaine configuration).
Configuration recommandée
OS

: Win 7/ 8.1

Processeur

: Intel I7 – 6 coeurs ou équivalent

RAM

: 8GB
Carte Graphique

:

 670 GTX 4gbs VRam

Stockage

: 50GB d'espace nécéssaire
Malgré cette configuration « 

recommandée

 » je vous invite à prévoir plus puissant coté Cartes graphiques, si vous souhaitez vraiment profiter d'images fluides lors des moments importants du jeu. sisi… Testé sur une de nos machines test équipée de 2 Nvidia 670 GTX avec possibilité de SLI, une seule carte ne permet pas une approche optimale de

The Evil Within

.
Je vous recommande de partir sur des GTX (voir TI) de la série 7xx voir 9xx si vous en avez les moyens.
Voici la dernière vidéo de gameplay présenté le 27 Septembre
On vois déjà sur celle-ci d'infimes ralentissements qui pourront rapidement devenir problématique lors des scènes d'action
(oui il faut être attentif) 😉