The Binding of Isaac Rebirth : gratuit sur le PS+
The Binding of Isaac Rebirth est notre jeu du jour, disponible a 8.09€

The Binding of Isaac Rebirth sort le bout de son nez. Après le premier épisode largement acheté, téléchargé, et joué par une communauté très réceptive, Edmund McMillen le developpeur du jeu nous offre de nouveau une aventure sympa et déjantée comme on les aime.
Je vous rappelle que The Binding of Isaac Rebirth sera gratuit sur le PS+ dès le 5 Novembre. Vous pourrez donc jouer gratuitement sur PS4 mais aussi sur PS Vita. The Binding of Isaac sera Cross-Buy avec la PS Vita.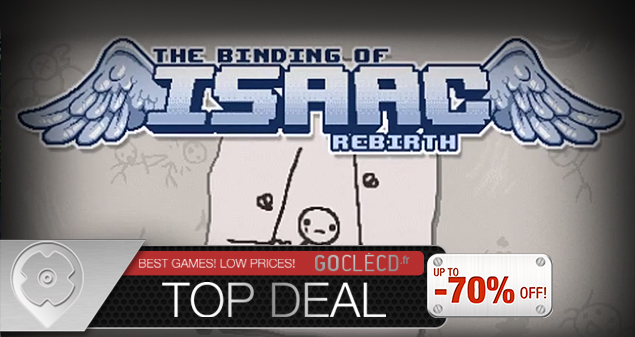 Quelques nouveautés seront de la partie telles que le poumon de Monstro. Il s'agit d'un des boss de la cave. La capacité de son poumon est de pouvoir transformer la capacité de tirs de Isaac en celle de Monstro. En vous équipant de ce poumon vous pourrez dorénavant charger vos attaques et cracher une plus grosse quantité de tears.
Le second avantage et non pas des moindres est que vous pouvez associer ce poumon de Monstro avec d'autres objets et augmenter et modifier la puissance et les effets de vos attaques.
Voilà une vidéo de 1 minute 30 qui présente quelques nouveaux effets possibles avec le poumon de monstro.