Temtem vend plus d'un demi-million d'exemplaires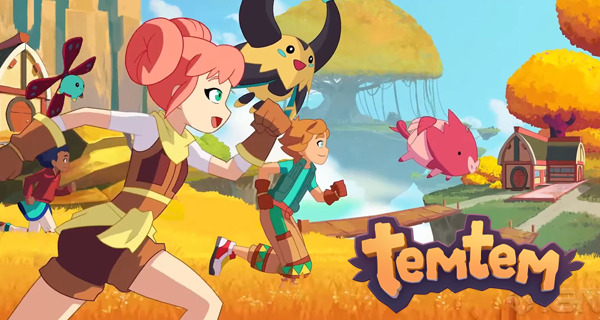 Temtem, le MMO de Crema, de type Pokémon, a été vendu à plus d'un demi-million d'exemplaires au cours de son premier mois d'existence. Le jeu a été lancé le 21 janvier de cette année, en tant que Early Access on Steam.
---
---
Les fans de Pokémon avaient demandé un jeu comme Temtem, un jeu en ligne massivement multijoueur. Le développeur Crema et l'éditeur Humble Bundle ont été les premiers à répondre à cette demande. Les joueurs y incarnent des dompteurs capables d'attraper, d'apprivoiser et d'élever des créatures qui ont des traits, des capacités et des affinités élémentaires différents. La particularité du jeu est que les joueurs peuvent se connecter, interagir et jouer avec d'autres dompteurs de Temtem en ligne, ainsi que participer à des batailles PVP.
L'annonce que le jeu a pu atteindre plus de 500 000 exemplaires vendus a été publiée sur Twitter :
Interesting facts, don't you think? Here's another nice number: Temtem has officially sold over 500.000 copies worldwide!🎉✨ We wanted to thank everyone for their support, and take a look at how we are doing so far ❤ There is so much more yet to come!

— Temtem (@PlayTemtem) February 21, 2020
De plus, une feuille de route pour le jeu est en cours d'élaboration et les développeurs la partageront très prochainement.
Parallèlement à l'annonce de cette étape importante, la mise à jour 0.5.13 est venue avec quelques corrections pour le jeu. Vous pouvez consulter les notes de correctifs ci-dessous :
Nouveautés
Ajout d'un nouveau morceau de musique pendant la phase de sélection et d'interdiction.
Améliorations
Ajout d'un compte à rebours à l'écran des échanges commerciaux. Une fois que les deux joueurs sont prêts, il y a un compte à rebours de 5 secondes où les joueurs peuvent tout revoir et annuler l'échange s'ils ne sont pas sûrs de quelque chose.
La sortie de l'écran d'échange annule instantanément le bouton « Prêt » avant de confirmer la sortie avec le joueur.
Augmentation de la taille des salles de serveurs pour accueillir plus de joueurs en même temps.
Amélioration des textures de Barnshe.
Corrections
Correction de plusieurs problèmes concernant la synchronisation du bouton « prêt » pendant les transactions.
Amélioration et sécurisation de certains cas d'initialisation cinématique pour éviter d'autres bugs.
Correction de quelques cas où des engrenages pouvaient se perdre en essayant de lancer un Temtem équipé.
Correction d'un blocage lors d'une conversation avec le passager clandestin à Tucma.
Correction de la rupture d'une fête de coopération pendant la conversation du Dr Hamijo dans le volcan Anak.
Correction d'un Temtem qui avait perdu son ombre après l'avoir inspecté dans le Tempedia.
Correction de l'impossibilité d'utiliser le Temtem récemment capturé par votre partenaire dans les batailles.
Correction d'un verrouillage en douceur lors du prélèvement d'un objet que votre partenaire de coopération possède déjà.
Correction d'un plantage du jeu lorsque vous appuyez sur TAB/Control dans la Voûte.
Correction d'un blocage lors de la perte de connectivité après la capture d'un Temtem indompté lors d'une partie en coopération.
Correction des œufs échangés avec 0 minute d'éclosion n'ayant pas éclos après l'échange.
Correction d'objets qui n'ont pas été enlevés pendant la cinématique de crash après avoir fait une fête de coopération.
Correction d'être coincé dans les limbes après avoir atteint la prison lors d'une fête coopérative.
Correction d'un Temtem d'évolution gelé n'apparaissant pas comme gelé après la séquence d'évolution.
Fixe Dojos d'Omninésie ayant leur description échangée entre eux.
Fixe ne pouvant pas se lever après s'être assis sur les bancs du salon des jaguars.
Temtem est actuellement disponible sur Steam Early Access.