Styx : Master of Shadows – nouvelle vidéo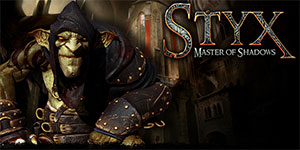 Le gobeling Styx fait une démo de ses compétences en vidéo pour Styx : Master of Shadows !
Styx : Master of Shadows
, le jeu d'infiltration développé par le studio français
Cyanide
(à qui l'on doit l'adaptation de
Game of Thrones
, ou encore
Blood Bowl
), attendu sur
Playstation 4
,
Xbox One et PC
pour
Septembre
prochain, marque une petite pause dans le cours de son développement pour inaugurer l'ouverture de
son site officiel
avec une nouvelle vidéo. Ce
Summer Trailer
nous propose de suivre
Styx
, gobelin voleur et assassin à ses heures, alors qu'il débute son infiltration de l'immense Tour d'Akenash. C'est dans cette tour gigantesque où est jalousement gardé par les elfes, les humains et autres créatures fantastiques, l'Arbre-Monde et son Cour, source de la précieuse Ambre. Voilà l'objectif final de
Styx
, qui fait ici démonstration de quelque-uns de ses pouvoirs et compétences spéciales qui lui seront d'un grand secours pour se frayer, dans l'ombre, un chemin jusqu'à son but. Egalement optimisé pour une navigation sur smartphone et tablette, le site de
Styx : Master of Shadows
est un véritable trésor d'informations sur le jeu : l'histoire, les mécaniques de gameplay, ou encore les capacités spéciales de
Styx
, le gobelin voleur et assassin que vous jouerez. Toutes les infos utiles que vous recherchez se trouvent dans les différentes rubriques du site. Le site comporte également une grande galerie d'images, d'artworks inédits ainsi que des vidéos, parmi lesquelles vous retrouverez, en plus du Summer Trailer dévoilé aujourd'hui même, une longue vidéo de gameplay commentée par les développeurs lors de l'
E3 2014
! Voilà un bon moyen d'obtenir un aperçu de ce qui vous attend en Septembre, alors que vous entamerez l'ascension de l'immense Tour d'Akenash ! Vous pouvez pré-commander le jeu
en cliquant ici
.