Les votes des Steam Awards 2016 sont ouvert ! Voici les candidats !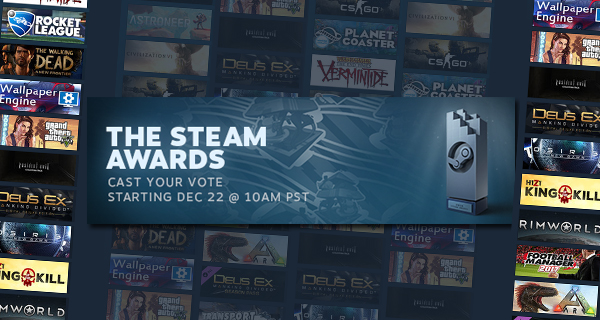 Steam a enfin révélé les jeux nominés pour les Steam Awards 2016 ! Vous pouvez participer à cet événement en votant pour votre jeu préféré !
Les votes ont débutés le 22 Décembre et durent jusqu'au 30 Décembre. Chaque jour, les votes s'ouvrent pour une catégorie différente et restent ouverts pendant une période de 24 heures. Les grands gagnants seront annoncés lors de la Saint-Sylvestre.
Voici la liste officielle de Steam qui comprend également le calendrier de vote correspondant.
Lequel de ces jeux seront les grands gagnants ? Voyons vos listes dans les commentaires ci-dessous.
Nominés des Steam Awards 2016
22 Decembre "Villain Most In Need Of A Hug" Award -Borderlands 2 -Dead by Daylight -Far Cry 3 -Far Cry 4 -Portal 2
23 Decembre
"I Thought This Game Was Cool Before It Won An Award"
-Euro Truck Simulator 2 -Paladins -Starbound -Stardew Valley -Unturned
24 Decembre
"Test of Time » Award
-Age of Empires II HD -The Elder Scrolls V: Skyrim -Sid Meier's Civilization V -Team Fortress 2 -Terraria
25 Decembre
"Just 5 More Minutes" Award
-Counter-Strike: Global Offensive -Rocket League -Sid Meier's Civilization VI -Fallout 4 -Terraria
26 Decembre
"Whoooaaaaaaa, dude!" Award
-Bioshock Infinite -DOOM -Grand Theft Auto V -Metal Gear Solid V: The Phantom Pain -The Witcher 3: Wild Hunt
27 Decembre
"Game Within A Game Award"
-Garry's Mod -Grand Theft Auto V -The Stanley Parable -Tabletop Simulator -The Witcher 3: Wild Hunt
28 Decembre
"I'm Not Crying, There's Something In My Eye" Award
-Life Is Strange -To the Moon -This War of Mine -Undertale -The Walking Dead
29 Decembre
"Best Use Of A Farm Animal" Award
-ARK: Survival Evolved -Blood and Bacon -Farming Simulator 17 -Goat Simulator -Stardew Valley
30 Decembre
*Celles-ci sont 4 nouvelles catégories ajoutées par Steam, il sera possible de voter pour chaque, le même jour.
"Boom Boom" Award -BroForce -DOOM -Just Cause 3 -Keep Talking and Nobody Explodes -Kerbal Space Program
"Love/Hate Relationship" Award
-Dark Souls III -Darkest Dungeon -Dota 2 -Geometry Dash -Super Meat Boy
"Sit Back and Relax" Award
-ABZU -Cities Skylines -Euro Truck Simulator 2 -Mini Metro -Viridi
"Better With Friends" Award
-Don't Starve Together -Gang Beasts -Golf With Your Friends -Left 4 Dead 2 -Magicka
Vous pouvez retrouver le détail de chaque catégories sur notre article précédent des Steam Awards 2016.