Sorties Jeux vidéos Juin 2016 : Mirror's Edge Catalyst, Hearts of Iron 4, et davantage !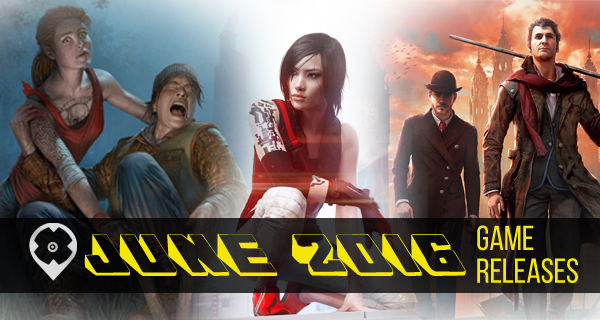 Tenez-vous prêts pour ces Sorties Jeux vidéos Juin 2016 !
Nous sommes presque à la moitié de l'année 2016, et durant ces derniers mois la scène des jeux vidéos a été dominée par des titres nouveaux et importants. Vous vous demandez ce qu'il y a en rayon pour vous ce mois de Juin ? En premier lieu, le très attendu Mirror's Edge Catalyst est certainement l'un des jeux les plus excitants du lot. On trouve aussi d'autres titres qui devraient vous plaire, comme Hearts of Iron 4, et Resident Evil Umbrella Corps. Découvrez les autres jeux que nous avons inclus à notre liste, parce que nous sommes sûrs qu'ils sont aussi capables de vous divertir.
---
Sorties Jeux vidéos Juin 2016
Date de sortie : 6 Juin 2016
---
Ce jeu de stratégie se déroule pendant la Seconde Guerre Mondiale. Vous pouvez choisir n'importe quelle nation de ce conflit et mener la guerre aux autres pays avec des batailles dans les airs, sur terre et sur mer.
---
Date de sortie : 9 Juin 2016
---
Le trailer de lancement de Mirror's Edge Catalyst, « Pourquoi nous courons », souligne non seulement le superbe gameplay que vous pouvez attendre du jeu, mais aussi l'histoire des origines de Faith Connor.
---
Date de sortie : 10 Juin 2016
---
Sherlock Holmes The Devil's Daughter nous promet un gameplay à nul autre pareil en endossant le rôle de Sherlock Holmes une fois de plus. Escomptez interrogatoires, poursuites, combat et infiltration tout en rassemblant des indices et en recherchant des suspects dans un milieu libre à explorer.
---
Date de sortie : 14 Juin 2016
---
Dead by Daylight est un jeu multijoueur à 4 contre1. 1 joueur joue l'assassin, tandis que les 4 autres sont les survivants.
---
Date de sortie : 21 Juin 2016
---
Si vous êtes un fan des classiques jeux japonais à défilement en 2D, alors Mighty No. 9 pourrait vous intéresser. Battre le jeu débloque un nouveau mode Game+ dans lequel vous pourrez vous défier vous-même dans des batailles encore plus difficiles.
---
Date de sortie : 21 Juin 2016
---
Les zombies font un retour ce mois-ci avec Umbrella Corps, un jeu de tir en compétition multijoueur. Ce jeu est un dérivé des séries Resident Evil et il se passe deux ans après les évènements de Resident Evil 6.
---
Date de sortie : 28 Juin 2016
---
Revivez l'action du film « Star Wars : Le Réveil de la Force ! ». Proposant de nouveaux mécanismes de jeu incluant le système Multi-Builds, LEGO Star Wars The Force Awakens vous permet aussi d'incarner n'importe quel personnage du film !
---
Date de sortie : 28 Juin 2016
---
The Technomancer est un jeu de rôle de science-fiction se passant sur la planète Mars. Vous incarnez l'un des Technomancers, qui sont des mages-guerriers ayant le pouvoir d'utiliser des forces électriques renforcées par leurs implants cybernétiques. Le jeu propose trois styles de combat, quatre arbres de compétences uniques, des avantages, des compagnons, et autres.
---
Juin va réellement être encore un mois plein d'action et d'aventure. Parmi les Sorties Jeux vidéos Juin 2016 lesquels vous enthousiasment ?