Sorties jeux vidéos Décembre 2016 : Des jeux bouillants pour réchauffer vos vacances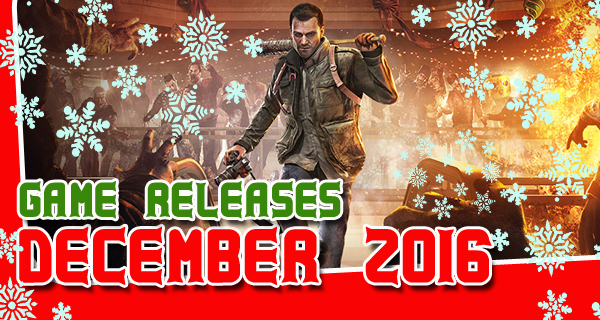 L'année touche à sa fin, et les sorties jeux vidéos Décembre 2016 vont sûrement réchauffer cette période de vacances. Cette année aura assurément été une autre grande année pour les jeux vidéos, et le dernier mois est encore rempli de jeux fantastiques pour vous donner votre dose de jeu pendant les vacances.
N'oubliez pas que vous pouvez les obtenir au meilleur tarif grâce à notre service comparateur de prix ! Faites de super affaires tout le temps, seulement ici sur Goclecd.fr
---
Sorties jeux vidéos Décembre 2016 :
Date de sortie : 1er décembre 2016
---
Basé sur la nouvelle du même nom de Markus Heitz, The Dwarves est un jeu de rôle qui revendique « une histoire forte et des batailles en temps réel tactiquement difficiles ». Il comprend 15 héros jouables ayant chacun leurs talents propres. Mettez en œuvre vos compétences tactiques en déployant vos héros et utilisez leurs talents pour affronter des centaines d'ennemis. Avec une histoire captivante associée à des combats dynamiques, The Dwarves est un jeu qui vous procurera une expérience comme jamais auparavant.
---
Date de sortie : 2 décembre 2016
---
Si les sports extrêmes est ce que vous recherchez comme jeu pendant cette saison des fêtes, alors Steep est le choix parfait pour vous ! Explorez librement les Alpes ou l'Alaska dans un décor de monde ouvert. Choisissez si vous préférez faire du ski, du parapente, du snowboard, ou simplement profiter de toute la beauté de votre environnement. Il y a aussi une large gamme de challenges qui vous attendent, alors défiez vos amis et montrez vos talents !
---
Date de sortie : 6 décembre 2016
---
Développé exclusivement pour des appareils VR, Arizona Sunshine vous amènera certainement à un tout nouveau degré de peur et de survie en affrontant des hordes de zombis en réalité virtuelle. Le jeu comprend une fonction de manipulation d'une arme réelle que vous pouvez utiliser grâce à un contrôleur de mouvement VR. Vous pourrez aussi aller explorer librement votre environnement en utilisant votre casque VR. Ses modes de jeu vous donneront la montée d'adrénaline dont vous avez besoin avec sa campagne en joueur solo, ou avec des amis en mode multijoueur coopératif. Si vous êtes partant pour un défi, alors tentez son mode survie et voyez combien de temps vous pourrez tenir.
---
Date de sortie : 6 décembre 2016
---
Dead Rising 4 ramène le photographe retraité Frank West à Willamette, au Colorado. Une mystérieuse nouvelle épidémie a entraîné l'apparition de prédateurs mortels qui entourent la ville et son nouveau centre commercial. Il semble que West ne parte pas pour des vacances car il va devoir mettre à jour une conspiration du gouvernement responsable de cette épidémie. En plus de ça, il va découvrir un certain nombre de choses qui vont certainement le tenir très occupé pour s'il veut arriver à rester en vie.
---
Date de sortie : 8 décembre 2016
---
Realm of the Wood Elves est la plus importante extension de Total War Warhammer publiée jusqu'ici par SEGA. Ce DLC apporte la nouvelle race des Elfes des Forêts dans sa Grande Campagne, la nouvelle devise monétaire Amber spécifique à la race, deux nouveaux personnages jouables (Durthu et Orion), ainsi que deux nouveaux types de Lord et trois types de héros. Les nouveaux personnages et les types de héros ont tous les deux des arbres de compétences très spécialisés. Une carte de campagne supplémentaire est aussi rajoutée au jeu, comprenant la Campagne Seasons of Revelations Wood Elves
---
Date de sortie : 9 décembre 2016
---
Basé sur le classique jeu de société Space Hulk de Games Workshop, Space Hulk Deathwing est un jeu de tir à la première personne situé dans l'univers de Warhammer 40000. Vous incarnerez un Space Marine appartenant aux Deathwing of the Dark Angels Chapter. En tant que Marine de l'Espace, vous endosserez l'armure Terminator et utiliserez les redoutables armes emblématiques des Marines de l'Espace. Affrontez les mortels Genestealers et montrez-leur qui est le boss dans la campagne solo du jeu, ou jouez avec jusqu'à trois de vos amis dans son mode coopératif épique !
---
Date de sortie : 13 décembre 2016
---
Si vous êtes partant pour une aventure, The Little Acre vous en fournira certainement une mémorable. Le jeu comprend deux personnages jouables, Aidan (le père) et Lily (la fille), et il se passe dans l'Irlande des années 50. Tandis qu'Aidan découvre des indices qui le conduisent vers son père disparu, il commence à enquêter jusqu'à ce qu'il se retrouve dans un étrange nouveau monde. Sa fille, Lily, part à sa recherche et rencontre ses propres problèmes en chemin. Ces deux-là parviendront-ils à se retrouver ? Vous n'avez qu'à voir par vous-mêmes.