Sorties de Jeux PC de Mai 2018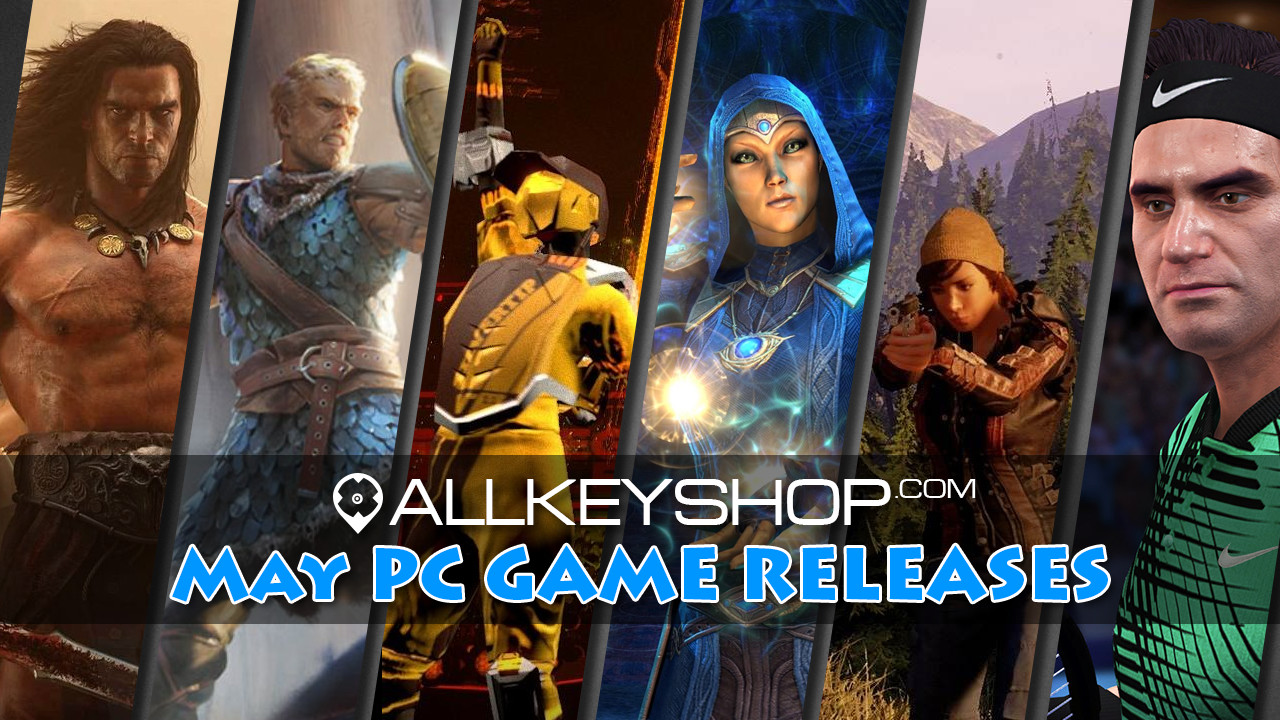 Le temps passe si vite. Nous sommes déjà proche de la moitié de l'année. Il y a eu tellement de grandes sorties et je suis sûr que vous avez déjà une tonne de retard. Malheureusement, vous devrez peut-être en rajouter d'autres car de superbes publications vont arriver sur PC ce mois-ci. Voici le meilleur des Sorties de Jeux PC de mai 2018 :
---
Sorties de Jeux PC de Mai 2018
---
Total War Saga Thrones of Britannia | 3 Mai
---
Différé jusqu'à ce mois-ci, Thrones of Britannia est le premier d'une série de produits dérivés planifiés que Creative Assembly veut utiliser pour amener la formule Total War vers des événements historiques très spécifiques. Le jeu vous amènera dans l'Europe de 878 après JC où quatre royaumes ont été rendus vulnérables par la guerre et les envahisseurs étrangers. Réécrivez un moment critique de l'histoire quand quatre royaumes sont réunis en une seule nation sous l'autorité d'un seul roi. L'histoire favorisera-t-elle votre quête ?
---
Conan Exiles | 8 Mai
---
En tant qu'exilé sur une terre barbare désolée, vous devrez survivre, construire et dominer, ou être écrasé comme le sont souvent les faibles. Conan Exiles est un jeu de survie en monde ouvert qui combine un gameplay en sandbox avec un monde rempli d'histoire et de traditions. Les joueurs peuvent choisir de jouer seul ou avec des amis, et même s'engager dans un mode multijoueur persistant sur des serveurs publics. Jouer localement ou héberger une session avec vos amis vous donne des outils de gestion pour personnaliser votre expérience. Le jeu dispose également d'un support des mods avec plus de 450 mods actuellement disponibles.
---
Pillars of Eternity 2 Deadfire | 8 Mai
---
La suite du cRPG d'Obsidian acclamé par la critique est enfin arrivée. Deadfire voit le retour du dieu Eothas qui était présumé mort. C'est à vous de découvrir pourquoi il est revenu et s'il faut l'aider ou entraver ses efforts. Vous traverserez le Deadfire, une chaîne d'îles infestées de pirates, à bord de votre fidèle vaisseau, le Defiant. Votre vaisseau ajoutera une toute nouvelle dimension à votre aventure, car il servira de base d'accueil évolutive et sera utilisé dans le combat entres navires.
---
Doughlings Arcade | 10 Mai
---
Si vous pensiez que le genre classique du casse-briques était mort, Doughlings Arcade aimerait prouver le contraire. Le développeur Hero Concept a relancé la formule classique et l'a réinventée en ajoutant des capacités spéciales, en améliorant l'esthétique et en incluant un éditeur de niveaux. Il y a 90 niveaux à relever et des défis uniques à découvrir en cours de route.
---
Laser League | 10 Mai
---
Laser League est un jeu de sport en arène au rythme effréné mettant en vedette des batailles d'équipe où vous prenez le contrôle de nœuds qui activent des réseaux de lumière qui endommagent l'équipe adverse. Restez à l'écart des lumières de votre adversaire et utilisez vos capacités offensives et défensives spéciales au bon moment pour faire pencher la balance en votre faveur. Le jeu est facile à apprendre, mais il révèle des possibilités stratégiques complexes à ceux qui font preuve de détermination.
---
The Elder Scrolls Online Summerset | 21 Mai
---
Quenn Ayrenn ouvre pour la première fois la patrie insulaire des Hauts-Elfes à des étrangers pour aider à dévoiler un complot sinistre qui se prépare dans les recoins sombres de Summerset. Le dernier chapitre de The Elder Scrolls Online ajoute une toute nouvelle région à explorer. Vous pourrez également rejoindre l'Ordre Psijic pour la première fois, ce qui vous permettra d'accéder à sa propre branche de compétences, qui inclut de nouvelles capacités actives et passives, ainsi qu'un final ultime puissant.
---
State of Decay 2 | 22 Mai
---
La suite du titre de survie et d'horreur à succès est enfin là. State of Decay 2 fait monter les enchères car il vous donne le contrôle sur une communauté. Ici, au lieu de n'incarner qu'un seul, vous basculerez entre plusieurs personnages. Méfiez-vous cependant, car la mort est permanente et la perte d'un personnage pourrait être fatale pour votre communauté si vous n'abattez pas vos cartes correctement. Le jeu vous permettra également de jouer avec jusqu'à 3 amis en coopératif.
---
Tennis World Tour | 22 Mai
---
Il n'y a pas eu un jeu de simulation de tennis de qualité depuis Top Spin 4 de 2011, mais Breakpoint Studios est sur le point de changer cela avec Tennis World Tour. Avec 30 des meilleurs joueurs du monde, des mouvements parfaitement reproduits, 18 types de courts, un mode de carrière complet et une dimension tactique inégalée, c'est un jeu que tous les fans du sport devraient certainement acquérir.
---
Ancestors Legacy | 22 Mai
---
Ancestors Legacy est un RTS en équipe qui vous permet de prendre le contrôle d'une armée alors que vous écumez l'Europe médiévale. Choisissez de mener l'une des quatre nations dans une vaste campagne inspirée d'événements historiques. Employez des options tactiques avancées telles que l'utilisation du terrain du champ de bataille ainsi que l'expérience et le moral de vos unités. Défiez vos amis dans des batailles multijoueurs intenses avec une gestion des ressources et la construction de villages.
---
Et c'est tout pour les sorties de ce mois. Assurez-vous de consulter les offres que nous avons publiées avec les jeux pour vous assurer d'obtenir les meilleurs prix sur celui que vous souhaitez acheter. Bon jeu !