Sorties d'octobre 2016 : Les jeux les plus attendus de l'année !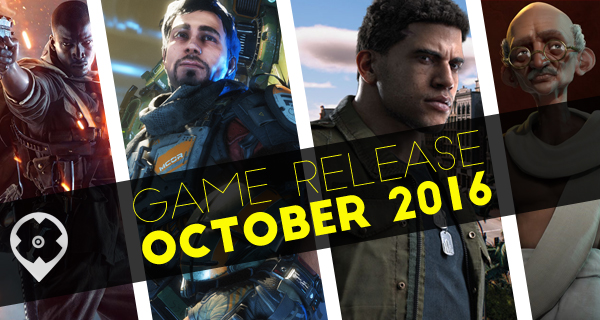 jeux
les plus attendus de l'année arrivent ! Notre liste de parution pour
Octobre 2016
est remplie avec les plus grands jeux : Battlefield 1, Titanfall 2, Mafia 3, et Civilization 6. Lesquels parmi ceux-ci convoitez-vous ? Dites-nous le dans les commentaires !
---
Sorties d'octobre 2016
Date de sortie : 4 octobre 2016
Incarnez l'esprit vengeur Aragami qui a le pouvoir de contrôler les ombres ! Invoqué par une mystérieuse fille nommée Yamiko, votre but est de la secourir. Comme dans tout jeu furtif, vous pouvez utiliser les ombres à votre avantage et combattre Kaiho et l'Armée de la Lumière. Devenez invisible en créant vos propres ombres ! Sautez d'une ombre à une autre et traquez efficacement vos cibles ! On vous donne aussi le pouvoir de décider du dénouement de l'histoire. Quelle voie choisirez-vous ?
---
Date de sortie : 6 octobre 2016
Bâtissez votre propre empire des affaires ! Dans Industry Manager Future Technologies, vous devrez créer plus de 200 nouveaux produits et ressources, et même inventer vos propres technologies et produits. Ce jeu de simulation vous occupera pendant des heures !
---
Date de sortie : 7 octobre 2016
Entrez dans le monde de Lincoln Clay de New Bordeaux alors qu'il se venge de la Mafia italienne qui a tué sa famille. Aidez Clay à créer sa nouvelle famille mafieuse. Affrontez vos ennemis dans d'intenses fusillades et des combats au corps à corps. Faites des parcours impressionnants et naviguez avec style dans New Bordeaux. Allez tester tout ceci dès que Mafia 3 arrive en rayon !
---
Date de sortie : 11 octobre 2016
Fêtez les 20 ans de Tomb raider avec Rise of the Tomb Raider 20 Year Celebration sur PS4 ! Cette version inclut le jeu Rise of the Tomb Raider acclamé par la critique plus un nouveau contenu pour joueur solo appelé « Blood Ties ». Il possède aussi un support pour la réalité virtuelle (VR) ainsi qu'un nouveau mode coopératif pour le mode Endurance. La campagne principale a aussi un réglage de difficulté « Extreme Survivor ». Vous aurez aussi droit à une tenue et à une arme « 20 Year Celebration » et à 5 apparences pour Lara. Tous les DLC précédemment publiés pour le jeu sont également inclus.
---
Date de sortie : 13 octobre 2016
Shadow Warrior 2 est un jeu FPS qui se situe cinq ans après le jeu de 2013, Shadow Warrior. Vous jouerez le rôle de Lo Wang, un guerrier ninja affrontant des armées de démons qui ont envahi le monde, envoyées par le Zilla depuis une autre dimension.
---
Date de sortie : 13 octobre 2016
Incarnez John Yesterday alors qu'il s'efforce de remédier à un rituel alchimique qui le ramène à la vie chaque fois qu'il meurt, mais sans aucun souvenir du passé. Vous serez rejoint par votre partenaire immortelle, Pauline Petit. Pour être capable de revenir à la vie sans perdre votre mémoire, Pauline et vous devrez rechercher un artéfact utilisé lors du rituel.
---
Date de sortie : 18 octobre 2016
Crazy Machines 3 est de retour, et il est plus démentiel que jamais ! Construisez vos propres machines en utilisant plus de 200 objets et plus de 300 pièces. Créez et expérimentez avec différentes couleurs et différents matériaux. Résolvez des énigmes basées sur la physique. Tout ceci et tellement plus vous attend dans Crazy Machines 3 !
---
Date de sortie : 21 octobre 2016
Portez votre aventure dans Battlefield à un tout nouveau niveau de combat avec Battlefield 1 ! Situé pendant la Première Guerre Mondiale, vous devrez utiliser des armes, des véhicules et du matériel de combat de cette époque. Vous pouvez aussi regarder du côté de son mode multijoueur à 64 joueurs ainsi que de sa campagne joueur solo.
---
Date de sortie : 21 octobre 2016
Le dernier jeu de la franchise Civilization arrive avec de nouvelles et passionnantes caractéristiques qui vous feront sûrement jouer pendant des heures. L'une des améliorations notables sont les villes qui peuvent maintenant s'étendre physiquement sur la carte. Débloquez des bonus afin de pouvoir accélérer les progrès de votre civilisation à travers l'histoire. Dynamic Diplomacy vous permet aussi d'interagir avec d'autres civilisations selon l'époque. D'autres fonctions comprennent un mode multijoueur étendu, de nouveaux systèmes de tutoriels, et pouvoir combiner des unités semblables pour former de plus puissantes corporations.
---
Date de sortie : 25 octobre 2016
Farming Simulator 17 propose aux joueurs « l'expérience de simulation agricole la plus complète ». Profitez de plus d'une centaine d'hectares de terres, de plus de 250 authentiques véhicules et équipement de plus de 75 fabricants. De nombreux types de cultures attendent d'être moissonnées, incluant pour la première fois le tournesol et le soja. Prenez soin de votre cheptel et participez à la sylviculture pour vendre vos produits et étendre votre exploitation. Vous pouvez aussi goûter au mode multijoueur coopératif à 16 joueurs, ou même télécharger des mods créés par d'autres !
---
Date de sortie : 25 octobre 2016
Allez faire du snowboard avec les pros dans Mark McMorris Infinite Air ! L'expérience est aussi réelle que possible avec ses contrôles analogiques et ses animations basées sur la physique qui reproduisent la vraie sensation du snowboarding. Défiez vos amis lors d'évènements réels, et explorez un nombre infini de montagnes grâce à son environnement généré procéduralement. Créez aussi votre propre parcours et partagez-le avec vos amis en ligne !
---
Date de sortie : 25 octobre 2016
Dragon Ball Xenoverse 2 présente des graphismes améliorés grâce à ses visuels de nouvelle génération et plus de choix de personnalisation des personnages. Le jeu a maintenant un tout nouveau centre ville qui est 7 fois plus grand que dans le jeu d'origine – 300 joueurs peuvent être en ligne en même temps !
---
Date de sortie : 28 octobre 2016
Titanfall 2 va apporter du nouveau contenu aux fans du jeu précédent. Tout d'abord sa campagne joueur solo de Pilote et son Titan. Sept nouveaux mécanismes de gameplay ont été ajoutés au jeu ainsi qu'un système de progression semblable à celui du premier jeu mais avec plus d'armes et de personnalisations d'armes incluses. Le système de compétence du jeu a aussi été amélioré, tout comme le matchmaking, et les joueurs peuvent enfin construire un Réseau, qui est similaire à une guilde.