Sorties des meilleurs jeux pour Mai 2020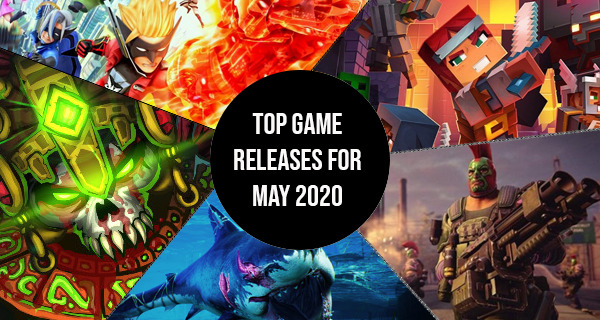 Les derniers mois ont été défavorables au monde entier, et tout récemment aussi au monde du jeu, en raison de l'épidémie de nouveaux coronavirus. Il est recommandé aux gens de s'isoler et de rester chez eux afin que le virus ne se propage pas. C'est pourquoi de nombreuses entreprises ont opté pour un travail à domicile, qui n'est pas vraiment optimal et ne permet qu'une partie du travail.
En raison du virus, nous n'avons que quelques sorties de Top Game pour mai 2020 car certains jeux ont été reportés à une date ultérieure. Ce mois-ci, nous vous présentons un jeu de plates-formes d'action, deux jeux d'action-aventure remasterisés, un jeu de rôles d'action et un jeu de donjon sur chenilles !
---
Sorties des meilleurs jeux pour Mai 2020
---
FURY UNLEASHED | MAI 8
Cinq ans après sa création, ce mélange de platformers roguelites modernes et de platformer shooters old-school par Awesome Games Studio permettra aux joueurs d'explorer les pages d'une bande dessinée vivante. Découvrez pourquoi l'auteur John Kowalsky traverse une crise de créativité et aidez-le à y faire face.
Deux modes sont proposés : facile et difficile. Jouez seul ou avec un ami dans une coopérative locale. Personnalisez votre apparence ainsi que les compétences de votre héros pour qu'ils correspondent à votre style de jeu préféré. Surmontez les 40 boss pendant que la bande sonore épique d'Adam Skorupa et Krzysztof Wierzynkiewkz joue en arrière-plan.
---
THE WONDERFUL 101 REMASTERED | MAI 19
Protéger la terre des impitoyables envahisseurs extraterrestres en tant que partie des Merveilleux. Le jeu original lancé il y a sept ans pour la Nintendo Wii U et la version remasterisée arrivera sur le Nintendo Switch, la PlayStation 4 et le PC via Steam.
Les joueurs peuvent s'attendre à d'autres extras étonnants dans cette version remasterisée, alors faites de votre mieux pour sauver Blossom City de toutes les menaces extraterrestres.
---
MANEATER | MAI 22
Le jeu de rôle d'action Maneater fera son chemin sur PC, PlayStation 4 et Xbox One le 22 mai 2020. Découvrez ce que c'est que d'être l'un des prédateurs les plus terrifiants des océans – le Requin ! Vous commencerez comme un petit requin sans défense qui essaie de survivre dans un monde hostile, puis vous deviendrez l'effrayant prédateur que vous êtes. Vos ennemis seront aussi bien des animaux sauvages que des humains. Il se pourrait bien que ce soit le meilleur jeu de requin qui existe.
---
SAINTS ROW THE THIRD REMASTERED | MAI 22
La deuxième grande remasterisation de notre liste qui arrive en mai est celle de Saints Row The Third qui est maintenant plus belle que jamais ! C'est le moment où les Saints de la troisième rue sont au sommet de leur pouvoir. Ils sont sous votre contrôle, ainsi que la ville. Vos règles seront suivies.
Disponible sur PC, PlayStation 4 et Xbox One, le jeu sera livré avec les trois packs de mission et plus de 30 objets DLC.
---
MINECRAFT DUNGEONS | MAI 26
C'est un jeu que les fans du premier jeu attendent sûrement ! Bien qu'il soit complètement différent, Minecraft Dungeons est toujours situé dans l'univers Minecraft, mais maintenant avec des mécanismes de donjon rampant. Ce tout nouveau jeu d'action-aventure sera disponible pour le PC, PlayStation 4, Xbox One, Nintendo Switch, et Xbox Game Pass.
Les joueurs auront le choix d'entrer dans les donjons seuls ou avec jusqu'à trois autres amis dans une coopérative en ligne ou en contact. Il y a des quêtes épiques et beaucoup de trésors à rassembler par niveau ! Votre but est de faire tomber l'Archi-Illager maléfique et de sauver les villageois.
---
Voici nos meilleures sorties de jeu pour mai 2020 ! La liste des jeux est peut-être courte ce mois-ci, mais croisons les doigts pour qu'elle soit plus complète dans les mois à venir. Restez en sécurité, restez en bonne santé et lavez-vous les mains.