Sorties de Jeux pour PC de juin 2018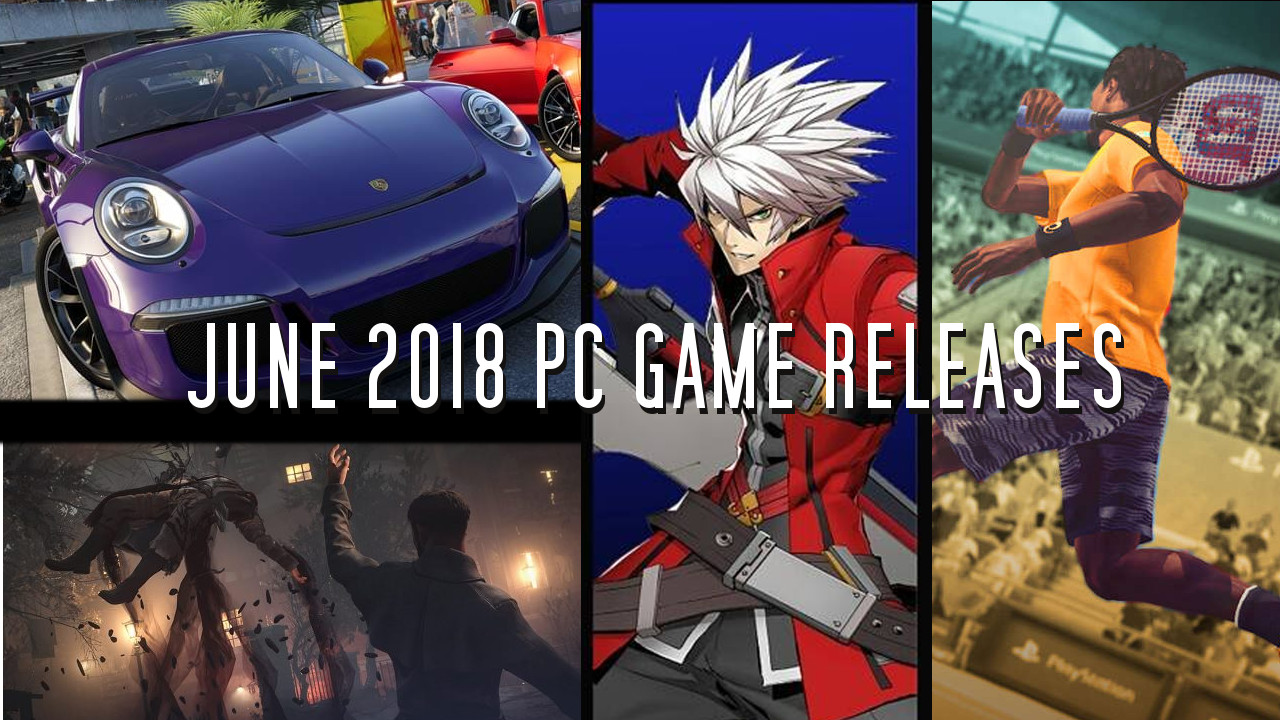 Un autre mois, une autre série de sorties de jeux vidéo PC. Voici les plus gros titres de ce mois-ci au cas où vous auriez déjà rattrapé votre retard et que vous auriez besoin d'un nouveau jeu pour vous occuper. Il y a quelques sorties très attendues, plus quelques pépites plus petites pour compléter ce lot. Alors, sans plus tarder, voici les Sorties de Jeux pour PC de juin 2018 :
---
Sorties de Jeux pour PC de juin 2018
---
BlazBlue Cross Tag Battle – 5 Juin
Le dernier jeu de tir en 2D d'Arc System Works oppose des personnages de leur propre série BlazBlue, de Persona 4 Arena d'Atlus, de Under Night In-Birth de French Bread et du très populaire RWBY de Rooster Teeth, dans des batailles à 2 contre 2 au rythme rapide avec l'art et la présentation du style d'animation pour lequel les développeurs sont connus.
---
Vampyr – 5 Juin
La prochaine aventure de DontNod abandonne les drames d'adolescents et passe entièrement au surnaturel, mettant en vedette une superbe reconstitution du Londres de 1918. En tant que Dr Jonathan Reid, vous devrez trouver l'équilibre entre sauver des vies le jour et les prendre la nuit. Vous devrez faire attention à vos choix, car vos actions pourraient au bout du compte sauver ou détruire la ville.
---
Warhammer 40,000: Inquisitor – Martyr – 5 Juin
Devenez l'un des Inquisiteurs, des agents spéciaux en mission pour éliminer les impurs et protéger l'Imperium de la corruption. Inquisitor – Martyr est le premier ARPG dans l'univers de Warhammer 40K et propose une campagne solo complète et un mode coopératif à 4 joueurs.
---
Shaq Fu: A Legend Reborn – 5 Juin
Après s'être débattu avec plusieurs problèmes de licence, le beat-em-up dynamique au rythme rapide de Sabre Interactive, montrant le portrait et la voix de Shaquille O'Neal, est enfin disponible. Voyagez dans différents endroits du monde et défaites des ennemis uniques et des boss étranges.
---
Nobunaga's Ambition: Taishi – 5 Juin
Choisissez parmi plus de 2000 officiers et partez à la conquête du Japon dans ce jeu de stratégie historique. Gouvernez votre peuple et réfléchissez bien aux politiques à mettre en œuvre, forgez des relations diplomatiques avec d'autres factions, ou montrez vos compétences en stratégie en partant au combat.
---
Antigraviator – 6 Juin
Entrez dans la course du futur avec des Gravs hautement personnalisables et évolutifs, des bolides de course anti-gravité à haute vitesse. Jouez via écran partagé local ou en ligne et tracez votre chemin vers le haut des classements mondiaux en gagnant des skins spéciaux classés pour exhiber votre statut.
---
MotoGP 18 – 7 Juin
Réalisez votre rêve de devenir un pilote professionnel et faites-vous un nom dans la Red Bull MotoGP Rookies Cup jusqu' à la Première classe de la MotoGP Race. Foncez sur 19 circuits officiels, dont le nouveau circuit international de Buriram en Thaïlande, ainsi que dans une nouvelle édition du Championnat MotoGP eSport.
---
Super Bomberman R – 12 Juin
Le bombardier blanc préféré de tous est de retour ! Parcourez le mode histoire seul ou avec un ami et défaites l'Empereur Maléfique Buggler. Optez pour un Bomberman classique avec le Mode Battle, ou faites équipe dans le tout nouveau Mode Grand Prix. Rencontrez de nouveaux héros et démontrez vos talents de destruction. Boom !
---
Tennis World Tour – 12 Juin
Après être sorti sur consoles le mois dernier, Tennis World Tour arrive enfin sur PC. Le jeu propose 31 des meilleurs joueurs du monde avec tous les styles de jeu représentés – défenseurs de ligne de base, serveur et volleyeurs, etc. Différentes surfaces influencent également le gameplay, alors assurez-vous d'avoir vos manœuvres de tennis prêtes.
---
Wreckfest – 14 Juin
Lassé des vieux pilotes ennuyeux ? Eh bien, allez-y et écrasez la concurrence… littéralement. C'est un jeu de course sur le thème de la destruction en tournoi où accidents épiques et combats au coude à coude sont à prévoir. Concourrez avec des voitures impressionnantes, une customisation judicieuse et un multijoueur compétitif, sans oublier le support de mod !
---
Lego The Incredibles – 15 Juin
Participez à une aventure familiale amusante dans le style Lego, revivez les événements du premier film et jouez leurs nouvelles aventures dans la suite, le tout en un seul jeu ! Battez les méchants, mettez un terme aux vagues de crimes et testez vos super pouvoirs. Ça promet d'être une aventure incroyable.
---
Pro Cycling Manager 2018 – 28 Juin
Gérez votre propre équipe de cyclisme professionnelle et menez vos coureurs à la victoire tout au long de la saison 2018. Le jeu met en scène plus de 200 courses parmi 500 étapes autour du monde, y compris des tours célèbres tels que La Vuelta et le Tour de France. Embauchez les meilleurs cyclistes et personnels, négociez des contrats, trouvez des sponsors et organisez les horaires de course et d'entraînement. Vous êtes le cœur de l'équipe !
---
Crash Bandicoot N. Sane Trilogy – 29 Juin
Crash Bandicoot est de retour et entièrement remastérisé ! Sautez, filez et frayez-vous un chemin à travers les trois premières aventures du marsupial bien-aimé : Crash Bandicoot, Cortex Strikes Back et Warped. Coco, la sœur du héros titulaire, rejoint également l'équipe et peut être employée pour jouer la plupart des niveaux des 3 jeux.
---
The Crew 2 – 29 Juin
Faites la course à travers les États-Unis sur terre, sur eau et dans les airs. The Crew 2 est une version unique en monde ouvert du sport automobile américain qui permet aux joueurs de faire la course en utilisant des véhicules terrestres, nautiques et aériens, avec la possibilité de passer instantanément d'un type à l'autre chaque fois que nécessaire. C'est juste un moment sensationnel après un autre qui ne demande qu'à être vécu.
---
MXGP Pro – 29 Juin
C'est l'expérience MX la plus réaliste qui soit ! Devenez le meilleur coureur et accédez au sommet en Mode Carrière. Testez vos compétences dans 30 défis différents. Apprenez les rudiments dans la zone d'entraînement du Complexe. Le meilleur de tous, le champion du monde à 9 reprises Antonio Cairoli vous montrera les ficelles du métier. C'est mieux d'apprendre auprès des meilleurs après tout.
---
Et voilà pour les sorties de jeux PC de ce mois-ci. Si vous avez en vue l'un de ces titres, assurez-vous de consulter leurs pages ici sur goclecd.fr pour voir les meilleures offres que vous pouvez trouver sur le web.