Voici les sorties de jeux pour décembre 2017 !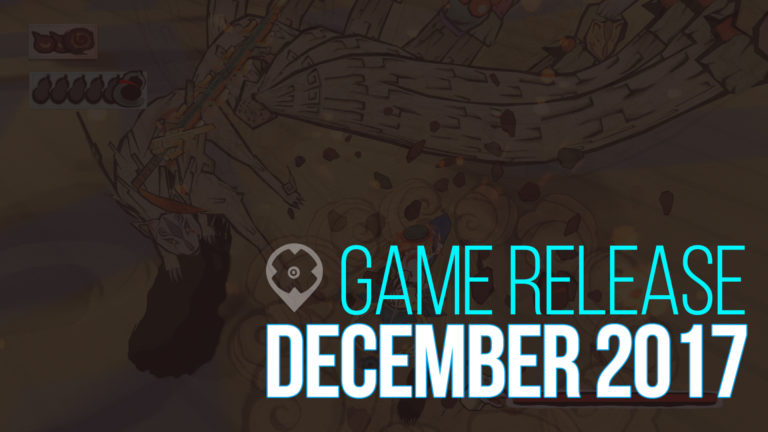 Les gars, 2017 est presque fini ! Cette année a vraiment été une sacrée année pour les jeux vidéos, et nous faisons ici bas la liste des sorties de jeux de décembre 2017 !
Sortent ce décembre deux versions en VR de deux des plus grands jeux, Doom et Fallout 4. Il y en a aussi d'autres à paraître ce mois-ci, alors consultez notre liste plus bas, vous pourriez y dénicher ce qui vous intéresse.
Faites-nous savoir dans les commentaires plus bas lesquels de ces jeux vous attendez !
---
Games Releasing on December 2017
DOOM VFR
Date de sortie : 1er décembre 2017
---
---
DOOM VFR porte l'expérience de DOOM dans la réalité virtuelle ! Ce jeu à part entière est conçu spécifiquement pour les appareils HTC Vive et Playstation VR. Le jeu inclut les cartes classiques Toxic Refinery et Nuclear Plant. Le gameplay est essentiellement le même que le jeu sur PC, avec mouvement libre et téléportation comme options de déplacement possibles.
---
Seven The Days Long Gone
Date de sortie : 1er décembre 2017
---
---
Seven : The Days Long Gone est un RPG isométrique en monde ouvert avec un thème post-apocalyptique. Les joueurs auront le rôle de Teriel, un maître voleur. Après un braquage ayant mal tourné, Teriel se retrouve à bord d'un avion en route pour l'île prison de Peh. Et ce n'est pas tout, il a un démon vivant à l'intérieur de sa tête, et il doit obéir à ses ordres. Survivra-t-il à l'île et se libèrera-t-il du démon à l'intérieur de lui ?
---
Steep Road to the Olympics
Date de sortie : 5 décembre 2017
---
---
Steep Road to the Olympics est l'extension du jeu de sports d'hiver en monde ouvert Steep. Elle vous permet d'incarner un athlète qui est en passe de devenir un champion olympique. Elle comprend un vaste monde ouvert qui inclut les Alpes et les emblématiques montagnes japonaises. Ces lieux sont ceux où vous vous entraînerez avant de rejoindre les qualifications pour les jeux d'hiver 2018 de Pyeongchang en Corée du Sud.
---
SpellForce 3
Date de sortie : 7 décembre 2017
---
---
RTS et RPG en un seul jeu ? Oui s'il-vous-plaît ! Spellforce 3 combine à la fois stratégie en temps réel et éléments de jeu de rôle en un jeu comprenant un récit épique, un univers riche avec des traditions, la personnalisation des héros, et davantage ! Il inclut aussi plus de 30 heures de campagne en joueur solo, ainsi que des modes multijoueurs coopératif et compétitif.
Le monde du jeu appelé Eos propose beaucoup à découvrir, et l'explorer vous permettra de découvrir intrigues, secrets, et bien sûr beaucoup de butin !
---
Autobahn Police Simulator 2
Date de sortie : 7 décembre 2017
---
---
Devenez un représentant de la loi dans Autobahn Police Simulator 2 ! Ce jeu vous fait démarrer votre carrière en tant que représentant des forces de l'ordre dans les rues d'Europe. Débutant dans un poste de police, vous exécuterez différentes taches et missions afin d'obtenir l'accès à de nouvelles missions et opportunités.
Vous pourrez également monter en rang en entreprenant diverses missions comme des poursuites de voitures à grande vitesse, de la sécurisation d'accidents, de la régulation de trafic, ou de l'escorte.
Ce qui est nouveau cette année dans Autobahn est que le jeu possède désormais une histoire constituée de 20 missions, chacune d'elles étant séparées par des scènes d'animation.
---
Hello Neighbor 
Date de sortie : 8 décembre 2017
---
---
Vous n'avez jamais voulu vous faufiler dans la maison du voisin ? Eh bien Hello Neighbor vous le permet, mais sous la forme d'un jeu. Ce jeu d'horreur furtif vous place dans la peau de quelqu'un qui vient juste d'emménager dans une toute nouvelle banlieue. Vous remarquez alors que votre voisin semble cacher quelque chose dans sa cave, et votre but est donc de pénétrer dans sa maison pour découvrir ce qu'il s'y passe.
Hello Neighbor propose un gameplay particulièrement intense grâce à l'IA intelligente qui apprend de chacun de vos mouvements. Il comprend aussi de riches visuels de style Pixar.
---
Fallout 4 VR 
Date de sortie : 12 décembre 2017
---
---
Un autre jeu en réalité virtuelle est sur le point d'arriver en magasin ce décembre ! Fallout 4 VR inclut le cœur complet du jeu plus de tout nouveaux systèmes de combat, de construction, et de fabrication – tous entièrement repensés pour la réalité virtuelle !
---
Okami HD 
Date de sortie : 12 décembre 2017
---
---
Okami est de retour, et il a l'air magnifique ! Okami HD est la nouvelle version du populaire jeu de 2006, comprenant de superbes graphismes en 4K, des écrans de chargement interactifs (aussi présents dans le jeu d'origine), et la signature du style artistique à l'encre Sumi-e qui faisait aimer le jeu originel.
Vous endosserez le rôle de la déesse japonaise du soleil Amaterasu dont le but est de vaincre le démon à huit têtes Orochi.
---