Sorties de jeux PC de mars 2018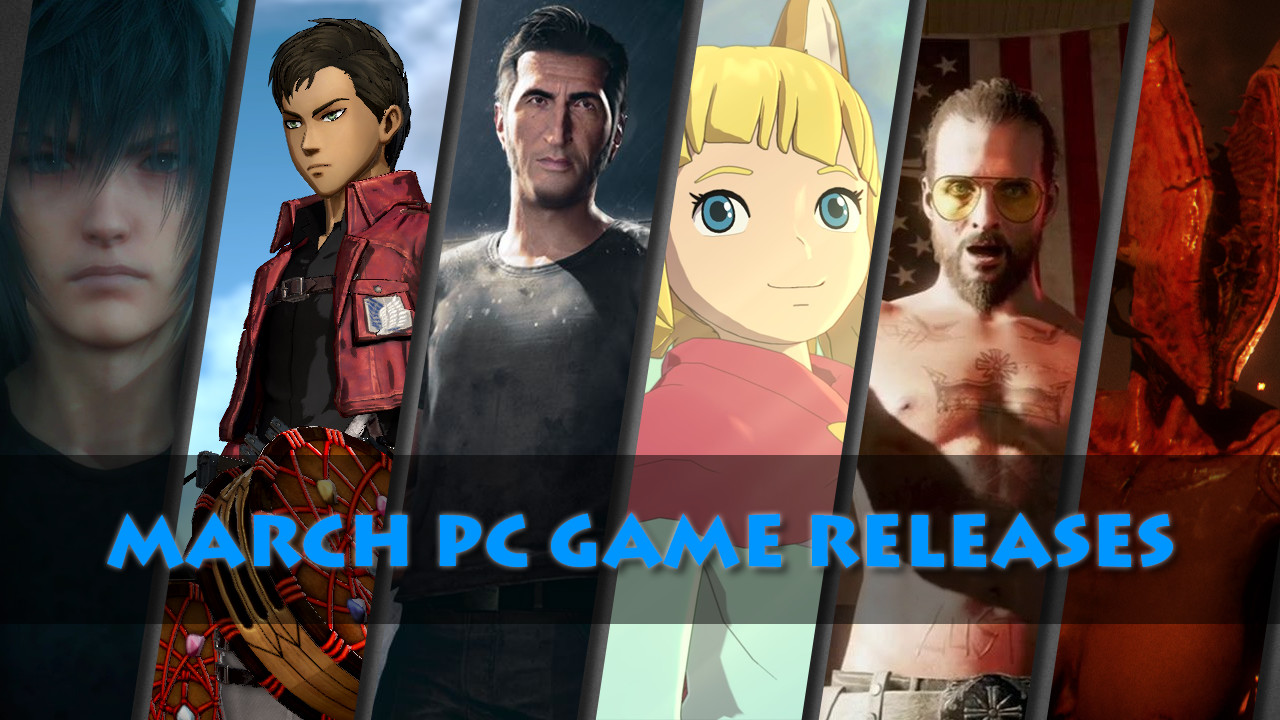 Toujours aussi dynamique avec de nouveaux jeux géniaux, mars poursuit la série de grandes sorties mensuelles en 2018. Du portage sur PC espéré depuis longtemps d'un RPG extrêmement populaire, au prochain épisode d'un jeu de tir très attendu, et même à l'une des expériences multijoueurs les plus excitantes de cette année, vous serez certainement très occupé ce mois-ci. Alors, sans plus tarder, voici pour vous les meilleures sorties de jeux PC de mars 2018 :
---
FINAL FANTASY 15 WINDOWS EDITION
6 Mars
---
Cela aura pris longtemps mais le dernier titre de la longue série RPG de Square Enix arrive enfin sur PC. Final Fantasy 15 Windows Edition inclura tout le contenu des Season Pass précédemment publiés – L'Épisode Gladiolus, l'Épisode Prompto, l'Épisode Ignis et l'Extension Multijoueur : Comrades – plus tout le nouveau contenu qui élargit le monde déjà énorme du jeu. Vous aurez également l'occasion de découvrir le monde comme jamais auparavant avec de nouvelles améliorations graphiques et le support du HDR et jusqu'à la 8K.
---
FEAR EFFECT SEDNA
6 Mars
---
Le prochain titre de la série Fear Effect présentera un gameplay furtif isométrique amélioré par le système Fear du jeu. Aidé de diverses armes et de capacités spéciales, vous devrez explorer différents lieux, à la fois dans notre monde et dans les royaumes éthérés de la mythologie inuite. Cette fois-ci, vous en découvrirez plus sur le passé des personnages emblématiques de Fear Effect en abordant un tout nouveau mystère.
---
ATTACK ON TITAN 2
20 Mars
---
Attack on Titan 2 revient avec un deuxième titre, présentant l'histoire de la saison 2 de la série d'animation avec beaucoup plus de fun à massacrer les Titans. Faites l'expérience d'une mobilité accrue grâce au mouvement omnidirectionnel, et d'un combat encore plus intense avec les batailles de Titans évoluées. Vous découvrirez également un aspect différent de vos personnages préférés tout en développant vos relations avec eux pendant la progression de l'histoire.
---
SEA OF THIEVES
20 Mars
---
Si vous avez toujours rêvé de vivre la vie d'un pirate sans les conséquences morales et juridiques, ce pourrait bien être un jeu fait pour vous. Sea of ​​Thieves est un jeu multijoueur de pirate en sandbox qui vous permet de parcourir les mers dans votre propre navire, seul ou avec des amis. À la recherche de trésors, vous rencontrerez d'autres joueurs qui pourraient vous aider dans votre quête, ou actionner leurs canons dès qu'ils verront vos voiles.
---
A WAY OUT
23 Mars
---
Le prochain jeu des créateurs de Brothers : A Tale of Two Sons est une autre aventure coopérative qui vous place, vous et un ami, dans la peau de deux détenus qui doivent œuvrer ensemble pour échapper à la prison et survivre à l'extérieur. Même en ligne, le jeu sera toujours présenté en écran partagé, car il exige que les deux joueurs soient conscients de la situation de l'autre à tout moment. Fait intéressant, vous aurez seulement besoin d'un seul exemplaire même pour jouer en ligne.
---
NI NO KUNI 2 REVENANT KINGDOM
23 Mars
---
En tant que jeune roi Evan, vous devrez vous lancer dans une quête épique pour bâtir un nouveau royaume et unir les habitants de votre monde afin de combattre les forces obscures qui le menacent. Level-5 a travaillé dur pour créer des personnages intéressants et un monde magnifique pour le RPG, et ça se voit vraiment. Conçu pour le goût des fans occidentaux, le gameplay est aussi plus orienté vers l'action que les JRPG traditionnels.
---
PURE FARMING 2018
23 Mars
---
Découvrez les tenants et les aboutissants de l'agriculture moderne en construisant votre empire agricole à une échelle mondiale. Avec des véhicules agricoles authentiques provenant des leaders de l'industrie, 4 lieux différents avec des machines dédiées et des cultures spécifiques à la région, et un simulateur tout-en-un couvrant tous les aspects de l'agriculture moderne, Pure Farming 2018 offrira des heures et des heures de plaisir sans pour autant devenir trop difficile.
---
FAR CRY 5
27 Mars
---
Certainement l'une des sorties les plus attendues de l'année, le jeu de tir en monde ouvert d'Ubisoft revient avec son tout premier titre à se passer aux États-Unis. Faites face à un culte apocalyptique militariste qui a pris le contrôle du Comté de Hope, au Montana. Vous aurez un groupe fiable de membres de la résistance à recruter pour vous soutenir, et le jeu permet à un ami de vous aider à tout moment en mode coopératif.
---
AGONY
30 Mars
---
Vous êtes pris au piège dans l'enfer, tourmenté à l'infini et sans souvenirs. Bien sûr, la seule chose que vous pouvez faire est d'essayer à tout prix de fuir. Vous aurez l'occasion d'explorer des environnements très hostiles en interagissant avec d'autres âmes épuisées. Vous apprendrez bientôt que votre seule chance d'évasion implique de rencontrer la mystique Déesse Rouge. Doté du pouvoir de contrôler les gens et même de prendre possession de démons simples d'esprit, vous devrez utiliser tous les moyens nécessaires pour faire que cette rencontre ultime se produise.
---