Sorties de jeux PC de janvier 2018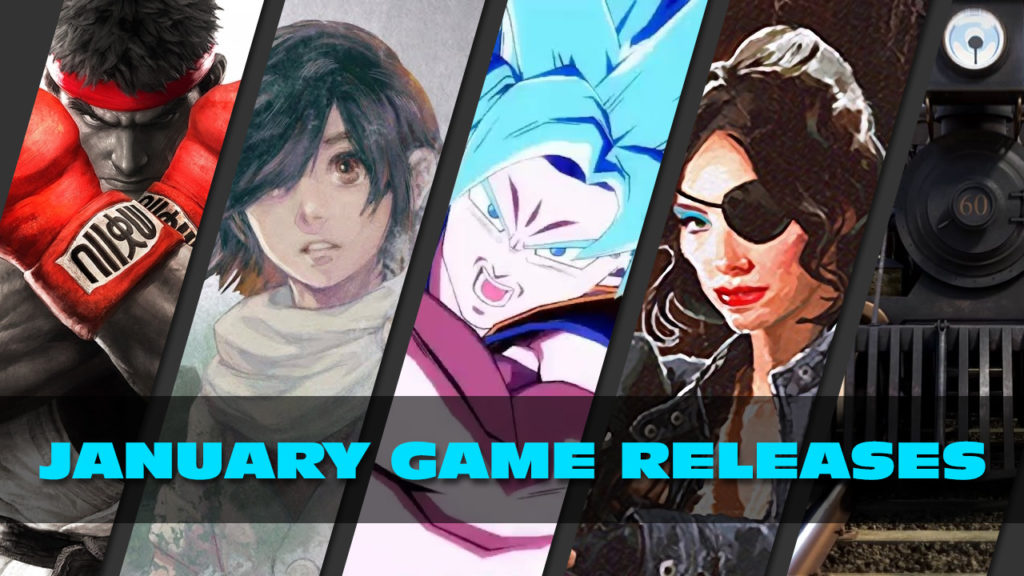 De mémoire récente, 2017 a assurément été l'une des meilleures années pour le jeu vidéo. Néanmoins, 2018 commence également fort avec de nouvelles grandes sorties pour démarrer l'année en fanfare. Voici les jeux pour PC que vous devriez surveiller ce janvier.
---
Sorties de jeux PC de janvier 2018
STREET FIGHTER 5 ARCADE EDITION | 16 Janvier
---
D'après un style de parution bien connu de Capcom consistant à répéter leurs jeux de combat plusieurs fois avant de réaliser une sortie complète, ce n'était qu'une question de temps avant que Capcom n'annonce la prochaine version de leur principal jeu de combat. L'Édition Arcade inclus les 12 combattants supplémentaires des saisons 1 et 2, un mode d'arcade sur le thème des classiques Street Fighter, un mode contre équipe et quelques autres additions. Tout le nouveau contenu exceptés les 12 personnages payants sera livré comme une mise à jour gratuite pour les possesseurs du jeu original.
---
LOST SPHEAR | 23 Janvier
---
Tokyo RPG Factory est prêt à sortir le successeur spirituel de leur premier projet, I Am Setsuna, au public occidental ce janvier. Sorti en octobre dernier au Japon, le JRPG traditionnel vous place dans la peau de Katana, un jeune aventurier avec le pouvoir de Mémoire. Une partie du monde a été perdue dans le « Brouillard Blanc », et vous et vos amis représentez le seul espoir de le restaurer et de l'empêcher de disparaître complètement.
---
DRAGON BALL FIGHTERZ | 26 Janvier
---
Arc System Works, le studio à l'origine de grands jeux de combat tels que Guilty Gear et Blazblue, a entrepris la tâche gargantuesque de créer un jeu de combat compétitif basé sur la très populaire franchise Dragon Ball. Avec 24 personnages confirmés des séries Dragon Ball Z et Dragon Ball Super, des batailles mouvementées à 3 contre 3, des mécanismes de jeu non conventionnels, et tout un tas de faisceaux d'énergie, c'est la garantie de produire quelques-unes des batailles les plus héroïques de l'histoire des jeux de combat.
---
RAILWAY EMPIRE | 26 Janvier
---
Les simulateurs sont partout de nos jours, du combat à l'agriculture, à la gestion de villes, et aux rencontres amoureuses. Les simulateurs de construction de voies ferrées n'ont toutefois pas été sous le feu des projecteurs depuis 2006. Voici donc Railway Empire, un vaste simulateur des créateurs de la série Tropico. Railway Empire proposera 40 trains extraordinairement détaillés, plus de 300 technologies à rechercher et découvrir, et un gameplay couvrant plus de 100 ans à partir de 1830.
---
WOLFENSTEIN 2 THE NEW COLOSSUS – THE DIARIES OF AGENT SILENT DEATH | 30 Janvier
---
Le second chapitre des Freedom Chronicles est en chemin. L'ex agent américain des Services Secrets Jessica Valiant est missionnée pour découvrir ce que projettent les Nazis en Californie et ce que recouvre l'Opération San Andreas. Armé d'un pistolet avec silencieux et d'un fusil de sniper, vous devrez être discret et éliminer les ennemis en utilisant l'effet de surprise. Vous pouvez l'obtenir soit comme part du Season Pass ou en l'achetant séparément. Il n'y a malheureusement pour l'instant aucun trailer paru pour le DLC.