La seconde saison de For Honor s'appelle Shadow and Might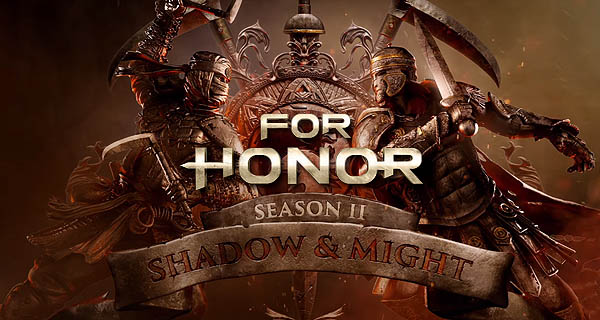 Comme annoncé par Ubisoft, la seconde saison de For Honor s'appelle « Ombre et Puissance« . Elle présente le Centurion et le Shinobi qui rejoignent le jeu. Cette seconde saison inclut aussi deux nouvelles cartes ainsi que quelques mises à jour du gameplay, des options supplémentaires de customisation et bien sûr le début du second round de la Guerre des Factions.
---
---
« Les Shinobis sont des guerriers furtifs capables de se mouvoir avec l'élégance d'un danseur et de tuer avec précision grâce à l'entraînement rigoureux de toute une vie. Ils manient le Kusarigama traditionnel japonais, » explique Ubisoft. « Le Centurion perçoit le champ de bataille comme un échiquier. Équipé du solide gladius classique, les Centurions peuvent contourner les défenses ennemies dans des combats rapprochés stratégiques.« 
Regardez la bande-annonce de Shadow and Might :
La seconde saison apporte aussi le « Nouveau » niveau de rareté d'équipement épique capable de rééquilibrer la totalité du système d'équipement et qui peut également augmenter le score d'équipement au maximum.
Les objets de customisation et les nouvelles cartes de la deuxième saison de For Honor seront disponibles gratuitement le 16 mai pour tous les joueurs. D'autre part, les deux nouveaux héros seront disponibles le même jour pour les détenteurs du Season Pass mais pourront être débloqués par les autres joueurs le 23 mai en utilisant la monnaie du jeu appelée Steel.
Quelles sont vos opinions sur le seconde saison de For Honor ? Partagez-les avec nous dans la section des commentaires plus bas.