Rocket League : DLC Batman Vs Superman : Dawn of Justice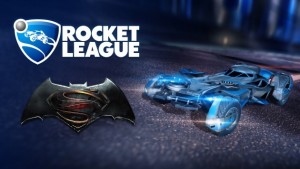 Rocket League est un jeu atypique de football et course automobiles développé par Psyonix ! Celui-ci est sorti en juillet 2015 sur PC, sur PS4 et depuis peu sur Xbox One. Afin de marquer le plus de buts possibles contre vos adversaires, de superbes voitures surpuissantes seront à votre disposition. Ce jeu d'équipe dispose d'un mode multijoueurs en ligne ou en local. Pour en savoir plus clique ici …
La Delorean inspirée du film Retour Vers Le Futur !
Rappelez-vous en Octobre 2015 les développeurs avaient sorti le DLC Back to the Future Car Pack afin de vous replonger dans la nostalgie de la saga Retour vers le Futur. Le pack avait pour unique contenu la Delorean appartenant à Emmett Brown ! Cette machine à voyager dans le temps bénéficiait d'un look futuriste et de sa trainée sur le sol « Burnt Rubber ». Pour avoir cette Battle-Cars fun à piloter il fallait débourser 1,99 dollars.
AU VOLANT D'UNE BATMOBILE !
Être au volant d'une Batmobile dans Rocket League ? C'est pour bientôt ! Un communiqué de Warner Bros annonce l'arrivée d'un DLC Batman v Superman : Dawn of Justice Car Pack sur Rocket League. Ce Car Pack sera disponible pour 1,99$ sur Xbox One, PS4 et PC !
En plus de pouvoir conduire une Batmobile à l'apparence de celle du film Batman vs. Superman qui sort le 23 mars 2016 au cinéma, trois antennes (drapeaux…) inspirées de Batman, Wonder Woman et Superman seront ajoutées au jeu. Tout comme pour La Delorean le DLC proposera un skin futuriste ressemblant à la Batmobile ainsi que de superbes animations pour égayer vos parties !