Récapitulatif des News sur Allkeyshop TV au 24 juillet.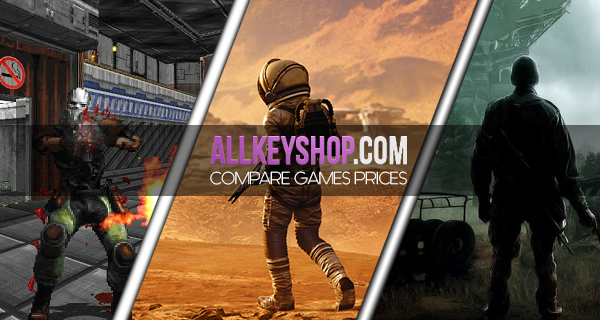 VOICI LES NOUVELLES LES PLUS BRÛLANTES DE
ALLKEYSHOP TV
---
La démo de PES 2019 arrive dans deux semaines.
Pro Evolution Soccer 2019 aura une démo dans deux semaines. Elle sera disponible pour Windows PC, PlayStation 4 et Xbox One. Elle commencera le 8 août et proposera douze clubs professionnels. Les grands noms du football professionnel européen et sud-américain sont inclus. Les joueurs auront accès au match rapide en ligne ainsi qu'à la présentation hors ligne disponible en mode solo. Pro Evolution Soccer 19 sera officiellement lancé le 28 août sur PC, PS4 et Xbox One.
---
Les créatures de l'extension Fortuna de Warframe dévoilées.
Warframe reçoit une extension Fortuna qui est centrée autour de la colonie de travail forcé de Vénus ainsi que les zones environnantes. Ici, vous serez en mesure de suivre, de maîtriser et de capturer des créatures afin de les protéger des dommages que les anciennes machines de terraformation de Vénus causent au climat du monde. Certains des concepts d'animaux vénusiens ont été modifiés et quelques-uns ressemblent à des animaux ordinaires, tandis que l'un semble sorti d'un cauchemar. L'expansion de Fortuna arrive cet automne.
---
Le gameplay de Sekiro Shadows Die Twice sera révélé au PSX 2018 SEA.
Le gameplay exclusif de Sekiro : Shadows Die Twice est annoncé par From Software et on le verra au PSX 2018 SEA. Le PlayStation Experience 2018 South East Asia se tiendra cette année à Bangkok, en Thaïlande, du 18 au 19 août au GMM Live House. Ce sera une révélation spéciale pour le jeu puisque From Software annonce qu'il s'agira d'un gameplay exclusif avec une « expérience théâtrale exclusive ». Un autre jeu qui sera présenté lors de l'événement est Resident Evil 2 Remake de Capcoms.
---
Monster Hunter World obtient plus d'un million de pré-commandes sur le site chinois WeGame.
Monster Hunter World a dépassé 1 million de pré-commandes sur la plateforme chinoise WeGame. Le nombre de pré-commande était pour la version PC du jeu. Il est cependant à noter que les pré-commandes en Chine ne coûtent pas d'argent, et ceux qui ont pré-commandé seront facturés au lancement du jeu le 9 août. C'est malgré tout un nombre impressionnant, qui montre juste à quel point le jeu est très attendu sur PC. Monster Hunter World s'est vendu à plus de 8 millions d'exemplaires sur consoles.
---
Octopath Traveler est maintenant la meilleure vente de jeu Switch de tierce partie sur Amazon.
C'est un peu une surprise, mais Octopath Traveler a réussi à atteindre la meilleure vente de jeu de tierce partie pour Nintendo Switch en 2018 sur Amazon. Habituellement, la Nintendo Switch est dominée par des jeux de première partie qui ont été développés par Nintendo eux-mêmes. Mais cette fois ci un jeu de Square Enix a été en mesure d'accéder au sommet en s'installant au numéro 34 des meilleures ventes de 2018 sur Amazon. Octopath Traveler est très populaire depuis son lancement, le jeu a dû faire face à une pénurie de stocks en raison de la forte demande.
---
Spacelords ne sera pas porté sur Switch pour le moment.
Raiders of the Broken Planet a été renommé, et sera lancé en tant que Spacelords sur PC, Playstation 4 et Xbox One. Le jeu ne sera disponible que sur lesdites plates-formes, et un port Switch n'est pas prévu pour le moment. Le directeur du jeu, Enric Álvarez, a expliqué que bien qu'une version Switch serait très intéressante, leur studio n'avait pas la capacité financière de le faire car ils sont un développeur indépendant autofinancé.
---
Aces of the Luftwaffe : Squadron sort sur PC et consoles.
Aces of the Luftwaffe : Squadron est actuellement disponible pour la Nintendo Switch mais il va arriver sur PC, PlayStation 4 et Xbox One le 24 juillet. Combattez dans ce jeu shoot 'em up bourré d'action explosive. L'histoire est captivante et a des personnages entièrement sonorisés. Les batailles de chefs et les combats aériens abondent. Remplissez les arbres de compétences des capacités individuelles de vos ailiers. Le système d'accomplissement est difficile et en vaut la peine. Le jeu offre également une bande-son orchestrale agréable.
---
Tango 5 Reloaded Open Beta Annoncé.
La bêta ouverte de Tango 5 Reloaded est maintenant disponible en téléchargement pour PC via Steam et Nexon Launcher jusqu'au 25 juillet. Combattez en joueur contre joueur ou en une action effrayante en temps réel contre quatre. Pour gagner, le travail d'équipe, la stratégie et la prise de décision rapide sont les éléments clés à posséder. Déployez vos escouades et capturez, contrôlez et conservez des points vitaux sur la carte. Équipez vos unités d'armes et de capacités uniques. Rappelez-vous qu'une stratégie soigneusement pensée vaut mieux que la force brute.
---
Ride 3 affiche des motos.
Milestone et Ducati ont annoncé leur partenariat avec le prochain jeu de course Ride 3. Grâce à celui-ci, Milestone et Ducati présenteront le jeu lors du World Ducati Week de cette année, où les fans chanceux auront l'occasion de piloter quelques-unes des motos Ducati les plus emblématiques, dont la Ducati Panigale V4, qui figure cette année sur la couverture de Ride 3. Goûtez au frisson lorsque Ride 3 sera lancé le 8 novembre sur PC et consoles.
---
Halo Infinite ne prend pas en charge Xbox Play Anywhere.
Il semble que Halo Infinite ne supportera pas Xbox Play Anywhere. Cela nous a été signalé par DynamiteCop! qui a repéré l'absence du support « Xbox Play Anywhere » sur la page Halo Infinite. À titre de comparaison, un autre jeu Microsoft à venir, Gears 5, a précisé qu'il bénéficiera du support Xbox Play Anywhere. Halo Infinite est encore loin d'être sorti et des changements peuvent survenir mais pour l'instant, il semble que nous n'aurons pas cette option pratique de jouer à un jeu sur deux plateformes.
---
Fortnite ajoute des objets Shark.
On dirait que Fortnite va célébrer la Semaine des Requins, alors que de nouveaux objets sur le thème des requins ont été ajoutés au jeu. Les articles comprennent une tenue « Chomp Sr. » (pour 2000 V-Bucks) et la « Pioche Chomp Jr. » (pour 1500 V-Bucks). On trouve également un nouvel emote appelé « Sur le Crochet » qui montre en quelque sorte le personnage aux prises avec un requin. Ces articles sont disponibles dans la boutique du jeu et sont de nature purement cosmétique.