Proposez vos jeux préférés pour The Steam Awards 2019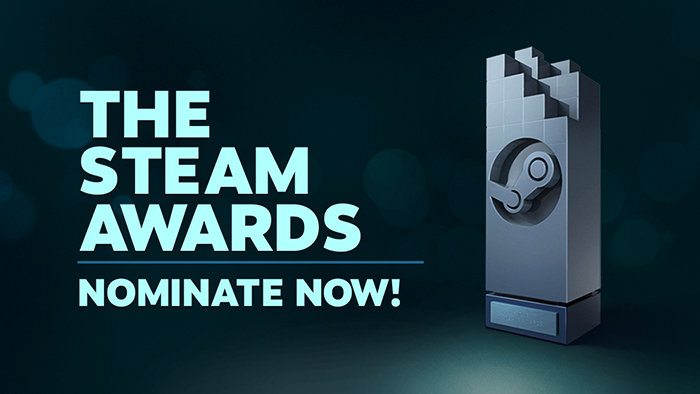 Valve fait de nouveau appel au comité de sélection du Steam Award pour l'aider à déterminer la liste finale des finalistes pour les Steam Awards de cette année. Il se trouve que ce comité est composé de tous les utilisateurs de Steam, alors si vous voulez qu'un ou plusieurs de vos jeux préférés fassent la coupe, assurez-vous de profiter du pouvoir de la démocratie.
Il y a 8 catégories pour les prix de cette année. Comme le veut la tradition, la plupart des prix sont assez simples, mais un certain nombre d'entre eux sont un peu plus créatifs. Prenez « The Best Game You Suck At Award« , dans lequel les joueurs sont invités à célébrer des jeux qui ont testé leurs limites (et la force de leur écran, clavier ou souris contre les accès de rage).
Voici les catégories de cette année ainsi que la description de chacune d'entre elles par Steam :
---
The Game of the Year Award
C'était peut-être son gameplay immersif, ou son histoire captivante… ses personnages bien conçus, son design immaculé, ou son multijoueur addictif. Quelle qu'en soit la raison, le gagnant du prix du jeu de l'année 2019 est un classique instantané.
The VR Game of the Year Award
Quand il s'agit d'innover dans les jeux, il n'y a pas de plus grand rythme d'avancement que dans la VR. Si nous avions notre méthode, tous les développeurs VR recevraient un prix pour avoir construit l'avenir des jeux et des expériences immersives sans précédent par tout autre moyen. Mais puisqu'il n'y a qu'un seul trophée, c'est à vous, membre du comité de sélection des Steam Awards, d'en couronner un seul comme le meilleur de 2019.
The Labor of Love Award
Ce jeu est sorti depuis un moment. L'équipe a bien au-delà du premier dévoilement de leur bébé créatif, mais étant les bons parents qu'ils sont, ces développeurs continuent à nourrir et à soutenir leur création. Ce jeu, jusqu'à ce jour, obtient toujours du nouveau contenu après toutes ces années.
The Better With Friends Award
Il y a des jeux qui ne sont pas les mêmes quand on joue seul. Peut-être que tu as besoin d'un ami pour surveiller tes arrières. Peut-être que tu as besoin d'un ami que tu peux poignarder dans le dos. Quoi qu'il en soit, la bonne humeur attend ceux qui rassemblent des amis pour jouer à ces jeux.
The Most Innovative Gameplay Award
Ce jeu est en première ligne de l'expérimentation, repoussant les limites avec des interactions passionnantes et inédites et des surprises déconcertantes. Ce jeu pense en dehors de la boîte, et vous tire aussi hors de la boîte !
The Outstanding Story-Rich Game Award
Certains jours, seul un jeu narratif-lourd frappera l'endroit, et celui-ci a un coup de poing. C'est aussi captivant qu'un feuilleton et aussi bien accordé qu'un scénario de télévision de prestige. Bravissimo – pour nous faire ressentir des choses !
The Best Game You Suck At Award
Les jeux ont une façon de nous pousser au-delà des limites que nous pensions avoir. Comme une séquence de montage, nous nous mettons au travail, nous entraînons nos doigts à être rapides et agiles, nous maîtrisons le timing et le placement sur des semaines et des semaines. Au bout du gant, nous sommes récompensés par une beauté profonde et un sens profond de la croissance personnelle. A moins que vous n'ayez jeté votre moniteur à travers une vitre en verre le premier jour.
The Outstanding Visual Style Award
Ces devs sont les Willy Wonka des bonbons pour les yeux. Le style visuel n'aspire pas à la fidélité graphique du monde réel (bien qu'il s'agisse d'un but noble en soi)… il décrit un look et une sensation distinctifs qui imprègnent un jeu entier. Ce jeu affiche une cohésion et une expression visuelles qui non seulement s'adaptent au monde du jeu, mais qui donnent à notre monde un aspect dérisoire par comparaison.
---
Vous pouvez voter en vous rendant ici. Le site rend le processus vraiment facile en détectant les jeux que vous possédez qui sont sortis cette année. Mais si vous voulez voter pour un jeu que vous ne possédez pas, vous pouvez simplement le chercher aussi. Une autre façon de voter est de simplement visiter la page Steam d'un jeu et de cliquer sur le bouton « N0ominer ».
Steam organise également sa vente d'automne 2019 qui se déroule à l'occasion de Thanksgiving, de Black Friday au Cyber Monday. Dans le cas où vous voyez un jeu que vous voulez acheter, assurez-vous de consulter notre page pour ce jeu, nous aurons très probablement un meilleure prix pour vous. Vous pouvez également télécharger l'addon AllKeyShop pour Google Chrome afin de pouvoir consulter nos prix même lorsque vous naviguez sur Steam ou chez d'autres marchands de jeux vidéo.
La vente d'automne 2019 et les nominations aux Steam Awards se terminent le 3 décembre à 19h GMT+1. Les gagnants seront annoncés lors de la vente d'hiver de Steam en décembre.