Les participants à PlayerUnknown's Battlegrounds l'ont placé second sur Steam
PlayerUnknown's Battlegrounds second sur Steam
Les participants au très populaire PlayerUnknown's Battlegrounds ont surpassé Counter-Strike Global Offensive sur Steam. Toutefois, le jeu a encore un long chemin à parcourir pour atteindre la première place occupée par DOTA 2.
---
---
Bien que les chiffres présentés ne soient pas le point culminant pour Counter-Strike Global, il prouve quand même que PUBG est très populaire et qu'il est en plein essor. Toutes choses bien considérées, PUBG a réellement fait mieux que de nombreux grands jeux de la liste et il n'est qu'en Accès Anticipé.
Dans l'ordre, en partant du meilleur, la liste inclut DOTA 2, PlayerUnknown's Battlegrounds, Counter-Strike Global Offensive, H1Z1 : King of the Kill, Grand Theft Auto V, Team Fortress 2, PAYDAY 2, Warframe, Football Manager 2017 et Tom Clancy's Rainbow Six Siege.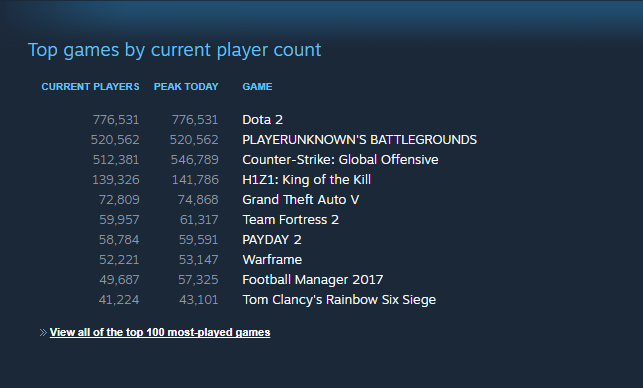 PlayerUnknown's Battlegrounds a récemment publié sa mise à jour mensuelle dans laquelle un serveur uniquement première personne est à disposition. Ceci a en fait rendu le jeu extrêmement difficile et n'est donc pas pour tout le monde. Les autres serveurs sont toutefois toujours accessibles.
PlayerUnknown's Battlegrounds est actuellement toujours en Accès Anticipé et a déjà vendu plus de 5 millions d'exemplaires. Il devrait être lancé au 4ème trimestre 2017.