Payday 2 Point Break, le nouveau DLC est sortie!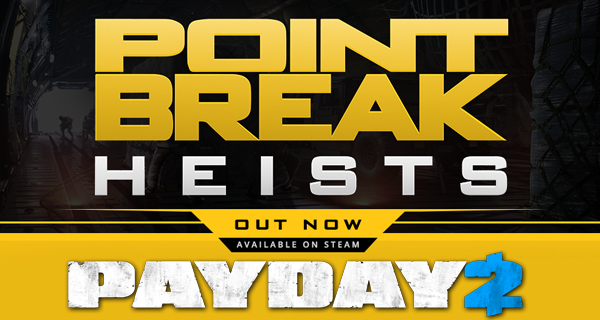 Payday 2 Point Break DLC est enfin sortie!
En 2014, Overkill Software a publié John Wick DLC pour Payday 2 qui donne la possibilité de jouer le personnage du film dans le jeu. Cette année, le studio a décidé de sortir quelque chose de similaire au film Point Break, le remake avec Luke Bracey dans le rôle de Johnny Utah.
Bo Andersson-Klin, le CEO de Overkill Software à annoncé:
Point Break a toujours été une grande source d'inspiration pour les jeux Payday. Donc d'être en mesure d'intégrer les personnages et les intrigues du film dans Payday 2 est un rêve devenu réalité. Nous avons déjà travaillé étroite collaboration avec Lionsgate pour le personnage de John Wick. Lionsgate nous a présenté Alcon et Warner Bros, dans le but de créer deux nouveaux braquages pour le jeu. Nous croyons qu'ils sont dans les meilleurs à ce jour.
D'autres nouveautés font aussi leur apparitions. Le « Bodhi Character Pack » qui est gratuit pour tout ceux qui ont déjà Payday 2. Il apportera le chef du gang « Ex-Presidents » au jeu(jouer par Patrick Swayze dans l'original et Édgar Ramírez dans le remake de 2015). De plus de nouvelles armes, avantages et masques font leur apparitions avec le DLC.

Retrouvez Payday 2 Point Break Heists au meilleur prix sur notre outil de comparaison. Le DLC comprend deux nouveaux braquages (Beneath the Mountain Heist et Birth of Sky Heist), 10 nouveau succès, un nouveau pistolet, 4 masques, 4 nouvelle armes de mêlée, 6 nouvelles musiques, des modules pour vos armes et des outils de personnalisation, ainsi qu'un nouveau contact: Locke.
Il vous manque le jeu ou du contenu? Retrouvez Payday 2 et ses DLCs au meilleur prix grâce à notre outil de comparaison!
Le DLC apporte pas mal de nouveautés intéressante, que pensez vous de ces nouveaux braquages?