Annonces de Microsoft E3 2017
La conférence de presse de Microsoft E3 2017 est l'une de celle qui est pleine de révélations prometteuses et impressionnantes ! La nouvelle Xbox a été dévoilée, complète avec tous les détails croustillants que vous aimez ! PLUS ! Consultez les quelques jeux à arriver sur la Xbox dans les prochains mois ! Jetez un coup d'œil à chacun d'eux dans notre liste plus bas !
Annonces de Microsoft E3 2017
Le Projet Scorpio est maintenant Xbox One X
Ça y est ! La nouvelle console de Microsoft, précédemment appelée Projet Scorpio, s'appelle maintenant Xbox One X. Celle-ci est à ce jour la plus puissante console de Microsoft. Voici pourquoi :
Elle est équipée d'un CPU 8 cœurs, d'un GPU de six téraflops, et de 12Go de RAM GDDR5.
Elle offre la résolution 4K, et effectue un sur-échantillonnage pour les affichages 1080p.
C'est la plus petite console de Microsoft à ce jour.
La Xbox One X sera disponible à partir du 7 novembre 2017, et coûtera 500US$ aux USA, et 449£, 499€, 599CA$, et 649AU$ pour les autres pays.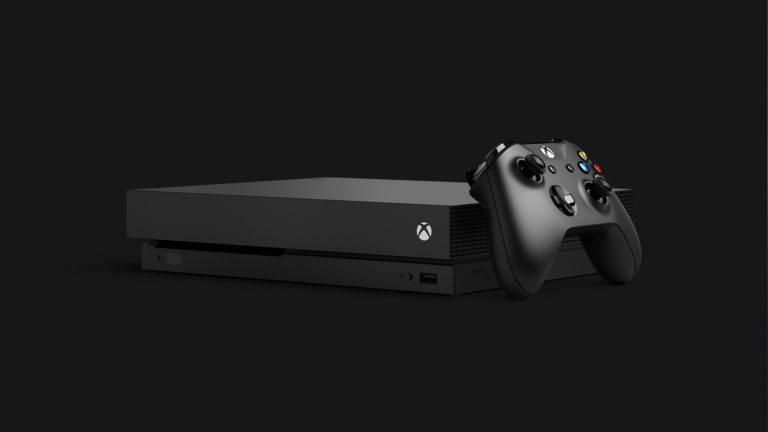 Voici les autres annonces liées à la Xbox :
La fonction de Rétrocompatibilité de la Xbox One sera étendue, ce qui signifie qu'elle supportera les jeux Xbox originaux en plus des jeux Xbox 360 actuellement jouables sur la console. Cette fonction sera ajoutée ultérieurement dans l'année.
Microsoft va déployer des mises à jour 4K pour cinq « jeux de premier plan » : Gears of War 4, Forza Horizon 3, Killer Instinct, Halo Wars 2, et Minecraft. Ceci pour que ces jeux puissent fonctionner en 4K avec le programme Xbox One X Enhanced.
En plus des cinq jeux mentionnés, plus de 30 jeux de partie tierce recevront des correctifs gratuits pour le support 4K sur Xbox One X. Quelques-uns de ces jeux sont : Rocket League, Final Fantasy XV, Ghost Recon Wildlands, et Resident Evil 7.
Anthem
Tournant sur Xbox One X, le gameplay de la nouvelle franchise de BioWare, Anthem, a été dévoilé.
Assassin's Creed Origins
Assassin's Creed Origins d'Ubisoft, dont on a eu confirmation qu'il se passera en Égypte, a été annoncé. Il sortira le 27 octobre 2017 et inclura un gameplay 4K pour la Xbox One X.
Assassin's Creed Origins conte l'histoire du dernier des Madjay appelé Bayek. Il est aussi le protecteur de sa propre communauté. Le jeu comprendra cette fois des éléments RPG plus poussés. Son combat serait similaire à Dark Souls, mais en insistant plus sur la lutte. Il existe également un mouvement de saut au ralenti lorsque vous utilisez un arc. Vos moyens de transport incluent des chameaux qui peuvent être chevauchés. Un oiseau de proie vous aidera aussi à reconnaître des zones intéressantes pour vous.
Black Desert Online
Le MMORPG Black Desert Online va avoir sa version console lancée exclusivement sur la Xbox One. Il sera ultérieurement disponible sur la Xbox One X. Sa sortie est prévue début 2018.
Crackdown 3
Crackdown 3 est un jeu d'action et d'aventure en monde ouvert qui débarque sur PC et Xbox One le 7 novembre. La bande-annonce mettant en scène Terry Crews a été révélée.
Dragon Ball FighterZ
Programmé pour sortir début 2018, Dragon Ball FighterZ propose des bagarres à 3 contre 3 en 2D. Attendez-vous à des combattants comme Goku, Majin Buu, Cell, Frieza, et certains autres de vos personnages préférés de Dragon Ball.
Forza Motorsport 7
Forza Motorsport 7
est prêt à sortir pour le 3 octobre, sur Xbox One et PC. Il sera aussi bientôt disponible sur Xbox One X. Voici quelques caractéristiques du jeu :
Plus de 700 voitures, incluant la 2018 Porsche GT 911 2RS
Le Hafeet Mountain Pass
Système météorologique dynamique
ID@Xbox Games
Ce sont les jeux publiés sous la bannière ID@Xbox.
Cuphead – Sort le 29 septembre sur PC et Xbox One. Cette plateforme 2D est un jeu Play Anywhere pour Xbox et Windows 10.
Deep Rock Galactic – L'équipe derrière Goat Simulator et Sanctum publie Deep Rock Galactic, un jeu de tir exclusivement pour Xbox One. Il propose un combat en équipe, avec un peu de fabrication en complément.
Ori and the Will of the Wisps
– C'est la suite d'Ori and the Blind Forest. Aucune date de sortie n'a encore été annoncée, mais une bande-annonce d'animation a été publiée.
The Last Night et The Artful Escape – Ces deux jeux indépendants arrivent aussi sur la Xbox One. Une date de sortie pour les deux jeux doit encore être annoncée.
Tacoma – Après son retard de l'an dernier, Tacoma a enfin une date de sortie fixée au 2 août pour PC et Xbox One.
Super Lucky's Tale
– C'est un jeu Xbox Play Anywhere qui sortira le 7 novembre.
Life is Strange: Before The Storm
Un nouveau jeu Life is Strange est enfin annoncé ! Son premier épisode sort le 31 août. La série aura au total trois épisodes et inclura des personnages du précédent jeu Life is Strange.
Metro: Exodus
Metro : Exodus
est la suite de Metro : Last Light. Il sortira en 2018 sur toutes les plateformes y compris la PlayStation 4. Le jeu propose un monde ouvert, une première pour la série.
Minecraft
Microsoft a annoncé que Minecraft aura une fonctionnalité cross-play. Les joueurs pourront jouer entre plateformes comme PC, Nintendo Switch (grâce à Better Together), mobile, et réalité virtuelle.
Un nouveau pack sortira aussi dans une mise à jour qui est attendue pour apporter des visuels améliorés et des effets graphiques. Parmi ces améliorations on note les « ombres dynamiques, un éclairage qui diffuse à travers le brouillard, le mouvement des feuilles et de l'herbe, de nouvelles textures pour les mobs et les villageois, un éclairage directionnel, une accentuation des bords, et davantage, » comme le précise le développeur.
PlayerUnknown's Battlegrounds
Joueurs de Xbox One, réjouissez-vous ! Le jeu a succès de bataille Royale sur PC arrive enfin sur la Xbox One ! Il sera lancé ultérieurement dans l'année, puis plus tard aussi pour la Xbox One X avec le support 4K et HDR.
Sea of Thieves
Le jeu de pirate multijoueur Sea of Thieves, initialement prévu pour une sortie en 2017, est reporté à 2018, a annoncé Microsoft. Une vidéo complète du gameplay a été dévoilée pendant la manifestation.
State of Decay 2
State of Decay 2, la suite du jeu de survie et de zombi en monde ouvert State of Decay, est confirmé pour le printemps 2018. Microsoft propose un gameplay étendu centré sur le coopératif en ligne.