Metro Exodus est désormais une exclusivité limitée de l'Epic Games Store.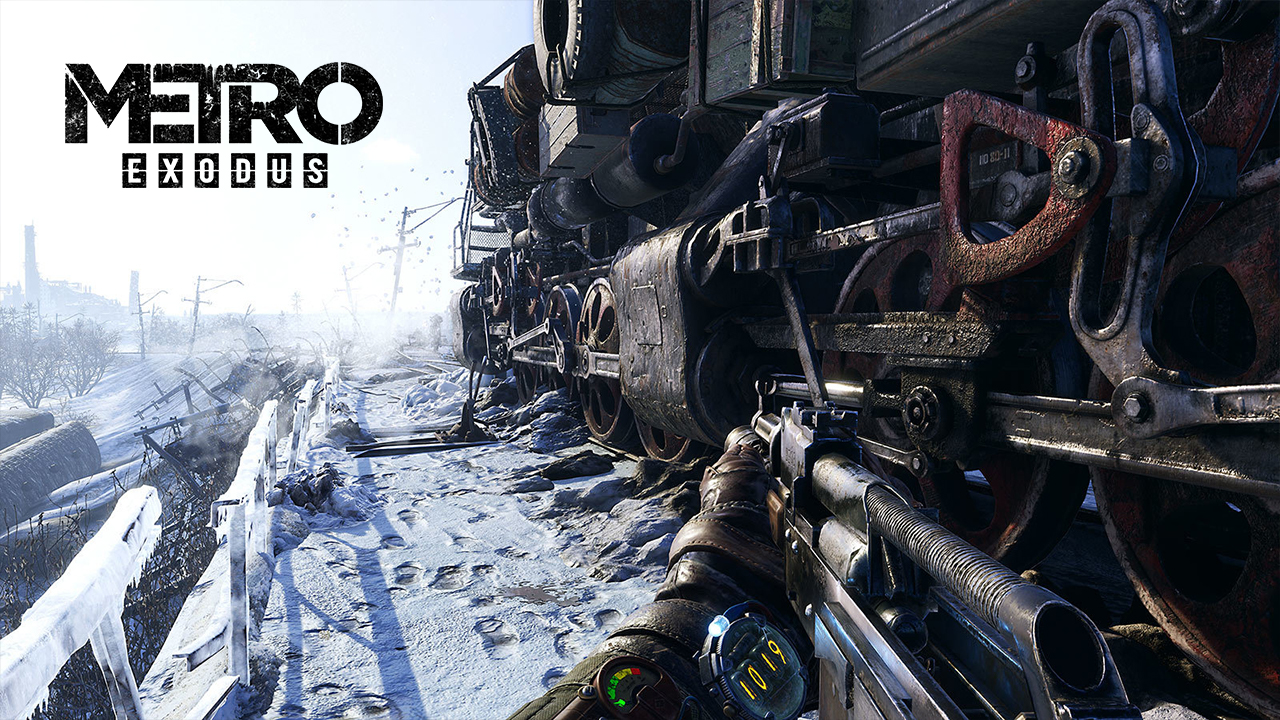 Epic Games a gagné un autre jeu pour sa vitrine puisque Deep Silver a annoncé que Metro Exodus ne serait désormais disponible sur PC que via la plate-forme Epic. Le jeu est en pré-commande sur Steam depuis un certain temps, mais le bouton d'achat a maintenant été remplacé par un avis de Valve.
---
---
Il reste à peine deux semaines avant la sortie du jeu, et ce mouvement a même surpris Valve. Voici la notification qu'ils ont postée sur la page du jeu :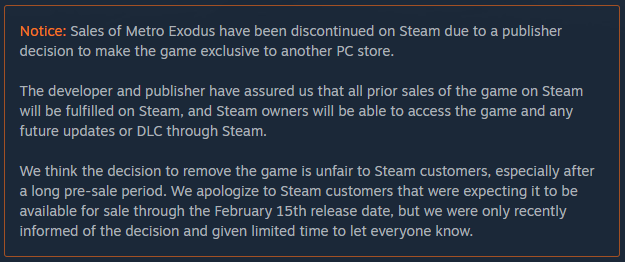 Il est évident qu'Epic est prêt à faire beaucoup pour promouvoir sa vitrine. Deep Silver a d'abord déclaré que les pré-commandes physiques ne seraient pas affectées, mais a ensuite précisé que les codes inclus dans ces commandes seraient désormais des codes Epic au lieu de codes Steam. Étrange, surtout si l'on considère que d'ici là les pré-commandes en boîtes devraient être prêtes à être expédiées.
Your physical copy of Metro Exodus will now ship with an Epic key

— Metro Exodus (@MetroVideoGame) January 29, 2019
Comme indiqué dans la notification, toutes les pré-commandes traitées par Steam seront toujours exécutées sur la plateforme. Toutefois, ceux qui veulent acheter le jeu sur Steam à l'avenir devront attendre une année entière car le jeu ne reviendra sur Steam (et dans d'autres boutiques) qu'après le 14 février 2020.
La seule bonne nouvelle est que le prix du jeu a baissé de près de 10 euros sur sa nouvelle plate-forme exclusive limitée. Néanmoins, même cela apparaît comme une insulte envers ceux qui ont pré-commandé sur Steam.
Metro Exodus devrait être lancé le 15 février sur PC, Xbox One et PS4.