Meilleures Sorties de Jeux PC Pour Le Mois de Mai 2019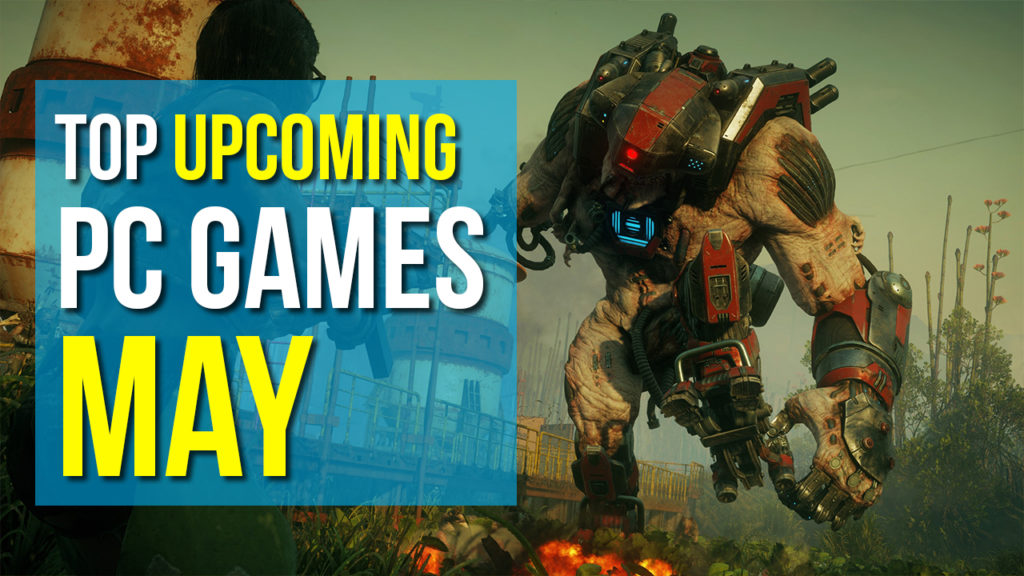 Meilleures Sorties de Jeux PC Pour Le Mois de Mai 2019
Le mois de mai n'est pas aussi chargé que les premiers mois de l'année quand il s'agit de sorties PC, mais il y a certainement quelques joyaux à venir dont vous devriez faire attention. Voici donc les meilleures sorties de jeux PC pour le mois de mai 2019, listées avec les meilleures offres que vous pouvez trouver pour chacune d'entre elles sur le web.
---
---
Avec le succès du lancement de Yakuza Kiwami en début d'année, Sega ramène maintenant la deuxième aventure de Kazuma Kiryu, complètement reconstruite avec le Dragon Engine. Les Yakuza Kiwami 2 verront Kazuma réintégrer le milieu criminel hostile pour empêcher les clans rivaux de se lancer dans une guerre sans merci. Le remake prend en charge la résolution 4K, une variété d'options graphiques et des taux de rafraîchissement déverrouillés. Goro Majima dispose également de son propre mode histoire qui sert de précurseur aux événements du jeu principal.
---
Les fans de Life of Strange 2 pourront poursuivre leurs aventures en mai prochain alors que le troisième épisode du jeu voit Sean et Daniel se réfugier dans une communauté de vagabonds. Les autorités sont toujours à l'affût et Daniel lutte toujours pour garder ses pouvoirs sous contrôle. Il existe également des indices de la possibilité de romance entre Sean et un autre personnage présenté dans le dernier épisode. Prenez votre temps avec cet épisode car le prochain n'arrivera qu'en août.
---
Voici un jeu auquel vous voudrez certainement faire attention, car il est probablement différent de tout ce que vous avez joué depuis longtemps. A Plague Tale Innocence raconte l'histoire d'Amicia et Hugo, deux frères et sœurs éloignés, qui fuient l'Inquisition au milieu de la Grande Peste. Les joueurs devront résoudre des énigmes environnementales qui tournent autour d'essaims de rats porteurs de peste et d'inquisiteurs impitoyables, tout en essayant de garder Amicia et Hugo en vie.
---
id Software combine son expérience remarquable dans le développement de tireurs à la première personne avec l'expertise d'Avalanche Studios dans la fabrication de grands bacs à sable ouverts sur le monde. Le résultat est un jeu de tir post-apocalyptique, rempli de pagaille, où les joueurs courent et tirent, conduisent et tirent, et piratent et tailladent tous les mouvements du terrain vague. Il y a des tonnes d'armes scandaleuses à apporter avec la douleur, et plusieurs compétences à utiliser pour toujours tenir l'ennemi à distance.
---
Dark Future is a post-apocalyptic vehicular combat tabletop game from Games Workshop, who is more famous for the Warhammer franchise. Auroch Digital is bringing the tabletop experience to PCs and from what we've seen so far, it's very reminiscent of Mad Max. That's no surprise though given the similarities both franchises share. Make no mistake though, this is a real-time strategy game and not a vehicle-based action shooter. Players will need to command groups of vehicles and take advantage if the Time Dilation system to execute their strategies.
---
Puisque nous ne pouvons pas obtenir Mario Kart sur PC, nous devrons nous contenter du pilote de kart très personnel de Sonic. La grande nouvelle est que Team Sonic Racing ne devrait pas décevoir. Sega a abandonné le gadget transformateur de son prédécesseur et a opté pour une expérience de course de karting plus classique cette fois-ci. Le jeu comprend différents types de personnages, une variété de bonus sur piste et de nombreuses options de personnalisation des véhicules.
---
Jon McKellan, cofondateur de No Code, décrit l'Observation comme « une sorte d'odyssée de l'espace en 2001 – mais vous êtes HAL. » Une description appropriée puisque le jeu assigne aux joueurs le rôle de l'IA qui gère une station spatiale. Pour une raison inconnue, vous avez été redémarré, et maintenant le seul membre d'équipage avec lequel vous pouvez entrer en contact est le médecin de la station, Emma Fisher. Vous devrez travailler avec elle pour essayer de trouver la cause des événements inexpliqués qui se sont produits à la station.
---
Koei Tecmo apporte le dernier jeu de l'Atelier à l'ouest au mois de mai. Atelier Lulua The Scion of Arland est le quatrième volet de la série et se déroule après les événements de l'Atelier Meruru. Le jeu promet de ramener et de faire évoluer les systèmes de base de la série – synthèse, exploration et combat. Suivez Lulua dans ses efforts pour dépasser la légendaire maîtrise de l'alchimie de sa mère et créer son propre héritage. Une autre grande aventure vous attend dans le monde d'Arland.
---
Les fans de Total War, dont le lancement était initialement prévu début mars, pourront enfin plonger dans la version de Creative Assembly de la saga Romance of the Three Kingdoms en mai prochain. Le jeu combinera la construction d'un empire au tour par tour avec des batailles stratégiques épiques en temps réel mettant en vedette 12 chefs de guerre légendaires de l'épopée historique chinoise. Cette fois-ci, les actions prises au combat affectent les relations avec vos héros et les autres personnages qui pourraient avoir des conséquences sur l'ensemble de votre campagne.
---
Prenez le contrôle des héros de tous les jours de votre ville en tant que QG de sauvetage Le Tycoon vous délègue la gestion de sa force de police, sa brigade d'incendie et sa section médicale. Formez votre personnel pour qu'il soit à la hauteur des tâches qui lui sont confiées, gérez les ressources essentielles comme le personnel, les véhicules et les ravitaillements pour assurer un fonctionnement efficace et gardez votre station toujours prête pour toute urgence, jour et nuit. De plus, développez les systèmes et les fonctionnalités du jeu avec des modes créés par la communauté.
---
Et voilà, ce sont les meilleures sorties de jeux PC pour le mois de mai 2019. Si vous aimez n'importe quel titre sur la liste, rappelez-vous toujours que vous ne pouvez obtenir de meilleures aubaines nulle part ailleurs qu'ici même sur AllKeyShop.com. Bon Jeux!
---
ALSO ON GOCLECD NEWS
---
| | |
| --- | --- |
| | Avril n'est peut-être pas aussi chargé que les trois premiers mois de l'année, mais il a quand même quelque chose à offrir à la plupart des joueurs à la recherche d'un nouveau jeu où passer du temps. Alors, sans plus tarder, voici le top 10 des sorties de jeux pour avril 2019. |
---