Meilleures sorties de jeux PC de mars 2019.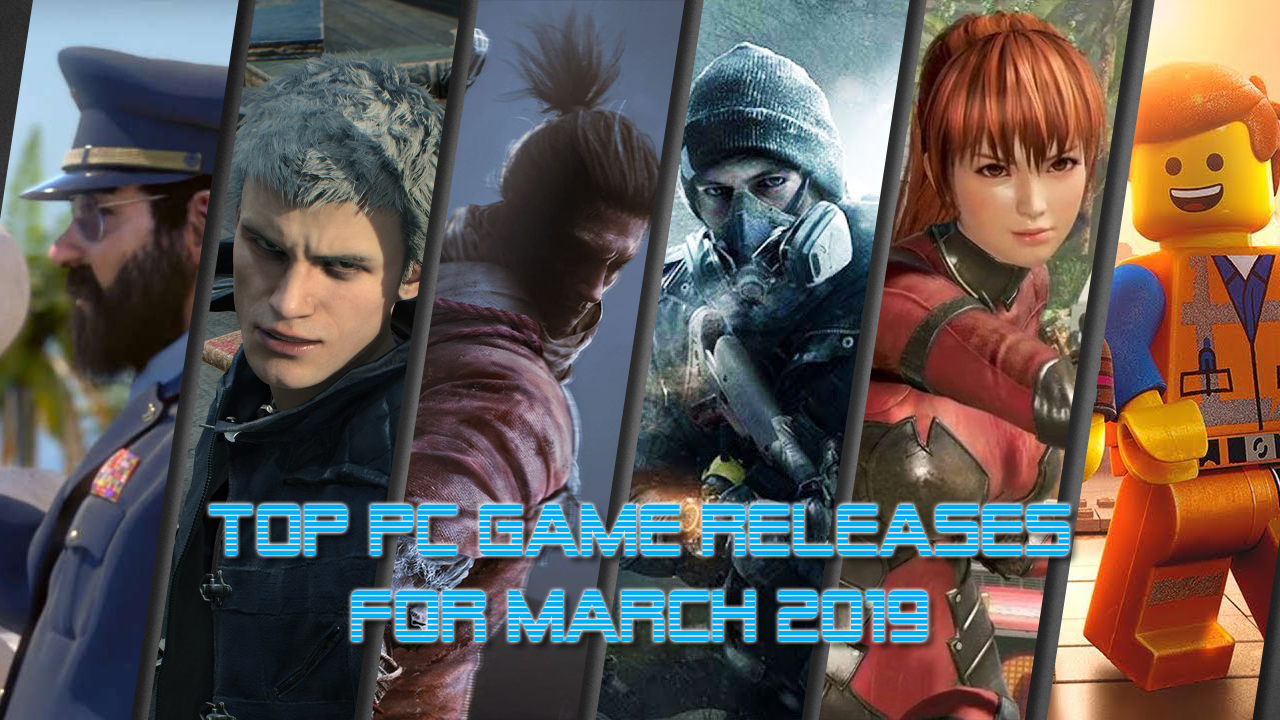 Nous sommes déjà presque en mars et vous avez probablement beaucoup de retard pour le seul mois de février. Malheureusement pour vous, le mois de mars ne sera pas plus clément car de grosses sorties sont également attendues. Si vous souhaitez jouer à quelque chose de nouveau, voici les meilleures sorties de jeux pour mars 2019 parmi lesquelles vous pourrez choisir.
---
Meilleurs jeux PC à paraître en mars 2019
---
Dead or Alive 6 — 1 March
Ce jeu n'a pas eu la meilleure présentation au cours de la récente retransmission lors de l'EVO Japan, mais essayez de mettre tout cela de côté et de vous concentrer sur son contenu réel. Dead or Alive 6 utilise un nouveau moteur graphique pour apporter de superbes visuels, en représentant des expressions faciales améliorées et même la sueur et la saleté. Le nouveau Break System ajoute plus de profondeur aux mécanismes de combat et le nouveau Fatal Rush permet aux débutants d'effectuer des combos tapageuses comme un pro. Les éléments interactifs en étapes permettent également des combats plus dynamiques.
---
Left Alive — 5 March
Situé dans l'univers Front Mission, Left Alive place les joueurs sous le contrôle de trois survivants différents dans un pays assiégé et déchiré par la guerre. C'est un jeu de tir à la troisième personne qui met l'accent sur les attaques de mêlée, avec la possibilité de monter à bord de mechs appelés Wanzers. L'histoire des trois personnages est primordiale et obligera les joueurs à prendre des décisions drastiques avec des conséquences extrêmes. L'illustration a été réalisée par Yoji Shinkawa et dégage une atmosphère très Metal Gear Solid, tandis que les Wanzers ont été conçus par le célèbre concepteur de mech Takayuki Yanase.
---
Devil May Cry 5 — 8 March
Bien que la reprise de Ninja Theory ait rencontré un succès élogieux, elle n'a pas vraiment séduit les fans. Aujourd'hui donc, Capcom est de retour avec une véritable suite dans Devil May Cry 5. Dante et Nero sont tous deux de retour pour donner la raclée. Ils sont rejoints par le mystérieux V, un adolescent ressemblant à un membre d'un boy-band qui peut invoquer des démons. Cette fois-ci, l'action est animée par le même moteur que Resident Evil 7 et Resident Evil 2 Remake, ce qui crée des décors et des effets magnifiques.
---
The Division 2 — 15 March
Dès le début, Massive Entertainment a clairement indiqué qu'ils s'étaient concentrés sur la phase finale de The Division 2. C'était clairement une excellente stratégie car c'était le principal problème du premier jeu. Cette fois-ci, il y a beaucoup de choses à attendre une fois que vous atteignez le niveau maximum et que vous terminez la campagne : une nouvelle menace apparaît, les joueurs débloquent des spécialisations et des armes spécifiques, et vous devez affronter 3 Dark Zones. C'est probablement pour cette raison que le jeu a plus de pré-commandes que le jeu original bien qu'il ne soit pas sur Steam.
---
One Piece World Seeker — 15 March
One Piece World Seeker emmène le notoire capitaine Monkey D. Luffy et son équipage, les Straw Hat Pirates, dans une toute nouvelle aventure. Explorez un vaste monde ouvert situé sur une nouvelle île avec de nombreux chemins à emprunter et de larges zones à explorer. Les joueurs peuvent utiliser les capacités gum-gum de Luffy pour parcourir le monde et abattre leurs ennemis. Vous rencontrerez également des visages familiers et affronterez des ennemis emblématiques de la série tout en progressant. Vous pourrez également utiliser les mouvements caractéristiques de Luffy, tous animés avec des détails magnifiques.
---
Sekiro Shadows Die Twice — 22 March
Tout fan des jeux Souls de FromSoftware devrait déjà l'avoir pré-commandé. Sekiro Shadows Die Twice présente toujours la difficulté pénalisante qui a fait la réputation du studio, bien que leur dernier projet en date mélange la formule pour rafraîchir les choses. Les joueurs contrôleront un personnage spécifique. Ils auront également accès à différents équipements prothétiques pouvant être utilisés pour différents effets, et il existe un mécanisme de résurrection qui donne une seconde chance aux joueurs après avoir été abattus.
---
Generation Zero — 26 March
Vous et vos amis partez faire un tour hors de la ville. À votre retour, le monde a été envahi par des machines hostiles. C'est le point de départ de Generation Zero, un jeu de tir coopératif à 4 joueurs qui se déroule dans une Suède réinventée des années 1980. Il propose un vaste monde ouvert où les ennemis sont simulés de manière persistante. Tous les dégâts que vous leur causerez seront toujours présents lorsque vous les rencontrerez à nouveau. Le jeu en équipe est encouragé, sinon requis, à moins que vous ne vouliez vous retrouver à la merci des envahisseurs mécaniques.
---
Outward — 26 March
Outward combine des mécanismes de RPG et de survie pour créer le simulateur ultime de la vie d'aventurier. Ici, votre personnage ne sera ni l'élu, ni un héros prédestiné, ni même un personnage spécial avec un secret qui changera le destin. Au lieu de cela, vous commencez en étant personne. Le développeur Nine Dots Studio a porté une attention particulière aux petits détails. Il n'y a pas d'indicateur de carte, pas de marqueur de quête et le contenu de votre sac affecte votre vitesse de déplacement et l'efficacité de votre esquive.
---
The Lego Movie 2 Videogame — 26 March
Les monstres envahisseurs extraterrestres ont ravagé Bricksburg, le laissant en ruine et emportant les amis d'Emmet. Lego Movie 2 emmène les joueurs dans l'histoire du nouveau film et au-delà. Aidez Emmet à voyager dans l'espace lointain pour affronter les habitants du système Systar et sauver ses amis. Il y a de nouveaux mondes à découvrir, de nombreux personnages à réunir et encore plus de défis pour tester vos compétences de Maître Bâtisseur. Pré-commander vous procurera également les personnages du premier film.
---
Tropico 6 — 29 March
Tropico 6 entraîne les joueurs à reprendre le contrôle d'une île et à créer leur propre dynastie. Cette fois-ci, vous serez responsable d'un archipel avec plusieurs îles. Votre tâche sera de tirer parti des ressources de ces îles en les connectant via une infrastructure et en planifiant soigneusement l'emplacement de vos différentes installations. Vous pourrez également voler des monuments célèbres, les amener dans votre pays et les exposer dans l'une de vos propres îles.
---
Et voila ! Ce sont les meilleurs jeux de mars 2019. Certains d'entre eux sont sans doute les plus gros titres à sortir cette année. N'oubliez pas que si vous décidez de jouer à l'un de ces jeux, vous ne trouverez pas de meilleure offre pour eux que celles que nous avons ici, sur Goclecd.fr. Salut !