LittleBigPlanet3 – Des bonus pour Dragon Age Inquisition si vous précommandez le jeu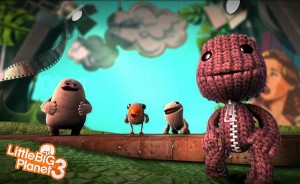 Des bonus de précommande de LittleBigPlanet 3 incluent des costumes pour Dragon Age Inquisition
Dans un post sur
​​le Blog PlayStation
aujourd'hui ,
Sony
a officiellement annoncé que 
LittleBigPlanet 3
 sera disponible sur
PlayStation 3 et PlayStation 4
, le
18 Novembre
. Le jeu a été officiellement annoncé à l
'E3
le mois dernier , où il avait donné une vague date de sortie (automne).
Sony a également annoncé aujourd'hui les bonus de précommande pour LittleBigPlanet 3. Précommander le jeu n'importe où et vous allez recevoir un Sackboy en peluche adorable.
En outre, un pack de costume spécial pour Dragon Age: Inquisition  sera inclus avec l'édition Day 1 de LittleBigPlanet 3. Cela vaut pour les précommandes passées chez les détaillants physiques et en ligne. En plus de cela, LittleBigPlanet 3 Day 1 Edition inclus aussi des costumes pour les personnages populaires PlayStation comme Nathan Drake ( Uncharted ), Ellie ( The Last of Us ), Delsin (Infamous: Second Son ), et un soldat Helghast ( Killzone ).
Il y a aussi des bonus de précommande spécifiques aux détaillants pour LittleBigPlanet 3. Les acheteurs Amazon recevront le « PlayStation Favorite pack » de costumes.
Enfin, toutes les précommandes pour LittleBigPlanet 3 disposent d'un accès instantané à la « T-shirt pack LittleBigPlanet 3« . Cela signifie que le moment où vous précommandez le jeu, vous recevrez des T-shirts spéciaux dans le jeu, pour les jeux de la série déjà disponibles comme LittleBigPlanet 2 , LittleBigPlanet sur ​​PlayStation Vita et LittleBigPlanet Karting.
Les bonus de précommande mentionnés dans cet article sont pour l'Amérique du Nord seulement. Sony va partager les détails pour les fans de LittleBigPlanet en Europe dans les temps à venir, mais on peut espérer les mêmes bonus.
LittleBigPlanet 3
est le premier jeu de la série a être développé par un autre studio que le studio créateur :
Media Molecule
. C'est
 Sumo Digital
 qui développe le jeu, alors que
Media Molecule
est actuellement sur un autre jeu PS4.