Les plans pour le Season Pass et la Première Année de The Division 2 précisés.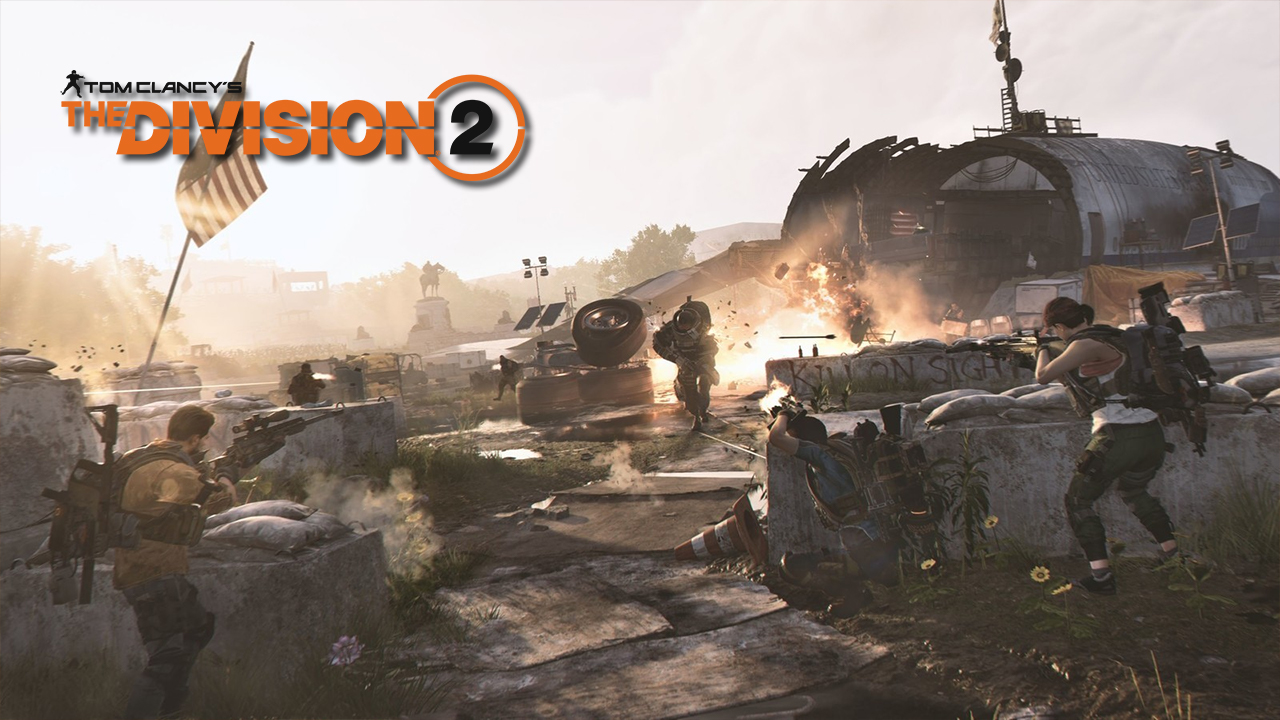 Ubisoft a dévoilé ses projets pour le contenu de la première année suivant le lancement de The Division 2. Ils ont également annoncé ce que le Season Pass du jeu inclurait. Les relations entre les deux sont un peu confuses, regardons donc de près tout ce que Ubisoft a dévoilé jusqu'à présent.
---
---
Après son lancement, le jeu recevra 3 mises à jour majeures de contenu sous forme d'épisodes. Le premier s'appelle D.C. Outskirts : Expeditions et enverra des joueurs à la poursuite de membres d'élite des Outcasts et des Black Tusks dans de nouveaux lieux. L'épisode suivant s'appelle Pentagone : The Last Castle et porte sur l'attaque du siège emblématique du ministère de la Défense. Aucun détail n'a été révélé sur le dernier épisode de la première année, si ce n'est qu'il va « ouvrir la voie à un contenu plus palpitant ».
Vous pouvez consulter la bande-annonce du contenu de la première année ci-dessous :
Pour ce qui est du Season Pass ou du Year 1 Pass, comme l'appelle Ubisoft, il semble que l'essentiel de ce qu'il offre est un accès plus rapide à la plupart des contenus de la Première Année mentionnés ci-dessus. Ceux qui achèteront le pass découvriront chaque épisode 7 jours plus tôt que tout le monde. Trois nouvelles spécialisations seront également ajoutées au cours de l'année et toutes seront débloquées instantanément pour les détenteurs du Pass Year 1. Ceux qui n'achèteront pas ce pass devront le déverrouiller en jouant.
En ce qui concerne les avantages exclusifs du programme Year 1, il existe une série de missions appelées « Classified Assigments » qui visent à fournir aux joueurs plus de contenu de l'histoire autour des événements qui ont conduit à l'arrivée de la Division à Washington D.C. Chaque mission sera récompensée par un trophée sac à dos exclusif.
Les détenteurs d'un Pass Year 1 auront également accès à une Prime additionnelle par semaine et à un Projet supplémentaire par jour. Les Primes sont des tâches spéciales visant à éliminer des objectifs spécifiques, tandis que les Projets sont diverses tâches que les joueurs peuvent effectuer pour obtenir des récompenses en plus. Vos missions supplémentaires s'arrêtent le 1er mars 2020, date à laquelle nous supposons que vous devrez acheter le Pass Year 2 pour continuer à bénéficier de cet avantage.
Enfin, le Pass Year 1 comprendra quelques articles cosmétiques exclusifs : la tenue de l'agent Ward et l'emote Scout.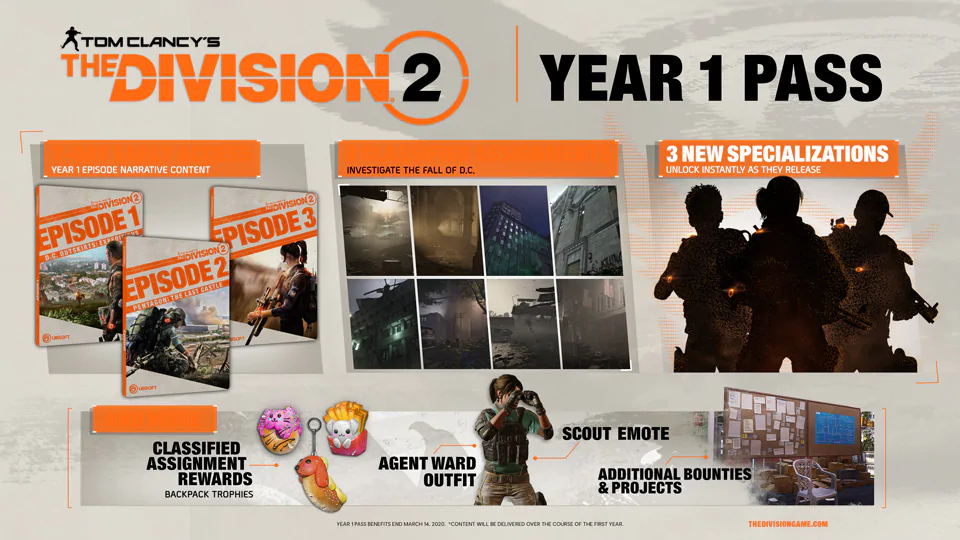 Le Pass Year 1 est fourni avec les éditions Gold et Ultimate du jeu et sera également disponible en tant qu'achat séparé après le lancement. Si vous souhaitez en savoir plus sur le Pass Year 1 et sur le contenu prévu pour cette année, vous pouvez consulter les détails et la FAQ ici.
The Division 2 sera lancé le 15 mars pour PC, Xbox One et PS4. Une bêta ouverte commence demain sur toutes les plateformes, assurez-vous donc d'essayer le jeu pour pouvoir savoir si vous voudriez y jouer ou pas, sans avoir à dépenser un centime au préalable.