Le DLC de Black Ops 3 Awakening inclus 4 cartes et un mode zombie épique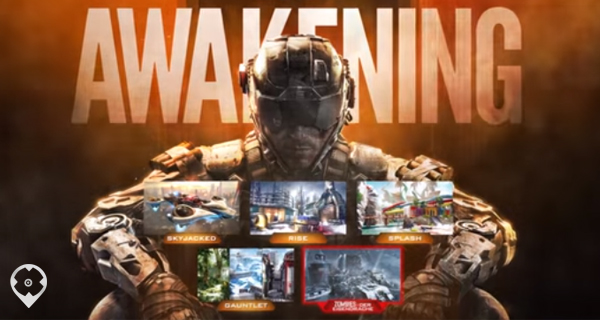 Tout commence dans 
Call of Duty Black Ops 3 
Awakening
Les premiers mois de l'année 2016 sont pleins de sorties impressionnantes et bien sûr Call of Duty Black Ops 3 est également concerné avec la sortie de son premier DLC, Awakening. Avec quatre DLCs alignés, prêt à être libérés dans les prochains mois, Black Ops 3 Awakening sortira le 2 Février 2016, d'abord sur PlayStation 4, les autres plateforme suivront à une date ultérieur.
Les fans du jeu seront sûrement enthousiaste sur ce DLC car il comprend de nouvelles cartes et un nouveau chapitre en mode zombie. Trois des quatre cartes sont nouvelles et Awakening promet une toute nouvelle expérience multijoueur sur chacunes d'elles. Skyjacked, la version refaite de Call of Duty Black Ops 2 de Hijacked Plan est situé sur une sorte de zone portuaire. Rise, la première des trois nouvelles cartes, ressemble à une carte traditionnel de Call of Duty, situé dans un entrepôt industriel abandonné. Splash semble être une carte amusante, l'action se déroule dans un parc aquatique abandonné. Si les combats sous-marins et les pirates sont votre truc, cela peut être la carte parfaite pour vous. Et enfin, la carte Gauntlet est une seule carte qui est divisé en trois zones : une jungle, un paysage de glace et une ville urbaine sous la pluie.
Black Ops 3 Awakening comprend également le prochain chapitre de la saga Zombie du jeu, Der Eisendrache, un environnement de zombie sur un thème médiéval parfait pour jouer en co-op.
Cette vidéo va vous faire voyager dans le monde de Black Ops 3 Awakening. Regardez-la:
Vous ne possédez pas encore le jeu? Nous avons obtenu les prix les plus bas du marché pour la
clé CD
de
Call of Duty Black Ops 3
! Consultez notre comparateur de prix dès maintenant! Le jeu est aussi disponible pour
Xbox One
,
Xbox 360
,
PS3
et
PS4
. Vous pouvez aussi avoir accès aux DLCs de Blak Ops 3 via le
Season Pass
.