L'art de la cuisine de Little Nightmares présenté en vidéos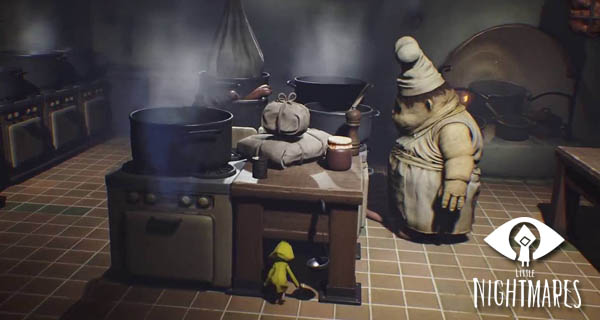 Little Nightmares de Tarsier Studios doit sortir très bientôt. En attendant, le studio a partagé quelques présentations de recettes de Little Nightmares via Twitter.
---
---
Art de la cuisine de Little Nightmares
Little Nightmares est un jeu de plateforme d'énigme d'horreur et d'aventure mettant en scène une petite fille en capuchon jaune appelée Six. Elle est entraînée dans un monde cauchemardesque appelé La Gueule. L'un des niveaux que Six doit traverser se nomme La Cuisine, gardée par les Chefs.
En parlant de Chefs, quelques recettes sont présentées dans le jeu. On y trouve le café latte, des pâtisseries, des cocktails et d'autres. Vous pouvez voir cela dans la vidéo plus bas.
The leeches from #LittleNightmares are caffeine addicts!
Here is our little Latte Art treat to make your monday brighter. pic.twitter.com/r4MUlHCXyj

— littlenightmares (@LittleNights) April 10, 2017
Ever tasted leeches or something even worst?
The #littlenightmares' Chefs are back in the kitchen to bake some of those little bloodsuckers! pic.twitter.com/cH1RBGvacJ

— littlenightmares (@LittleNights) March 30, 2017
Ready for the week-end? Order a 'Chased by The Chefs' cocktail and enjoy!#Littlenightmares: April 28th on PS4, XB1 & PC pic.twitter.com/4arN7Q6s9P

— littlenightmares (@LittleNights) March 24, 2017
Hope your Monday is going great!
If not take a coffee with the Chef, relax, retweet or comment. ☕️#Littlenightmares pic.twitter.com/3AcRIyWUqZ

— littlenightmares (@LittleNights) March 20, 2017
Little Nightmares emmène ses joueurs dans un lieu surréaliste à la fois bizarre et très imprévisible. Il y a tellement de choses à découvrir dans cet endroit, mais vous devez toujours rester vigilant car des âmes corrompues y rôdent. Le jeu sort le 28 avril 2017 sur PC, PlayStation 4 et Xbox One.
Que pensez-vous des recettes ? Voudriez-vous les essayer chez vous ? Partagez vos opinions avec nous dans les commentaires au dessous.