Lancement officiel de Desperados 3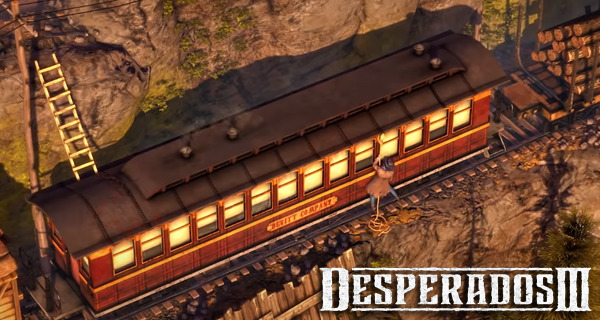 Lancement officiel de Desperados 3
---
Desperados 3, la préquelle de 2001, Desperados : Wanted Dead or Alive, voit sa date de sortie officielle annoncée.
---
---
Desperados 3 est développé par Mimimi Games, la société à l'origine de Shadow Tactics : Blades of the Shogun, après avoir repris la franchise de Spellbound.
Tout comme Shadow Tactics : Blades of the Shogun, Desperados 3 est un jeu de furtivité hardcore qui se déroule dans le Far West avec une campagne basée sur une histoire.
Le site officiel du jeu énumère quelques-unes de ses principales caractéristiques :
Jouer cinq personnages uniques, chacun ayant des compétences très particulières
Faites l'expérience d'une véritable liberté de choix avec d'innombrables moyens différents de surmonter tout obstacle
Vaincre de grands groupes d'ennemis grâce à une planification et une exécution minutieuses
Soyez témoin de la gloire des scénarios classiques du Far West comme les villes frontalières, les marécages mystérieux, les villes modernes tentaculaires et bien d'autres
Choisissez entre les attaques non mortelles et mortelles, la furtivité et les armes à feu
Adaptez le jeu à votre style de jeu avec divers paramètres de difficulté et des défis spéciaux de rejeu
Le mode Showdown vous permet de mettre le jeu en pause à tout moment et de réagir aux embuscades ou aux attaques surprises
Dans le rôle de John Cooper, les joueurs recruteront un ensemble de personnages inadaptés, dont une mariée en fuite, un trappeur, un tueur à gages et une femme mystérieuse. Vous devrez bien planifier et exécuter votre mission sans faille si vous voulez survivre aux dangers que vous réserve le Far West.
Les joueurs traverseront des villes frontalières, des villes modernes tentaculaires, des marécages, des berges de rivières et bien d'autres endroits pour devenir des légendes du Far West.
Desperados 3 doit être lancé le 16 juin 2020 sur Xbox One, PlayStation 4 et PC.