La bande annonce du lancement de Gears Tactics donne un aperçu rapide du jeu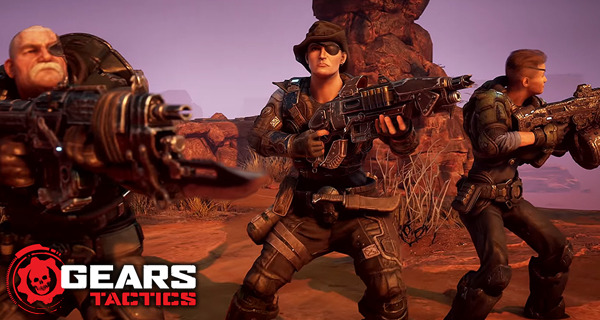 The Coalition et Splash Damage ont récemment publié une bande-annonce de lancement pour Gears Tactics, avant sa sortie officielle plus tard ce mois-ci.
Les développeurs promettent une histoire immersive et axée sur les personnages, ce que l'on retrouve dans la bande-annonce au fur et à mesure que les modèles de personnages et les prémisses de l'histoire sont présentés. La bande-annonce présente également des classes de personnages et certaines des compétences que vous pourrez exercer lors de la sortie du jeu.
---
---
En plus de certaines des compétences exposées, la bande annonce présente brièvement certains des ennemis contre lesquels vous utiliserez lesdites compétences ainsi que certaines des récompenses que vous obtiendrez pour ce faire.
Les joueurs peuvent également s'attendre à de nombreuses personnalisations, des moyens de prolonger les tours ainsi qu'un humour léger qui montre la personnalité de chaque personnage.
Pour ceux qui ne connaissent pas Gears Tactics, il s'agit d'un jeu de stratégie au tour par tour qui a été développé par The Coalition et Splash Damage et publié par Xbox Game Studios. Gears Tactics sortira sur PC le 28 de ce mois et plus tard sur Xbox One.
Vous pouvez trouver la bande annonce du lancement de Gears Tactics ci-dessous :
Vous pouvez préinstaller Gears Tactics sur les PC Windows 10 dès maintenant si vous êtes abonné à Xbox Game Pass ou Game Pass Ultimate pour PC. Vous pouvez également préacheter le jeu par l'intermédiaire du Steam Store et ceux qui achètent Gears 5 avant le 28 avril économiseront 15% sur Gears Tactics.
Il convient également de mentionner que la Coalition est en partenariat avec Intel. Par conséquent, si vous avez acheté des microprocesseurs de la société comme le Intel Core i5 ou plus, vous recevrez Gears Tactics gratuitement.
Heureusement, les joueurs n'ont pas à attendre trop longtemps avant de pouvoir s'adonner au jeu agressif et aux batailles de boss massives qui leur ont été promis.