La 6ème Elusive Target pour Hitman est annoncée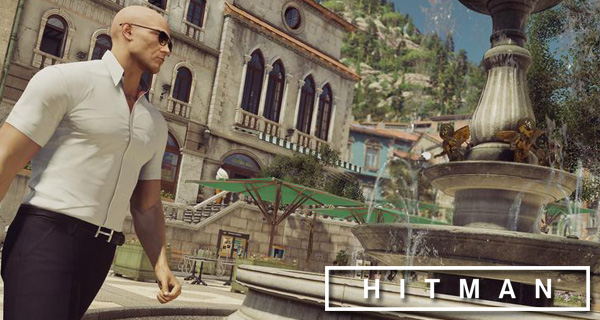 La nouvelle et 6ème Elusive Target se passera à Sapienza dès le 15 Juillet 2016.
La nouvelle Elusive Target pour Hitman a été annoncée. Il s'agit de Dylan Narvaez aussi appelé « The Twin« . Il sera à Sapienza pour 72 heures. La partie délicate de cette cible spécifique est qu'il a un jumeau qui sera aussi à Sapienza au même moment. Vous ne devez à aucun prix porter atteinte à son jumeau sinon la frappe sera annulée et vous aurez manqué la bonne cible.
Vous devrez prendre le plus grand soin pour accomplir ce coup. Diana, votre contractant, vous donnera des renseignements spécifiques pour vous aider à réaliser cette opération. De même, les vidéos d'instructions seront très importantes, et donc prêtez-y attention.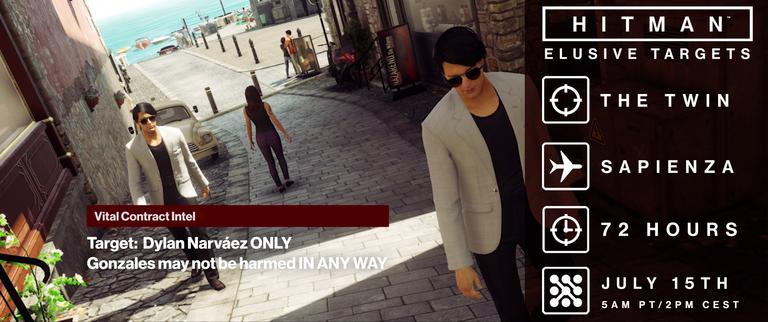 Cet épisode, 6ème Elusive Target a été reporté comme étant le plus dur jusqu'à maintenant, comparé aux cinq précédents.
Les Elusive Targets ont été conçus pour être difficiles et « The Twin » est le plus compliqué de tous. Élaborez des plans, faites preuve de prudence, et n'éliminez pas la cible avant d'être absolument sûr que c'est la bonne. Bonne chance !
Hitman Compagnon
Une nouvelle app appelée Hitman Compagnon est maintenant disponible pour téléphones Android et iOS.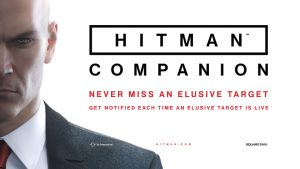 Elle vous tiendra informé des dernières nouvelles de Hitman. Vous ne serez ainsi jamais en dehors du coup grâce à cette app. Elle vous donne déjà les renseignements sur les Elusive Targets, les Escalation Contracts et Featured Contracts, ainsi que les sorties des principaux épisodes, tout ceci aisément accessible du bout des doigts.
Procurez-vous l'app ici :
iOS- http://bit.ly/HMCompanion_iOS
Android- http://bit.ly/HMCompanion_Android
---