Les précédents jeux Ubi30 disponibles gratuitement ce week-end !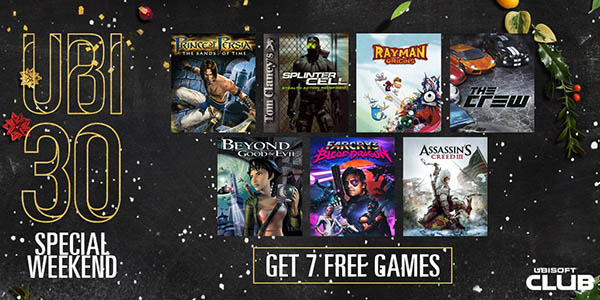 Alors que vous pensiez qu'Ubisoft avait donné plus qu'assez pour leur 30ème anniversaire, voilà qu'ils montent encore d'un cran. Tous les précédents jeux Ubi30 seront disponibles gratuitement pour ce week-end.
C'est la 30ème année pour Ubisoft et ils ont été résolument généreux envers leurs fidèles fans en offrant des jeux gratuits et d'autres bricoles. La commémoration de l'anniversaire Ubi30 a démarré en juin de cette année avec le tout premier jeu offert, Prince of Persia : Sands of Time. Il a été suivi par Tom Clancy's Splinter Cell, Rayman Origins, The Crew, Beyond Good & Evil, Far Cry 3 : Blood Dragon et s'est terminé avec Assassins Creed 3 ce mois de décembre.
Gardez en tête que cette offre n'est disponible que pour ce week-end. Alors saisissez l'occasion de vous procurer ces 7 jeux. Assassin's Creed 3 étant le jeu gratuit du mois il sera donc accessible durant tout le mois de décembre.
Pour pouvoir accéder à ce Week-end Spécial Ubi30, vous avez juste à vous connecter à votre compte Ubisoft Club et réclamer vos jeux. Si vous n'êtes pas encore inscrit, c'est totalement gratuit.
Ubisoft donne non seulement des jeux gratuits chaque mois, mais ils ont aussi une prime spéciale pour le mois de décembre en offrants des babioles jusqu'au jour de Noël.
Tous ces 7 jeux sont à prendre, alors ne manquez pas ce cadeau spécial d'Ubisoft.
Bon week-end à tous !