Le dernier jeu offert gratuitement pour le 30ème anniversaire d'Ubisoft est Assassin's Creed 3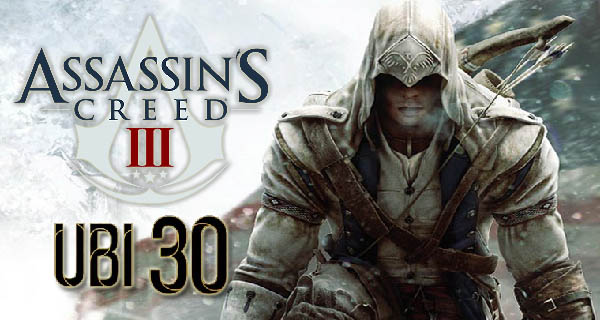 Le dernier jeu pour la commémoration du 30ème anniversaire d'Ubisoft est Assassin's Creed 3. Ceci a été confirmé par un tweet du pseudo twitter Ubisoft Club.
Comme dit dans le tweet, Assassin's Creed 3 sera disponible le 7 décembre sur Uplay PC. Tous les jeux gratuits offerts par Ubisoft sont liés à la commémoration de leur 30ème anniversaire. Le tout premier jeu offert en juin dernier était Prince of Persia : Sands of Time. Le mois de juillet a été pour Splinter Cell, et Rayman Origins pour août. L'offre The Crew était pour septembre, octobre pour Beyond Good and Evil et novembre avec Far Cry 3 : Blood Dragon. Vous pouvez toujours obtenir l'offre de novembre avant qu'elle ne change au 7 décembre.
And the last #Ubi30 free game on PC is… Assassin's Creed III!

Available from December 7 on Uplay PC. pic.twitter.com/BAsKMxNfkw

— Ubisoft Club (@UbisoftClub) November 30, 2016
Assassin's Creed 3 est le cinquième volet de la série Assassin's Creed. C'est un jeu d'action et d'aventure qui a été lancé en 2012 et a reçu des éloges de la part des critiques.
Ubisoft a été particulièrement bienveillant pour fêter leur 30 ans d'activité. D'abord avec les jeux gratuits chaque mois et aussi pour organiser l'avent de 30 jours, qui offre des petits cadeaux spéciaux tous les jours jusqu'à Noël.
Pour participer aux offres gratuites tout ce que vous avez à faire est d'être membre du Club Ubisoft, l'inscription y est totalement gratuite !
Avez-vous réussi à obtenir tous les cadeaux d'anniversaire gratuits d'Ubisoft ? Partagez votre expérience avec nous dans les commentaires ci-dessous.