Nouvelle bande-annonce Guerrilla Warfare 101 pour Homefront The Revolution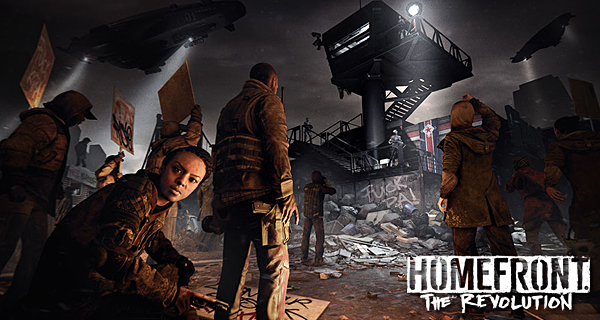 Dambuster Studios et Deep Silver nous offrent un nouveau trailer pour Homefront The Revolution qui se nomme Guerrilla Warfare 101. Il présente les armes, les kits d'outils et les tactiques utilisées en combat. La vidéo dure plus de 3 minutes et révèle que les États-unis ont été envahis par la Grande République de Corée. Il débute en nous montrant un bleu en train d'apprendre comment les choses se passent sur le champ de bataille.
En premier vous devez connaître les armes utilisées par la résistance, et ce à quoi vous faites face. Ils possèdent des drones, du support aérien et des véhicules. Leur armes de haute technologie sont verrouillées biométriquement donc si jamais vous en récupériez une vous seriez incapable de vous en servir.
Mais vous pourrez utiliser tout l'arsenal américain, à commencer par le système d'armement modulaire vous permettant de changer d'armes en un instant sur le terrain. Vous pouvez avoir de multiples configurations de combat sur vos armes pour pouvoir ajouter facilement des accessoires universels. On vous donnera également une trousse Guérilla contenant 4 dispositifs dont vous pourrez vous servir pour customiser et construire des armes improvisées. La trousse comprend un IED (Engin Explosif Improvisé), un outil de hack et un outil de diversion ainsi qu'une voiture télécommandée vous permettant de contrôler un IED mobile. Chaque objet peut être utilisé de nombreuses et différentes façons, vous pouvez les déclencher, les projeter sur l'ennemi ou encore les disposer comme pièges. La fabrication est aussi possible, donc assurez-vous d'obtenir les composants dont vous pourriez avoir besoin sur le terrain. L'entraînement à la guérilla est également indispensable pour apprendre à tendre des embuscades à l'ennemi et à poser des pièges.
Le trailer Guerrilla Warfare 101 vous donne vraiment un bon aperçu sur la façon dont un bleu peut survivre sur les champs de bataille :
Homefront the Revolution sera lancé le 17 Mai 2016. Il sera disponible pour PC, PlayStation 4 et Xbox One.