Guide de construction de Path of Exile Iceshot Deadeye
La construction des Rangers de PDE est l'une des classes les plus populaires de la Voie de l'Exil. Et bien que chacune de ses ascendances ait ses propres avantages et inconvénients, le Deadeye est sans doute le meilleur choix si vous souhaitez une approche plus directe pour faire face aux dommages causés par les projectiles. Mélangez ces dégâts avec un élément qui donne beaucoup d'utilité et vous obtenez le Deadeye Ice Shot. Il est temps de passer ces orbes de PoE – il est temps de commencer à construire !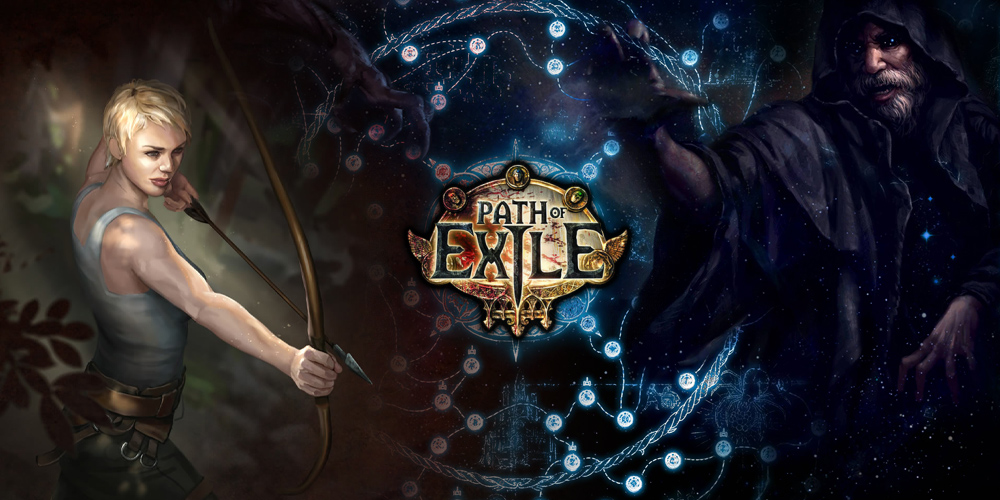 Maintenir la chaîne du froid
Tout d'abord, l'arbre du Path of Exile se construit. Pour cela, consultez le site https://pastebin.com/4ffJddmr. Désormais passons aux deux principes qui sous-tendent le Ice Shot Deadeye : la conversion physique au froid et la chaîne. Le premier principe fait partie de la compétence principale, Ice Shot. Et comme le terme le suggère, il s'agit de transformer vos dégâts physiques en dégâts de froid. En plus des dégâts élémentaires, les ennemis sont également refroidis, ce qui les ralentit dans le processus.
L'autre projectile de propriété dans le jeu est la Chaîne. Si un projectile possède cette propriété particulière, il rebondit sur un ennemi proche après avoir touché la première cible. Il continuera ainsi jusqu'à ce qu'il atteigne le nombre de chaînes indiqué dans l'arme ou la compétence qui lui confère cette propriété. Lorsqu'elle est classée par priorité, la chaîne est troisième, et ce qui la précède sont le piercing et la fourche. Cela signifie que si les projectiles obtiennent également les propriétés susmentionnées, ils se comporteront d'abord selon ces deux propriétés jusqu'à ce qu'ils atteignent le nombre d'ennemis indiqué ; ce n'est qu'alors que le projectile cessera d'être enchaîné.
Il ne s'agit pas seulement d'être cool
Comme la construction repose sur ces deux éléments, il n'est pas surprenant que le gemme des compétences de base, Ice Shot, soit soutenue par les pierres précieuses suivantes : Dégâts élémentaires Avec Attaques, Chaîne, Dégâts Supplémentaires Dus au Froid, Augmentation Des Coups Critiques et Dégâts à Vie. Pour encore plus de dégâts, elle dispose des joyaux Herald of Ice, Grace, Hatred et Mirage Soutien à l'Archer, ainsi que des Assassin's Mark et gemmes de soutien Curse on Hit.
D'autre part, pour les sorts liés à l'utilité, elle dispose des gemmes de soutien Inspiration, Flèche du fléau et Appel immortel avec Appel quand les dégâts sont pris et Durée augmentée. Enfin, pour la mobilité, elle dispose de la Flèche du Clignement des yeux.
Pour la température
Passons maintenant à PoE Bows. Le plus important est l'Opus de la mort. Outre l'augmentation des dommages physiques, de la vitesse d'attaque et des chances de coup critique, il tire deux flèches supplémentaires. Pour le corps, l'Ire de Hyrri est parfait. En plus des bonus pour esquiver, elle vous donne aussi plus de dégâts de froid. Il est complété par le carquois unique Hyrri's Demise, qui inflige 1 à 2 dégâts de froid par dextérité, ainsi que des bonus de vitesse d'attaque et d'AoE.
Pour des raisons défensives, utilisez la Tête de Starkonja car elle offre une évasion PoE globale plus importante lorsque le nombre de vies est faible, un taux d'évasion et une chance de frappe critique globale. Pour ce qui est des gants et des bottes, choisissez les Rare avec des bonus de vie, de résistance élémentaire et d'évasion ou vous pouvez les acheter en utilisant la PoE Currency. Pour la ceinture, le Chasseur de Têtes est un bon choix car il donne des bonus de force, de dextérité, de vie, des dommages accrus aux monstres rares, et vous permettra même d'obtenir les modificateurs de ce monstre.
Pour les accessoires, ayez le Gloomfang comme amulette. Elle augmente les dégâts élémentaires avec les attaques, et les dégâts non liés au chaos en gagnant des dégâts par chaîne, mais au prix de perdre 10 vies pour les ennemis touchés par des sorts, et 22 vies pour ceux qui sont touchés par des attaques physiques. Pour votre anneau, l'une d'entre elles devrait être l'apprivoisement, qui vous donnera un bonus de dégâts élémentaires et de résistances, la possibilité de choquer, d'enflammer et de geler, et des dégâts supplémentaires pour les ennemis atteints de ces maladies. L'autre doit être un anneau rare avec des bonus de mana maximum, des résistances élémentaires, des dégâts élémentaires pour les compétences et des vies gagnées pour chaque ennemi touché.
Enfin, pour les flacons, ayez un flacon de vie de staunching pour prévenir ou soigner les saignements, un flacon de quicksilver pour augmenter la vitesse de déplacement, et un flacon de diamant pour augmenter le taux critique. Pour les flacons uniques du PoE, ayez la Promesse d'Atziri pour la résistance au chaos et les dommages causés par le chaos, et Soleil mourant pour une résistance accrue au feu et un projectile bonus.
Et voilà, le Path of Exile Iceshot Deadeye ! N'oubliez pas de l'essayer, car vous êtes sûr d'atteindre la cible avec celui-ci. Quelqu'un peut-il dire… taureau-glace ?