Game-guide et Goclecd vous font gagner 2 Clé Warlords of Draenor
Goclecd.fr en partenariat avec le site Game-Guide vous offres la possibilité de gagner l'extension de World of Warcraft Warlords of Draenor.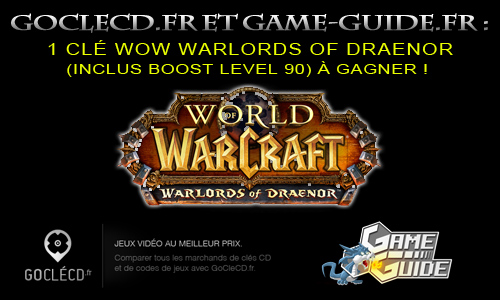 Lien vers le concours sur Game-Guide
Mais qui est Game-Guide ?
En 2011, nous étions un site de fans sur le MMO à sortir de Bioware, Star Wars : The Old Republic. Le jeu est très attendu et le succès est rapidement au rendez-vous grâce au travail quotidien des rédacteurs. Le site est ouvert aux contributions et en fait une ligne de conduite : un simple email permet de publier son travail auprès de milliers de lecteurs. Mais voilà, les joueurs aiment les nouveautés et s'en vont vers de nouveaux horizons. Désirant suivre notre communauté, nous évoluons à l'été 2012, accueillant d'autres sites, reliés par un portail et un forum unique. Aujourd'hui, nous suivons 14 jeux sur leurs sites dédiés avec un portail qui crée le lien et s'assure son propre public via des rubriques régulières. Vous pourrez ainsi nous retrouver sur Star Wars : The Old Republic, Guild Wars 2, World of Warcraft, WildStar, Defiance, Rift, Neverwinter, SimCity, The Elder Scrolls Online, League of Legends, ArcheAge, Battlefield, Final Fantasy XIV : A Realm Reborn, EverQuest Next. Le contenu des sites est assuré par une équipe d'une vingtaine de rédacteurs réguliers et un grand nombre de rédacteurs ponctuels. Sur le modèle de Swtor-Guide, des joueurs fournissent quotidiennement des informations complémentaires et proposent à la publication leurs créations. Malgré notre engagement quotidien, nous sommes des joueurs bénévoles et nous revendiquons notre statut de joueurs prenant sur leur temps libre (de jeu) pour partager une passion. N'hésitez pas à nous rejoindre, en tant que visiteurs voire même en tant que contributeurs pour partager autour de votre jeu préféré du moment !